NFL Might Have Place For Notre Dame's James Onwualu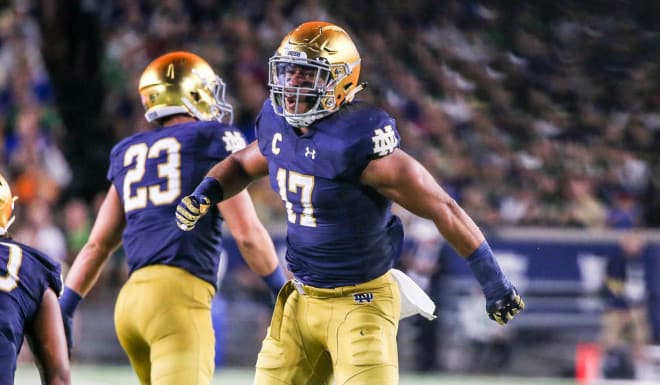 Don't miss out on any of our exclusive football, basketball and recruiting coverage. Click here to get your 30-day free trial!
On paper, James Onwualu might be perceived in the NFL as the classic "tweener."
He's not quite big enough (6-0 ½, 228) to be the prototype linebacker, yet also maybe not quite swift enough (4.73 and 4.80 times in the 40 at Notre Dame's Pro Day March 23) to be aligned at safety.
The flip side is that the former college wide receiver recruit's versatility as a linebacker/safety hybrid, his football IQ and good enough physical skills — his 36-inch vertical was the best among the 10 Fighting Irish players at Pro Day, and his 24 bench-press reps of 225 pounds were second to lineman Isaac Rochell's 25 at the Indianapolis Combine — give him a chance to either be a late-round pick or a bona fide NFL prospect.
He has the makings to be the Matthias Farley or Romeo Okwara of this Notre Dame class. Neither of those two former Fighting Irish players was drafted last year, but both participated in all 16 NFL games in 2016 after latching on as rookie free agents. Farley was a special teams mainstay for the Indianapolis Colts while recording 11 tackles. Okwara even started four games on defense and was credited with 21 tackles, including a sack. (All three, and others, continue to engage in group chats.)
As a senior captain last year at Sam linebacker, Onwualu sometimes had to line up as a defensive end to set the edge, and other times he dropped into coverage. He led the team in tackles for loss (11.5, including three sacks) and forced fumbles (2), and was third in passes broken up (5) and tackles (75).
Onwualu was surprised he was not invited to the NFL Combine in Indianapolis, especially because he believed he is better than many of the linebackers who were, but is self-assured that he will either get drafted or make an NFL roster next season.
"Just stay confident and do your thing," Onwualu said. "Everybody gets wrapped up in watching the combine and so worried about what everybody else is doing. Just do what you can control, and I think I've done a pretty good job of that throughout the last couple of months, especially after not getting the opportunity to compete at the combine."

During his time at Notre Dame, Onwualu also was a standout on special teams, which might be his meal ticket the way it was for former Notre Dame linebacker Scott Kowalkowski, an eighth-round selection in 1991 who played 11 years in the NFL. He made only six starts during that time but consistently made the roster because of his special teams work and football intelligence. Former Irish safeties David Bruton and Sergio Brown also have played at least seven years in the NFL on the strength of their special teams production.
"Every defensive rookie really has to do some special teams work," said Onwualu, who has interviewed with more than two-dozen NFL teams since participating in last January's East-West Shrine Game. "I don't shy away from that. That's why I'm at where I'm at.
"Absolutely special teams, but just my versatility, being able to play so many different positions well. Making an impact on special teams as well as having a role on defense. Being able to learn the defense fast and learn a couple of different positions give me some flexibility.
"It's big because as a rookie you want to be able to do as many things as possible and give them an opportunity for me to fill a couple of different roles. I definitely push that, and just being that accountable player that I've been here and bringing it to the next level."
While the era under former Irish defensive coordinator Brian VanGorder (2014 to the first four games of 2016) will not be remembered fondly by Notre Dame faithful, Onwualu personally enjoyed grasping the NFL-style system that was taught. Meanwhile, VanGorder classified Onwualu's knowledge of different terminology and schemes as "amazing." That too might reap dividends. Recently, former Notre Dame teammate and Jacksonville Jaguars 2016 rookie defensive lineman Sheldon Day told Onwualu the same.
"He's telling me, 'Dude, you're going to be good. It will take you a couple of weeks to clean things up but we learned a ton of different things,' " said Onwualu of his conversation with Day. "… It's a tough game to learn, but I think I definitely have a step forward, a step ahead on learning somebody's defense."
----
• Talk about it inside Rockne's Roundtable
• Subscribe to our podcast on iTunes
• Learn more about our print and digital publication, Blue & Gold Illustrated.
• Follow us on Twitter: @BGINews, @BGI_LouSomogyi, @BGI_CoachD,
@BGI_MattJones, @BGI_DMcKinney and @BGI_CoreyBodden.
• Like us on Facebook