New position, life for Turner, Onwualu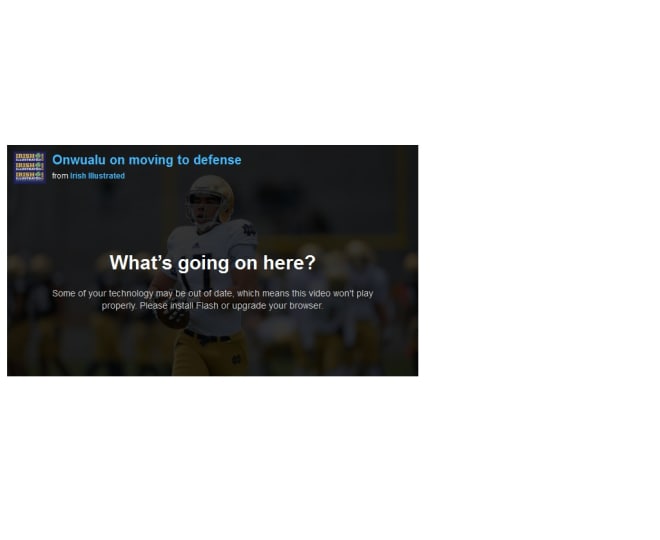 John Turner was a junior-to-be safety getting lost in the shuffle.
James Onwualu was a promising wide receiver bringing up the back of the pack.
As much as anyone, Brian VanGorder changed the fate of two good-sized athletes without a specific game plan ahead of them at safety and receiver respectively.
As spring practice came to a close last Saturday in the Blue-Gold Game, a cloudy future on the Notre Dame gridiron has given way to much sunnier skies.
"It's definitely a new beginning," said Turner, who preserved a year of eligibility as a freshman in 2012, and then played in all 13 games on special teams last season.
"It was a week before we started team conditioning back in February. VanGorder called me up to his office and said they wanted to try me at Sam linebacker."
Turner spent the majority of the spring working with the No. 1 offense at Sam linebacker, which accelerated the move of Jaylon Smith from outside to Will linebacker.
"It was in the back of the heads of everybody," said Onwualu of the shift to Sam linebacker after it was announced he'd be moving from receiver to safety. "Because of my physicality, they thought it could be an option, and I talked to Coach (Brian) Kelly about it one day. It ended up working out."
The moves are a nod to a different approach under VanGorder compared to his predecessor, Bob Diaco. Diaco had more of a cookie-cutter view of the outside linebacker position where, as a proponent of a 3-4 defensive front, he sought bigger, taller, longer players for the edge.
In shifting the Irish to more of a four-man look, VanGorder went into the spring with one certainty - Jaylon Smith somewhere, anywhere on the field - and a bunch of question marks. Turner, at 6-foot-0 ½, 217 pounds, and Onwualu, at 6-foot-1, 215 pounds, became viable options in passing situations.
"John was a safety, so it was that whole idea of getting some speed and coverage-type people on the field for the right situations," said VanGorder in late-March. "I've been impressed with some of the things he's done.
"It's all new to James, but he's a good learner. He's a high standard and high expectation guy."
Although it wasn't precisely stated as spring drills came to a close, the plan for the fall includes senior-to-be Ben Councell, who suffered a torn ACL in the ninth game of the 2013 season that has had him on the shelf ever since.
The hope is for Councell - at 6-foot-4 ½, 254 pounds - can bounce back from his injury in time to start the '14 season as the run-stopping portion of the Sam linebacker spot with the quicker, more athletic Turner and Onwualu handling passing situations. Onwualu also played the dime in Notre Dame's spring sub-packages.
"The pass coverage of the position comes pretty easily because I played safety," Turner said. "When (VanGorder) told me I'd be running with the second team, I was pretty excited to get some playing time. He didn't really have to sell me on it too hard. My biggest challenge right now is with run fits because I haven't played in the box much in my football career."
The transition for Onwualu was a bit more radical. Yes, he had played defense in high school, but safety/cornerback is much different than outside linebacker taking on tackles and guards.
"Obviously the linemen are bigger so you've got to learn how to beat them in different ways," Onwualu said. "That's really the only thing."
Neither Turner nor Onwualu believe their size will be a limiting factor this fall.
"I definitely have the strength to do it," Turner said.
"My strength is up there with a lot of people, so I believe I can play in the box," Onwualu said. "I feel like my size is where it should be. Be quick, use the power you can, and use your hands."
A healthy return of Councell this fall with an athletic tandem behind him is the ideal situation. Councell would get the lion's share of snaps in obvious running situations, and his mobility is not a limiting factor in his game as a pass dropper. But Turner and Onwualu, thanks to a ton of spring snaps, are well on their way to carving out a niche in Notre Dame's pass defense.
"They've told me I'm doing a good job competing and doing the assignments," Turner said. "Let's just say for this system, they've found my best position."
"It's been a great experience," Onwualu said. "I'm not trying to get too huge. I still want to keep my athletic ability. I haven't been told I have to gain a whole bunch of weight, but I'm willing to do whatever it takes."