New Notre Dame OL Commit Pat Coogan: 'Feels Like Home Already'
Notre Dame's March 26 offer to Pat Coogan sent the boulder rolling downhill on his recruitment.
Already a coveted recruit among Big Ten teams with more than 20 offers, Notre Dame — a childhood favorite — changed his dynamic. Turns out, it helped opened up national attention for the Chicago Marist three-star offensive lineman.
Ohio State offered a couple days later. Then Oklahoma. Then LSU and Texas A&M. All in span of four days. He finally found a moment to soak it in and emerged with some clarity — Notre Dame would be tough to beat. Two weeks after the barrage of offers, he committed to the Fighting Irish Wednesday night.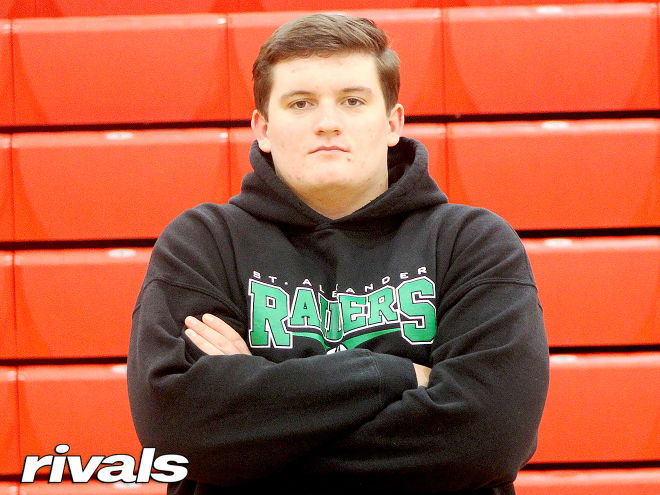 "It was definitely a crazy experience and a blessing for sure," Coogan said. "After it settled down, I was getting a ton of phone calls. I took a step back and didn't think I'd be able to keep doing that. So I accelerated my process a little bit, which I'm glad I did. A big weight definitely lifted off my shoulders."
A Wednesday afternoon Zoom call around 4 p.m. with Notre Dame offensive line coach Jeff Quinn and offensive coordinator Tommy Rees pushed him over the edge.
"It was really just their vision for me when I enter the program, how they'll work with me," Coogan said. "I loved what I heard. Exactly what I wanted to hear."

It was enough to get him to move up his decision timeline from early summer to April and make a decision before the end of the NCAA's recruiting dead period. Coogan was scheduled to take an official visit to Notre Dame from June 12-14 after the dead period was lifted before making his commitment.
Coogan will still do so, but now as a committed player and recruiter. He had previously visited Notre Dame season to see the win over New Mexico Sept. 14 and last summer for the Lineman Challenge.
"I had conversations with people in my corner and I knew it was the best fit for me," Coogan said. "Even without going on an official visit or anything it feels like home already. I figured why wait until June and help build class."

Not an hour after ending the Zoom call, Coogan called Rees, Quinn and head coach Brian Kelly to deliver them good news. He made his announcement on social media shortly thereafter and became the eighth commitment in Notre Dame's 2021 class. On the offensive line, he's joined by four-star Avon (Ind.) offensive tackle Blake Fisher.
The 6-5, 275-pound Coogan also held offers from Stanford, Michigan, Michigan State, Nebraska, Boston College, Duke, Illinois, Purdue and Oregon, among others. A source told BlueandGold.com that he was particularly focused on Notre Dame and Stanford.
Coogan is Rivals' No. 6 player and Illinois and the No. 36 offensive tackle in the country. The thought is he could play anywhere across the offensive line, but Notre Dame has a spot in mind.
"They're looking to put me at guard or center," Coogan said. "Honestly, wherever they think is best for me is what's best for me. I'm ready to take the challenge head on."
BlueandGold.com's Mike Singer contributed.