Never Before, Never Again: A Notre Dame Senior Class For The Ages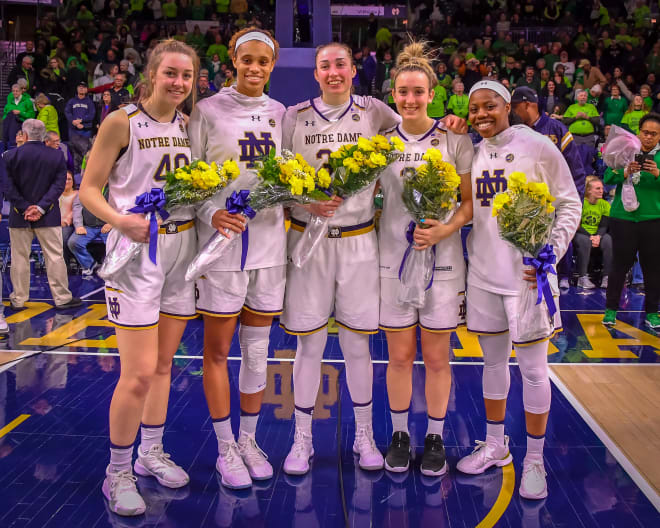 Forty-three years ago, the Indiana University men's basketball program completed its second consecutive perfect conference record in the highly competitive Big Ten. It then went on to capture the 1976 national title without losing a single game (32-0), the last such team in the men's game to achieve the extraordinary feat.
Prior to the accomplishment, then 35-year-old head coach Bob Knight told a home audience to take a final, appreciative look at the graduating five-man senior class — headlined by first-round picks Scott May, Quinn Buckner and Bobby Wilkerson — because "you'll never see another one like it."
He was correct.
Senior Day 2019 for the Notre Dame women's basketball this year had a similar feel … and perhaps someday in the 2060s and beyond it will be spoken about in the same reverential tone.
It is unlikely ever again that college basketball — men's or women's — will witness a Senior Day with more prolific, balanced and accomplished seniors than what the Fighting Irish had with the quartet of guards Arike Ogunbowale and Marina Mabrey, and forwards Jessica Shepard and Brianna Turner.
It wasn't the "classic" Senior Day in which everyone in the group enrolled together. Ogunbowale and Mabrey did in 2015, but Turner actually arrived a year earlier, while Shepard transferred into the program in 2017 from the University of Nebraska.
After capturing this year's ACC Tournament for the fifth time in its six-year history in the league, the career numbers at the collegiate level for the four were astounding — and still counting while entering the NCAA Tournament.
They had amassed 8,486 career points in college, with each averaging a double-figure output all four seasons. It is virtually unimaginable to see one quartet ever doing something like this ever again. Among a men's senior class at Notre Dame, the five-man graduating class in 1971, headlined by Austin Carr and Collis Jones, had 5,255.
Even when not including Shepard's first two seasons at Nebraska, the overall figure at Notre Dame would be 7,374. Collectively, the group also grabbed 3,217 rebounds and dished out 1,450 assists.
"Statistically, this is an amazing class," Notre Dame head coach Muffet McGraw said. "It's never going to be topped … definitely not with four people being drafted in the WNBA. It's unprecedented what they've done."
Far more pertinent is that national title produced last season while striving toward a repeat this season and checking egos at the door despite the vast amount of star power.
"We had no drama," McGraw emphasized. "When you have 12 women, that doesn't happen very often. They took care of things in the locker room.
"… Their mentorship, their leadership, they're so ready for the next level, and yet they never came into practice and just went through the motions. They worked hard every day."
ARIKE OGUNBOWALE: BASKETBALL IMMORTALITY
You know those famous black-and-white videos of Willie Mays' 1954 World Series catch, Bart Starr's game-winning quarterback sneak on fourth down in the 1967 "Ice Bowl" won by Green Bay, or even more "recent" epic moments such as Christian Laettner's buzzer beater to defeat Kentucky in the 1992 NCAA Tournament?
Fifty, 60, 70 years from now, Ogunbowale will live on in NCAA Tournament basketball immortality with her unprecedented achievement of back-to-back, last-second baskets in the Final Four last spring to defeat two teams (Connecticut and Mississippi State) that had a combined one defeat between them.
The program's all-time scoring leader with 2,471 points entering this year's NCAA Tournament, Ogunbowale was the most electrifying player in the women's game on the fast break with the ball in her hands the past two years. Her 4.6 assists per game in the 16 conference contests were fifth in the league, just behind teammates Mabrey (5.0) and junior Jackie Young (4.9).
While earning national celebrity honors on the talk show circuit and even appearances on Dancing With The Stars, she remained consistent at staying in the moment and never excluding teammates from all team glory.
"She's taught me a lot of things about being fearless, about letting things go," McGraw said. "She's left her mark on the program that will last forever."
MARINA MABREY: JERSEY TOUGH
McGraw has admitted that the Belmar, N.J., native might be the only person in the operation more ferociously competitive than her, and that Mabrey is unrivaled at making her voice heard.
Even after a practice, she and roommate Ogunbowale will battle one-on-one just to hone each other's game.
In the 91-66 victory versus No. 18 Syracuse in the ACC Tournament semifinals, Mabrey's four three-pointers in the contest gave her 263 for her career, setting a new Notre Dame standard that was held 16 years by Alicia Ratay (1999-2003), a starter for the 2001 national champions. Mabrey's all-time percentage beyond the arc is just better than 40.0, which is like batting .300 in Major League Baseball.
When both Notre Dame point guards were lost last season by January, the ambidextrous Mabrey took on the unfamiliar role and fought through her inexperience there in the drive toward the national title. The most overshadowed three in school history (or basket in general) is the one Mabrey converted in last year's national title contest versus Mississippi State when the Irish trailed 58-53 with just less than two minutes left.
No score on that possession would likely have ended any national championship hopes. The crucial trey was fitting for one of the most overshadowed figures in program history despite ranking in the top 10 in scoring with 1,839 points heading into the NCAA Tournament.
BRIANNA TURNER: DOUBLE THREAT
Few "bigs" in the women's game have ever run the floor from end to end as well as Turner, a former Gatorade National Player of the Year recipient.
The three-time ACC Defensive Player of the Year also has a chance to join Ruth Riley (1997-2001), the centerpiece of the 2001 national champions, as the only two players in school history to record at least 2,000 points and 1,000 rebounds during their careers at Notre Dame.
Entering the NCAA Tournament, Turner was at 1,931 points and 990 rebounds. She also had 350 blocked shots — 20 short of Riley's standard.
She was playing her best basketball in March 2017 before an ACL tear in the second-round win over Purdue in the NCAA Tournament sidelined her the next season. A supportive and helpful teammate despite sitting out last year, Turner has been referred to as one of the hardest workers ever to come through the program.
A testament to the team's talent was that during this year's 3-0 run through the ACC Tournament, Turner averaged 19.3 points and 7.3 rebounds while shooting 24 of 34 from the floor — and wasn't even a first- or second-team all-tournament selection.
JESSICA SHEPARD: THE GODSEND
McGraw has called her the greatest transfer in women's basketball history. Shepard also rivals College and Pro Football Hall of Fame member George Connor (1946-47) as the most impactful at Notre Dame.
When Turner was sidelined in 2017-18, any aspirations of a national title ostensibly were over. However, on Nov. 1, 2017, the NCAA granted a waiver for the Nebraska transfer to be eligible immediately rather than have to sit out a full season. It was the basketball program's version of receiving bread from heaven.
"Then when you saw how Jess was so unselfish and such a great teammate and so encouraging, the chemistry was like that," said McGraw, snapping her fingers. "Usually, you would think it would take a while to get that synergy, but they all just blended really well."
Shepard averaged 15.6 points and 8.1 rebounds for the national champions and filled the crucial low-post void that would have been absent without Turner.
Not content, she shed 40 pounds this season to be more fluid. A point guard in her earlier days of basketball, Shepard can handle the ball in the open court and was peerless as an outlet passer to trigger the lethal Notre Dame fast break.
Her numbers actually improved to 16.5 points and 9.9 rebounds per game this year while shooting 60.8 percent from the floor and earning first-team All-ACC honors.
Including her Nebraska career, the nation's No. 3-ranked recruit in 2015 has joined the rare 2,000-point and 1,000-rebound club.