{{ timeAgo('2022-06-07 11:07:05 -0500') }}
football
Edit
ND recruiting targets Love, Bell make significant leaps in new Rivals250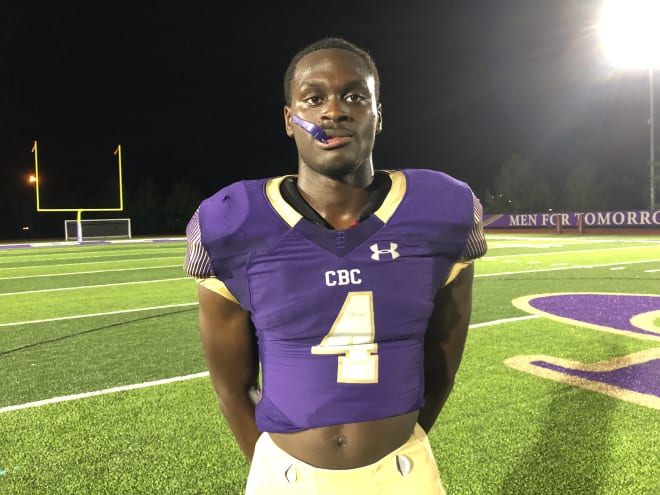 The very first running back Deland McCullough extended a scholarship offer to once McCullough became Notre Dame's running backs coach in late January was three-star prospect Jeremiyah Love.
That was on Feb. 28.
Even though ND had a Rivals250 running back at the time in Sedrick Irvin Jr. and another in Jayden Limar who the Irish were pushing for and eventually landed, McCullough still made Love a priority.
Now it's apparent why.
The 6-foot-1, 188-pounder from Chistian Brothers College High in St. Louis is the biggest mover in the newly released 2023 Rivals Top 250. Omitted completely from the last set of rankings, Love debuts at No. 49 and is now a high four-star prospect.
The new individual player rankings for the 2023 recruiting class were released Tuesday.
Another Notre Dame target, cornerback Micah Bell, made a similarly impressive move in the rankings. The 5-11, 165-pounder also came from outside the last top 250, as a three-star prospect, and landed at No. 114.
The Houston Kinkaid High standout recently won four Texas state titles in track and field — the 100-meter dash (10.46 seconds), 200 (20.89), long jump (24 feet, 5 ¼ inches) and triple jump (45-9 ½).
Bell is scheduled to take an official visit to Notre Dame on the weekend of June 17-19, with a commitment date set for July 1. Love confirmed Tuesday that he also will take an official to ND that weekend. He took an unofficial visit to ND on March 17.
Notre Dame is considered a strong contender for both players.
Two prospects among those taking official visits to Notre Dame this weekend also made sizable leaps up the rankings.
Christian Gray, a 6-0, 174-pound cornerback from St. Louis De Smet, moved from No. 100 overall to No. 51. He has a July 4 announcement date set, with Notre Dame and LSU the top contenders.
And Rico Flores Jr., a 6-2, 190-pound receiver from Folsom (Calif.) High, climbed from No. 154 in the last rankings to 106. His decision/announcement timeline is July 3, with Notre Dame the projected leader.
Among Notre Dame's previously committed players, only offensive linemen Sam Pendleton and Sullivan Absher moved up — Pendleton from 237 to 225 and Absher from 250 to 231.
The rest moved down, mostly slightly. An exception was wide receiver Braylon James, who slid all the way to 205 from No. 77. Safety Adon Shuler, previously ranked 204, and running back Limar (241) both dropped out as did running back and recent Irish decommitment Sedrick Irvin Jr.
The others drops were defensive end Keon Keeley from 14 to 18, defensive end Brenan Vernon from 17 to 23, linebacker Drayk Bowen from 34 to 37, safety Peyton Bowen from 81 to 93, linebacker Preston Zinter from 219 to 223, defensive end Boubecar Traore from 222 to 227, and tight end Cooper Flanagan from 223 to 248.