Mike Brey reflects on his past, looks ahead to his and ND MBB's future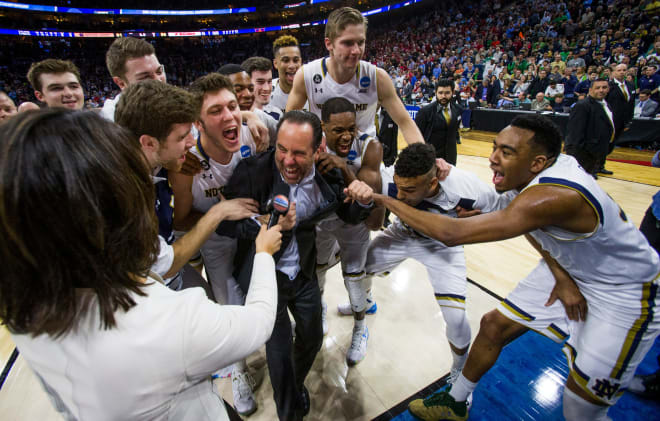 SOUTH BEND, Ind. — Same old Mike Brey.
His meetings with the media always seem more like casual chats than lectures, and it wasn't any different Friday morning when he discussed why the timing was right for him to announce he was stepping down at the end of this, his 23rd season, as head men's basketball coach at Notre Dame.
The size of the audience to hear Brey add details to Thursday's announcement was substantially larger and required a different venue than the usual postgame basketball interview room at Purcell Pavilion.
"So, I've got to step down to get the football press conference room?" he joked from Notre Dame Stadium, highlighting the pecking order he's understood well since taking over the program in 2000. "That's unbelievable. I finally get over here."
If there had been even a smattering of mojo still percolating this season, it's most likely this announcement would have been put on hold until whenever.
The thought to step aside, though, seriously seeped into Brey's thought process when the struggles began in December. The final push comes from a disappointing record of 9-10 overall and 1-7 in the Atlantic Coast Conference, a year after going 15-5 in the league and reaching the NCAA Tournament.
"It's something I actually thought about on the plane a little bit coming back from San Diego (NCAA Tournament last March), because that may have been a good time," the 63-year-old Brey said. "But we had these seniors coming back. We had a heck of a young class coming in. And I said, 'Let's go back to work and do it.'"
On paper, it seemed doable, especially with the experience of five grad students assigned most of the playing time.
But things weren't the same. This team was competitive but couldn't close, and losses piled up for the winningest coach (481-269) in Notre Dame's men's basketball history.
Brey acknowledged, "When you're at a place 23 years, you can get some fatigue of the routine at the place you're at a little bit."
In his first game as head coach on Nov. 18, 2000, there were 10,480 fans watching as the Irish routed Sacred Heart, 104-58. This year the home game announced attendance average is 5,700 — though it was typically smaller in reality — and two of the largest turnouts were buoyed by the opponents' fans from Michigan State and Marquette.
The critics got louder and debates more frequent about how long Notre Dame would endure the fall.
"I think it can be a distraction, speculation and what's going on?" Brey noted. "'Is he coming back? Do they want him to come back?' I just want our guys to try and focus and play.
"And my thought was, 'Why don't we give some clarification to this thing right now and see if it helps our group and, quite frankly, helps Notre Dame. That they can get into the process of getting a little bit of advance notice on the search. I'm fully available, and (athletic director) Jack (Swarbrick) and I have talked about helping get the next person. I think that's a big responsibility for me to help hire the next right coach here."
Similar Brey traits should be on the table.
He didn't come to Notre Dame with a big ego. In fact, he lost out to Matt Doherty in his first attempt at landing the job, in 1999, and jumped at the chance when he was offered it a year later, following Doherty's departure to alma mater North Carolina.
During the press conference Friday, he was asked a couple of different ways about his legacy, what he's most proud of and what means the most.
He didn't mention the wins, his national Coach of the Year honor or his three Big East Coach of the Year awards.
He takes pride in being a low-maintenance coach – "Just put your head down and work" – rather than constantly worrying about what the program didn't have.
And everything else regarding his Notre Dame experience was about his players.
"When it comes down to people asking about legacy, with these seniors — and I so appreciate our guys here today — that'll be 72 young men that have come through and have finished their degree and have played for us … and that's like 72 sons. And I certainly have heard from a lot of them in the last 24 hours, and those relationships are the key.
"Like, we had some amazing wins and fun stuff. We've also had some disappointing losses and disappointing seasons, but it's about the guys and the relationships. And I'm looking forward to a reunion down the road, when we can get a bunch of my guys back, because we've got a lot of stories."
"Certainly when you win an ACC championship (March 2015) on Tobacco Road, going through Duke and Carolina, was pretty damn good. Right? That was pretty good. And those Elite Eights were great, but there's also moments with your guys and different things, when you're talking to them or going through stuff with them that are highlights that never become public — type of thing. But, certainly, that was our second year in the league, and we were able to win the tournament down there on their turf. Maybe we can get a little magic back in Greensboro when we go down there in two months (for the ACC tournament)."
If the Irish don't win the ACC tournament, there will be no NCAA appearance – there has been only one since the Irish were selected in the 2016-17 season.
When Brey came to Notre Dame, the program had been stuck in a 10-year NCAA drought.
He got the Irish into the tournament that first year and 12 of the first 17 during his run in South Bend.
It has been tough going since, but Brey still talked as recently as October about coaching past his current contract that extends through 2024-25.
"I think it's a cumulative effect," Brey said in evaluating the program. "From 2000 to 2017, we went to 12 NCAA Tournaments, and since 2018, we've been to one. And that's how you're measured, man. And I felt we lost momentum. It was awesome to get us back last year, and that was an amazing experience to go and win two games in the NCAA Tournament. And so, as I looked at the big picture and looked moving forward, I just thought a new voice is needed."
Brey touched on several other issues during the conference.
• On the traits important to succeeding at Notre Dame:
"The world, the climate of college athletics and college basketball is certainly different with NIL and the transfer portal. And you've got to be really energized to manage that and attack that. And I think that would be the first thing, and certainly college athletics may get back on the tracks. We have new (NCAA) leadership. It's going to be interesting to see over the next couple of years. …
"... And then understanding the mission here, understanding what this place is all about and embracing it.
"I firmly believe I think I've done that. I've loved it. I've been honored to be here, but the climate moving forward. … And I'm excited to talk to candidates at the right time about this – the climate moving forward within our mission. Let's talk about that, because it's different."
• On pitching the job to a candidate:
"This is a great basketball job. It's got everything it needs. We've got that practice facility now. Unbelievable support. You're playing in a great conference. It's a great coaching job, and then I'll recruit him from there. Or her."
• On the keys to winning at Notre Dame:
"Well, we've really done it with guys that have high basketball IQ and skill set and skill level. I think you could also always work to get a little more athletic here. It's probably something we hear a lot. I think I hear it with football recruiting sometimes when I read some of their stuff. But we've kind of done it with guys that know how to play — older guys, guys who are going to stick around and grow with you and grow up with you.
"That's kind of been the MO. I don't think that changes. Certainly adding transfers. Our whole athletic department has picked those off at strategic times. And basketball certainly has those opportunities."
• On what's next for him:
"I'm kind of excited about my next chapter. I have no idea what the hell it's going to be. But I'm excited about that and relocating probably somewhere else. And 23 South Bend winters probably have been enough. So, I'm kind of excited about that, too.
"I wouldn't rule out being around young people and teaching and coaching again. I don't think I want to jump back into that next year, but you almost need time to think about it. One of the things Jack and I talked about that was very exciting — and Father John and I — was still being part of Notre Dame and helping and being part of things. And I would be honored to do that."