Mike Brey Notebook: Nov. 13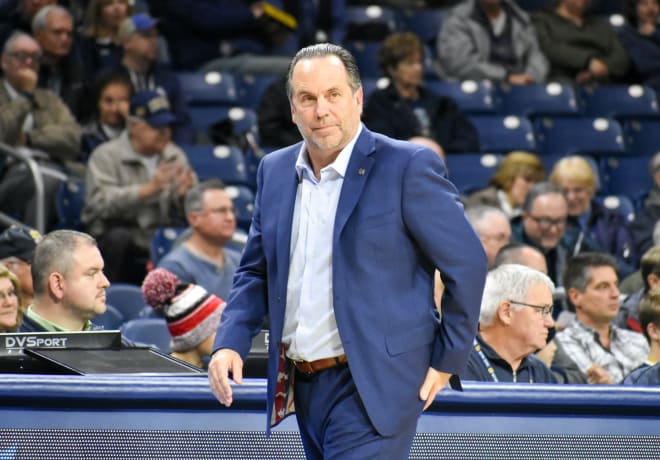 Through the first two games, Notre Dame has 10 players averaging over 13.0 minutes per contest.
Based off past history, that number will likely shrink as the Irish have had just two seasons over the past five with eight or more players averaging 12.0 minutes a game (2017-18 & 2013-14), which bookended three-straight years of seven players totaling that many minutes.
The depth is somewhat of a challenge for Mike Brey with his history of keeping shorter rotations, but the talent and structure of the current roster has prevented that through the first week of the 2018-2019 season.
Brey and company are looking for more consistency offensively to begin games, which is why a different starting unit will begin the game against Radford on Wednesday, and a more concise rotation will likely be employed to create more cohesion.
Over the next week, the Irish will face Radford, William & Mary and Duquesne giving the staff more looks at the best course of action.
"I still think we have a lot of guys to play," Brey said on Tuesday. "We're not going to start the same group we started the other night. But, we're still trying to kind of figure out how to come out of the gate. We still have nine or ten guys we have to get in there.
"It has to play itself out. I think it really does. Hopefully, with this stretch we have — the one thing I talked to them about is it's a heck of a nine-day stretch from yesterday's practice through Tuesday's game next week against Duquesne. We're going to have a much better feel of rotation and who we should start and those types of things after this stretch.
"It's we want to come out of the gate a little bit differently. It's not anything demotion wise. It's kind of been a little bit of what we've done even in the foreign tour games. We've done it even through the scrimmages. It's a different second half group. It's not necessarily a demotion, but this group has been doing good so let's go with this, and we'll see where we're at."
Brey also stated on Tuesday that playing nine players would be in the comfort zone, but 10 could be pushing it, which creates a different concern for those potentially seeing fewer minutes during a long season.
"I think you can with nine," Brey began. "It's hard with 10. There's going to be a stretch and stretches during the season where somebody is not in the rotation, but he's a pretty good player. We have to keep him engaged mentally and physically. That's our assistants doing some extra workouts, videotape and meeting with them because all of a sudden maybe after three weeks, he's back in there.
"I can't remember the last time we had that dynamic with our team. That's something we've talked about as a staff."
RADFORD
Notre Dame will welcome the defending Big South Conference Tournament champions on Wednesday night in Radford. The Highlanders won 23 games a season ago including three in the conference tournament and a First Four matchup with LIU-Brooklyn in the NCAA Tournament.

The Irish will not be overlooking the mid-major program.
"Radford is good by the way," Brey stated. "One thing I told our guys yesterday was that Radford went to the NCAA Tournament and we did not. They won a game in the NCAA Tournament and have a nucleus back of old guys who won 23 games. It's a heck of a challenge for us. If you can get it, once you start playing real games, you start to create a résumé good or bad."
In their wins over Davis & Elkins and Illinois-Chicago, Radford excelled behind the arc which is an area of concern for Brey.
"This would be a good win for us at the end of the year if we can get it," Brey said. "We've got our hands full. All I know is that they've made 30 threes in two games. They're really firing."