Many Miles Traveled At Notre Dame, And Now Beyond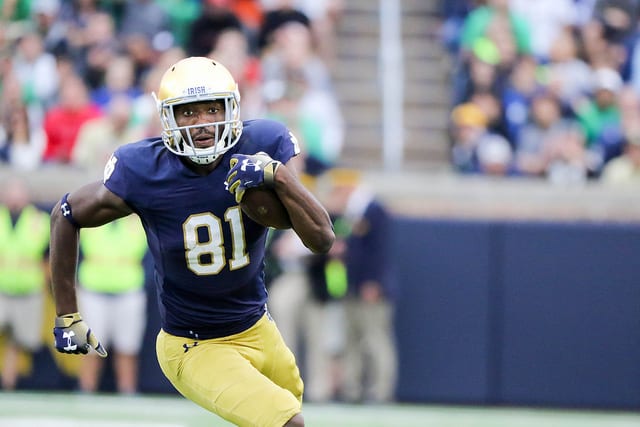 Throughout his four years at Notre Dame, wide receiver Miles Boykin often has been referred to as one with "deceptive" speed or athletic skills.

There was no such deception at the NFL Combine held a couple of weeks ago at Indianapolis. The secret is out and making the rounds.
His 150.0 SPARQ — the acronym for Speed, Power, Quickness, Reaction & Quickness — score was No. 1 of any player, regardless of position. It was highlighted by a 43.5-inch vertical jump that was the second highest in the Combine's history (former Georgia receiver Chris Conley had 45 and became a third-round pick) and an 11-foot, eight-inch broad jump that was the third highest ever. Equally impressive was that at just a shade under 6-4 and 220 pounds, Boykin clocked a 4.42 40-yard dash that led to an eruption of euphoria among teammates watching back home.
For Boykin, it was merely doing what he had been quietly accomplishing in the background while refusing to engage in self-promotion.
"I'm not really like the rah-rah guy," said Boykin, who is relatively soft-spoken but possesses a James Earl Jones projection in his tone that could one day have him doing voiceovers. … "I'm not the type of dude that is just going to go out and say what I'm going to do. If I'm just clean cut, do my job, do it to the best of my ability — but yeah, I knew what I was going to do. I don't need the hype around me. I just go out and do my job every day, and that's what I think has gotten me to this point."
He described his Combine experience as one he cherished but "I wouldn't want to go through it again."
"I didn't test as well as I thought I would in certain areas," said Boykin, specifically citing 12 reps of a 225-pound bench press, although that can be overlooked with his wingspan. "That's part of [handling] the Combine. They put you through a bunch of stuff and they want to see what it's like going through that whole week and seeing what you can do at the end when you've got to compete."
Because of his drop-the-mike results in Indianapolis, Boykin did not go through the individual drills during Notre Dame's Pro Day on campus this Wednesday, although he did partake in position drills in which he didn't hurt his stock. If anything, he was pleasantly surprised by the passing accuracy of third-year Fighting Irish quarterbacks coach Tommy Rees, who has the most starts at his position (31) in the Brian Kelly era that enters year 10.
"He can sling it," said Boykin of Rees. " I didn't know what I was going to get with him. He's on time with everything … extremely quick with that release and gets the ball where it needs to be, and accurate."
Especially gratifying was cheering on and reveling in the success of teammates the way they did with him earlier this month. That's a culture that doesn't have to be forced but becomes innate.
"It just speaks to the love that we have in that locker room for each other," he said of the genuine emotional outburst of joy his teammates had for him at the Combine. "That's the same way I am with them … It's cool that you guys got a glimpse to see how much we care about each other, regardless of what people go on to do."
He was especially jacked when punter Tyler Newsome did an extraordinary 30 reps of the 225-pound bench press — especially after Newsome told him earlier in the week his goal was to get somewhere around 18-20.
"I only hit 12," Boykin said. "Give me some of those reps back. I was extremely excited for him. He's the best dude. Whatever team gets him is going to get a steal for sure."
Because he caught only 18 career passes entering his senior year in 2018, Boykin was viewed as an enigmatic figure prior to his outstanding campaign last season in which he paced the team in receptions (59), receiving yardage (872) and touchdown grabs (eight).
A role player his first three years before opportunity knocked and he answered with the MVP Award in the 21-17 Citrus Bowl victory versus LSU on Jan. 1, 2018, Boykin's growth was built gradually, not meteorically. It still had NFL teams question him on why he hadn't produced more earlier in his career.
"You look at a lot of receivers, sometimes when they put up [glittering] numbers they're going to a smaller school, or a school where they don't have as good an offense as we have," said Boykin, who his completing his lone class this semester for May graduation. "I tell teams, 'You look at our skill positions, I think every one of them is going to play in the league.' "
Right behind Boykin in receptions were Chase Claypool (50) and Chris Finke (49), who return in 2019, and tight end Alize Mack (36), who is projected to be on an NFL roster in 2019 — as every opening day starter at tight end for the Irish since 2004 has been.
"Chase, Finke, they're going to play in the league," Boykin said. "We're playing with three NFL wide receivers, an NFL running back in Dex (Williams), you can share that ball around a lot. It's easy to scheme things up when you have players like that.
"I think it's really a testament of the players that I played with … If I was at a lesser school maybe I would have those [higher] numbers, but I was blessed to be here around those great guys."