Louisville ends Notre Dame's season at ACC Tournament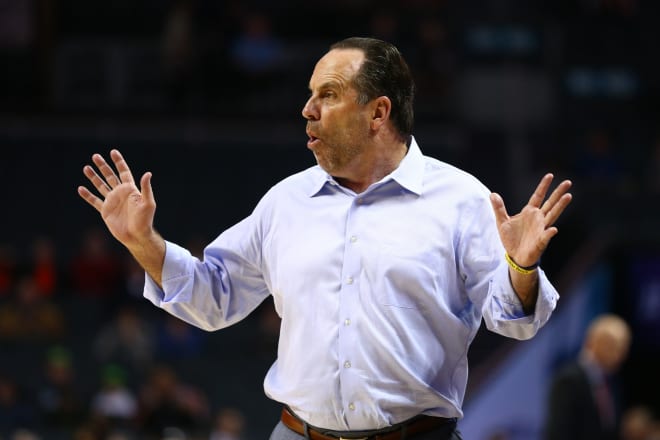 CHARLOTTE, N.C. — Notre Dame didn't have enough offensive firepower to keep up with Louisville, ending its season at 14-19 overall.
The one-two punch of sophomore power forward Jordan Nwora and junior shooting guard Ryan McMahon paced the Cardinals to the 75-53 ACC Tournament win at the Spectrum Center. Louisville advanced to play North Carolina on Thursday.

Blue & Gold Illustrated recaps the contest between Notre Dame and Louisville half-by-half.
FIRST HALF
Nwora edged out Notre Dame's John Mooney among others for the ACC Most Improved Player award, and he came out on fire to start the contest. The sophomore power forward hit three three-pointers en route to all 12 of Louisville's points, to take an early 12-10 lead.
Notre Dame did get some good news with the return of freshman power forward Nate Laszewski, who got hurt before halftime against Georgia Tech on Tuesday. The Fighting Irish only have seven scholarship players.
Louisville's explosiveness on both ends proved problematic. Sophomore reserve point guard Darius Perry got a steal and breakaway dunk to give the Cardinals a 21-12 lead with 11:19 left in the first half. Coach Mike Brey had seen enough and called timeout. The ND offense was also mired in a funk, with a field-goal drought that lasted over 8:47, and Louisville went on a 22-2 run during part of that stretch.
Notre Dame junior guard T.J. Gibbs snapped the scoring drought with three free throws, cutting Louisville's lead to 28-15. Gibbs then snapped the field goal drought with a jumper with 7:14 left in the half.
The Fighting Irish were becoming too reliant on the three-point jumper. ND had 17 of its 25 shots come from behind the arc in the first 17 minutes of the game, making just two of those three-pointers. the good news for Notre Dame was that Louisville was also mired in a cold streak.
Freshman point guard Prentiss Hubb got a steal and fastbreak layup to pull Notre Dame within 34-23. Redshirt sophomore center Juwan Durham later added a put-back dunk, and the Fighting Irish were within nine points at halftime, 34-25. Louisville ended the half with a scoring drought over the last 4:03.
The margin could have been much worst for Notre Dame, which finished the first half going 7 of 33 from the field for 21.2 percent, including 2 of 17 on three-pointers. Gibbs led the way with 12 points, but the freshman who had combined for 30 points in the first half in the win against Georgia Tech, had just four points against Louisville (all by Hubb).
SECOND HALF
Notre Dame appeared to be creeping back into the game, cutting Louisville's lead to seven points, but the Cardinals ended that with a thud.
First, Nwora went down the lane for the thunderous dunk, and then redshirt junior Dwayne Sutton came through with a follow-up dunk and UL led 44-31 with 16:02 left.
Notre Dame's comeback hopes took a hit when freshman wing Dane Goodwin picked up his third foul with 15:30 remaining in the game. Picking up the slack was Gibbs, who entered the game shooting just 34.5 percent from the field, but he brought his A game Wednesday. Gibbs busted out for 21 points.
Nwora was humming along, but he needed some help in the second half, and got it. Louisville junior shooting guard Ryan McMahan hit back-to-back three-pointers to but the game open, 52-33, with 14:07 left. McMahon later threw a nice lob pass to redshirt sophomore center Steven Enoch for the dunk, and then he got fouled on a three-point attempt, making all three free throws.
Just for good measure, McMahon drained his third three-pointer of the game and UL was rolling 60-38 with 12 minutes remaining. The 12-point McMahon outburst, which were his total points for the game, provided enough of a comfort zone down the stretch, though Nwora kept his scoring acumen in fine form and finished with 24 points.
Perhaps the lone positive in the second half was the continued good play of redshirt sophomore center Juwan Durham, who finished the contest with 12 points and nine rebounds.