Lance Taylor Connecting With Irish Running Backs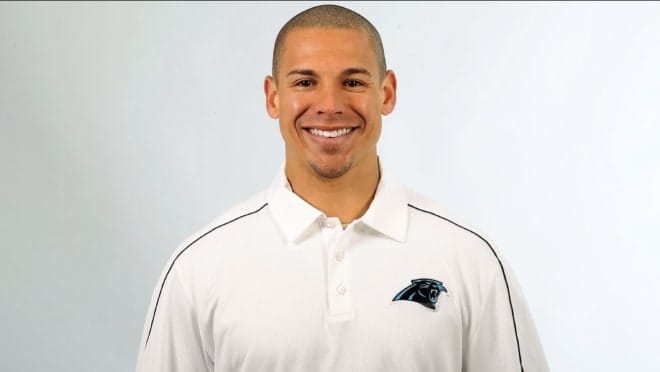 With Autry Denson becoming the head coach of Charleston Southern, Notre Dame was in the market for a new running backs coach.
After interviews with multiple candidates, Brian Kelly and the Irish found their man in Lance Taylor.
A former walk-on wide receiver at Alabama, Taylor arrives in South Bend with a coaching background in both college and the NFL.
Following his playing days, including one season under then-Alabama wide receivers coach and current Clemson head coach Dabo Swinney, Taylor began his coaching career as a graduate assistant under Nick Saban during his first two years in Tuscaloosa. After two seasons, Taylor earned his first full-time position at Appalachian State as the wide receivers coach.
Taylor spent just one year in Boone, N.C. before moving to the NFL for three seasons in a variety of roles with the New York Jets and one season as the assistant wide receivers coach with the Carolina Panthers.
That extensive NFL background was something that is attractive on a resume, but it also created questions about his ultimate coaching goals. Was Taylor looking to get back into coaching college football, or was this a stepping stone opportunity that will eventually end with him back in the NFL.
"I was convinced he wants to be a college football coach," Kelly explained on Friday. "It's not a stopover before heading into the NFL. I wasn't interested in hiring someone in those circumstances. Once we were convinced that he wanted to build relationships with players and Notre Dame wasn't a springboard for him to get back into the NFL, I felt he was a great fit for Notre Dame."
Kelly relied on his staff and those he knows around the coaching industry when it comes to Taylor and his coaching ability.
"I didn't know him at all," Kelly admitted. "We had members of the staff that knew him. Generally, it's recommendations from the staff and then you begin the process. I'll have my agent reach out and get some people I know that know him, then that process begins.
"My first meeting was the interview when he came on campus. I was very impressed. We come from similar backgrounds in terms of philosophy with positive coaching environment and demanding, but positive."
This spring will provide Kelly his first up close look at Taylor in action with a position group needing to replace Dexter Williams, who rushed for nearly 1,000 yards in nine games. The new Irish assistant is already making an impression on a young group.
"I'm really excited about Lance," Kelly said. "He brings a wealth of experience. I've had a short period of time with him, but I really like what my interactions with him on a day-to-day basis. I know he's already touched our players immediately in that room."
Senior Tony Jones Jr. enters spring with the most experience with 127 total carries during his first three years, including 83 touches for 392 yards and three touchdowns. Junior Jafar Armstrong showed flashes in 2018 going for 383 yards and seven scores on 72 carries in 10 games. He also caught 14 passes for 159 yards.
Sophomores Jahmir Smith and C'Bo Flemister were able to preserve a year of eligibility last season and will be part of the competition this spring, and incoming freshman Kyren Williams will try to make his mark after enrolling early in January.