DeShone Kizer Key To Notre Dame's Red Zone Improvements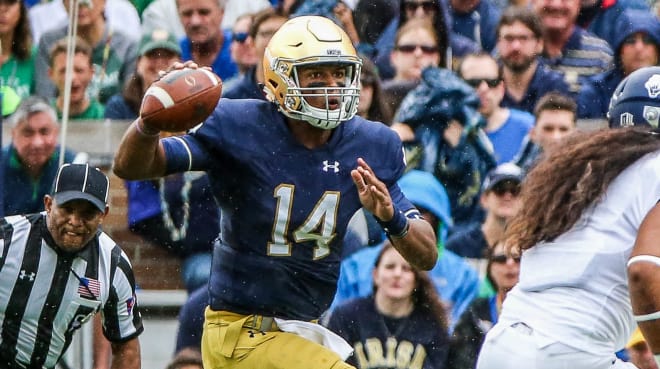 A year ago, Notre Dame's red zone offense was a weakness. Two weeks into the 2016 season, it's shaping up to be a strength.
Notre Dame's offense has been successful on 10 of its first 11 trips inside the opponent's 20-yard line this season. Against Nevada, the Irish scored touchdowns on five of their six opportunities in the red zone, and Justin Yoon added a 21-yard field goal on the other in the 39-10 win.
Against Texas in the season opener, Notre Dame scored three touchdowns and had a field goal in five red zone chances (the other resulted in a missed field goal) in the 50-47 double-overtime loss.
Junior quarterback DeShone Kizer — who threaded the needle to hit sophomore slot receiver C.J. Sanders and freshman wideout Kevin Stepherson for touchdowns against Nevada — is confident that success can continue.
"As long as the guys continue to make the adjustments on the ball, try to make catches in tight windows, we'll be able to score every time we're down there," Kizer said after the game.

Last season, the Irish scored touchdowns on just 58.49 percent of their 53 red zone opportunities — which ranked 79th in the country — and failed to scored on 10 attempts.
Notre Dame head coach Brian Kelly said when Kizer saw bracket coverage last year, the quarterback tended to rush into some throws.
"When you're a lot more patient and can recognize what you're getting you're not rushed into making that first throw," Kelly said. "And I think a lot of that just comes with patience and understanding what you're getting and knowing where the openings are going to be in some of those bracket coverages that he's getting down there.
"Again, I think just maturity and just some more patience, where the game is not really fast down there for him, it's starting to slow down."
Kizer, who showed off his accuracy and pocket presence against the Wolf Pack, was able to extend several plays and convert the opportunities into touchdowns.
And though running the ball is priority No. 1 in the red zone, Kizer is improved throwing the ball near the goal line when he's asked to.
"You have to understand in the red zone that if the first option is not there, go to the second, or third," Kizer said. "If the third isn't open, don't force it. That was my biggest fault last year. I wanted to take the first, second or third read, never really considered extending the play."