Khalid Kareem A Vital Cog To Notre Dame's Top Position Group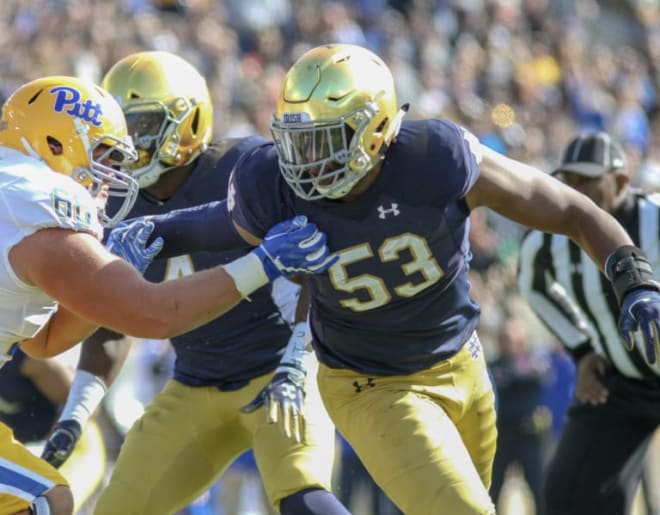 In the years where Notre Dame has been a national contender the past seven seasons entering the middle of November, the return of two crucial figures who decided not to turn pro were extremely important.

It began during the 12-0 regular season in 2012. Where would that team have been had eventual Walter Camp Award winner and Heisman runner-up Manti Te'o on defense and John Mackey Award recipient Tyler Eifert at tight end decided not to return after their junior years in 2011?
The 2015 unit started 10-1 thanks in huge part to offensive tackle Ronnie Stanley and defensive lineman Sheldon Day both coming back for their senior years.
Could the Irish have bounced back from 4-8 in 2016 to 10-3 and a No. 11 finish in 2017 had left guard Quenton Nelson and left tackle Mike McGlinchey — both top-10 NFL picks — decided to head to the pros a year earlier?
Would the Irish defense have been as stout in 2018 during another 12-0 regular season had defensive tackle Jerry Tillery and linebacker Te'von Coney not backed out in the 11th hour from turning pro as juniors? (Not to mention linebacker Drue Tranquill, who announced well in advance that he would return for a fifth season.)
Now in 2019, there is a mixed bag. On one hand 2018 consensus All-American cornerback Julian Love did opt to turn pro after his junior season, while top wide receiver Miles Boykin, who had a fifth season available in 2019, also decided to try the next level and produced an extraordinary NFL Combine workout last week.
On the other hand, the "bookend" tandem on defense with Khalid Kareem and Julian Okwara both announced shortly before the NFL deadline that they would return as seniors in 2019. That duo can be to the Fighting Irish defensive line this season what Tranquill/Coney were to the linebackers in 2018 and what Nelson/McGlinchey were to the offensive line in 2017.
Kareem acknowledged he had a "pretty long, deep conversation" with his parents, in addition to his coaches, before making his choice. The 30-3 loss to Clemson in the College Football Playoff aided the thought process.
"I just felt like I had more to give to this University, to this team," Kareem said following the opening spring practice last Saturday. "Go on and finish my degree for one, and finish what we started last year. That loss kind of left a sour taste in our mouths. I just want to come back and win it all."
In their careers, the dynamic end combination of Kareem and Okwara has recorded 122 tackles — 33 for lost yardage and 18 quarterback sacks. That's not even including fellow senior and former five-star recruit Daelin Hayes, whose 72 career stops (11.5 for loss and five sacks) are the most among the trio.
Plus, another senior in Ade Ogundeji (who has two years of eligibility remaining) emerged as a greater force last season with 22 tackles while backing up Kareem, including a sack versus Clemson. A fifth senior, Jamir Jones, also earned 206 snaps last year.
No wonder head coach Brian Kelly considers defensive end potentially the strongest position group on the 2019 team.
"There's not enough reps for everybody there," Kelly admitted. "You'd even look at can you redshirt somebody there? … They're all going to want to compete, they're all going to want to play, it's going to be hard to get all those guys on the field. It's a great situation to have."
Replacing Tillery will be the primary concern up front, so a three-man interior rotation and nucleus with juniors Kurt Hinish, Myron Tagovailoa-Amosa and sophomore Jayson Ademilola — and possible freshman Jacob Lacey — will be pivotal to overall production and efficiency.
"I feel like we can be one of the best d-lines in the country," Kareem said. "We have a lot of great guys coming back, a lot of young guys that are going to step up. This is one of the focal points of the team."
A whopping 136 quarterback quarterback pressures were recorded by Notre Dame in 2018, per Pro Football Focus, whose standard of grading each and every play can vary and be inconsistent. Regardless, the front line has come a long way from the 4-8 debacle in 2016 when the Irish defense ranked near the bottom nationally in sacks (14 overall) and sacks by linemen (three). Last year those numbers elevated to 34 sacks — 26 of them by linemen.
After another season in Matt Balis' strength and conditioning program, Kareem is primed with his cohorts up front to achieve even more, especially with two healthy ankles. Kareem injured his left ankle in the 2018 opener versus Michigan, and two weeks later incurred a high ankle sprain on his right one which inhibited some of his mobility and full potential much of the campaign.
"I didn't really have the time to recover," Kareem said. "We had to play. I was a little banged up, but that's part of football … I've played football since I've been like six, so I know getting banged up, having bruises and injuries are part of the game. But that part didn't play into [returning in 2019] as much."
Eventually, both Kareem and Okwara became two of the eight SWAT team captains named this winter, which provided even greater motivation.
"That kind of pushed me to do everything the right way," Kareem said. " I tried to do that already … it's good pressure, though. I like it.
"Just be better overall and be the same guy day in and day out."
In 2019, Notre Dame should have plenty of ends to a means.