Keys To Victory: #3 Notre Dame at USC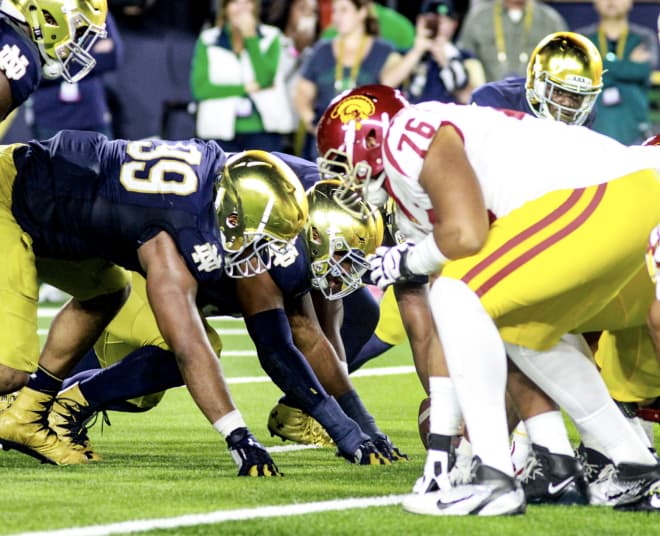 Notre Dame has an opportunity to achieve four major goals on Saturday when the #3 Fighting Irish football team travels out to Los Angeles to take on the Southern Cal Trojans.
Goal number one is to beat its biggest rival. Notre Dame is 5-3 against USC under head coach Brian Kelly and beat the Trojans 49-14 last season, but the Irish haven't won in the Coliseum since 2012.
That leads us to goal number two, which is to end the five-game losing streak it has in season ending games in California. During that stretch the Irish have lost three times to Stanford and twice to USC.
Goal number three is to finish November undefeated. November was Kelly's best month during his first three seasons, with the Irish going 10-1 in the final month of the regular season from 2010 to 2012. Over the next five seasons the Irish went just 9-12 in November, and those woes knocked the Irish out of the playoff hunt in 2015 and 2017. Beating the Trojans would finish off an impressive final month for the 2018 Irish.
Goal number four is the biggest of all. A win on Saturday means Notre Dame will all but lock up its first ever berth to the College Football Playoffs.
If Notre Dame is going to win the game it must play hard, be focused and execute in all phases of the game.
OFFENSIVE KEYS TO THE GAME
1. ESTABLISH THE LINE OF SCRIMMAGE EARLY: Even with all the injuries it has sustained the USC defense will put a talented group of front seven players on the field Saturday night. The issue it has had much of the season is that the unit is quite young, and that has often resulted in youthful mistakes, and the young group has worn down a bit late in the season.
Notre Dame must take full advantage of the youthful Trojan front and dominate at the point of attack, and it must do so from the outset of the game. Notre Dame has been wildly inconsistent up front this season, and the offense needs the line to have one of its good games against USC. If the Trojan front builds confidence early it will make life difficult for the Irish offense.
On the flip side, if Notre Dame comes out and sets the tone at the line of scrimmage like it did last season, and like UCLA did last weekend, the Irish offense will likely roll in this game.
2. HANDLE THE PRESSURES, ESPECIALLY ON THIRD-DOWN: The word inconsistent can be used for just about every phase of the USC football team, and its pass rush is no different. USC has registered at least four sacks in four games this season, including five sacks against Utah and four in a win over then unbeaten Colorado. It has also been held to one or no sacks in six other games. Notre Dame needs to make sure this is one of the games where the Trojans can't get to the QB.
USC knows it can't bring just four and have success against Notre Dame, which has been a good pass blocking team all season. Notre Dame has given up just 16 sacks on 345 pass attempts this season. Consider that last season with a pair of first-team All-Americans up front and a healthy Alex Bars at guard the Irish line gave up 30 sacks on 352 pass attempts.
Expect DC Clancy Pendergast to design exotic pressures with his linebackers and secondary players in an attempt to disrupt QB Ian Book and to slow down the Notre Dame pass game. This is especially true on third-down. He'll use coverages that will be designed to get Book to make mistakes, so handling the pressures involves a good game plan from OC Chip Long, picking up the pressures from the line and good decision making from Book.
3. WIN ONE-ON-ONE BATTLES: Notre Dame's skill players have been winning one-on-one battles all season, and continuing that in this matchup will be key. The way USC plays defense it will mix up man and zone, but even against the zone the Irish wideouts will get opportunities to win one-on-one matchups. Notre Dame's wideouts and tight ends must be playmakers in these situations.
Winning one-on-one battles is also important for the backs, who will get opportunities to make one defender miss en route to big plays if the line plays well. Winning one-on-one battles up front will also be a key part of this game. It is simple really, each play the Irish players will get opportunities to dominate the man across from them, and the more battles they win the better the offense as a whole will play.
If Book gets time to throw and the Irish skill players continue their strong play the Irish offense should have a big game.
4. AVOID BAD PLAYS: Of course, Notre Dame could move the ball up and down the field and still not play winning football. For much of the year the Irish have avoided the bad plays that can get a team beat. Turnovers that keep points off the board, turnovers that give the opponents a short field, penalties that negate big plays, drops, mental mistakes. All those things could keep Notre Dame from pulling away, which we saw early in the Syracuse game.
Notre Dame turned the ball over in the first quarter in four of its last eight games and had a bad second quarter turnover against Virginia Tech. USC has the kind of talent on offense to make Notre Dame pay if it makes that kind of mistake in this game.
5. FINISH: Notre Dame scored seven touchdowns on seven red zone trips in its win over Wake Forest and went a perfect two for two in its season opening win against Michigan. In its other nine games the Irish red zone touchdown rate is just 56.1 percent, which would rank it 102nd nationally if it was its season average. We saw those red zone woes last weekend against Syracuse, where the Irish scored just three touchdowns on seven red zone trips.
The Irish offense cannot allow that to happen against USC. Home run scores are great, but when Notre Dame does get into the red zone it must come away with touchdowns and not field goals.
DEFENSIVE KEYS TO THE GAME
1. MAKE USC ONE-DIMENSIONAL: USC has struggled to run the ball this season, but when it has been good it has been really good. The Trojans rushed for 332 yards in a win over Oregon State, it rushed for 253 yards in a road win over Arizona and rushed for 219 yards while scoring 43 points against UNLV. Notre Dame needs to control the line of scrimmage and shut down USC running back Aca'Cedric Ware, who has rushed for 335 yards in November.
If USC can't run the football the odds of beating Notre Dame will be incredibly slim.
2. GET AFTER THE QB: Pro Football Focus grades the Trojan pass blockers out as the 15th best group in the country, but USC has given up 25 sacks on the season and has allowed at least two sacks in all but one game this season. Notre Dame must win this matchup and get consistent pressure on the quarterback.
Freshman QB JT Daniels is extremely talented and makes throws that wow me on film. When he's able to sit comfortably in the pocket and go through his reads he's outstanding. When he gets pressured and gets out of rhythm he will make mistakes, miss open receivers and throw the ball to the defense. Daniels has thrown 10 interceptions on 312 attempts, and he's thrown three picks in the last two games, both USC losses.
It is imperative that Notre Dame prevent Daniels from getting into an early rhythm. The more it can knock him around early the better the odds that Notre Dame can slow down the USC pass game. It also ups the odds that the defense can force turnovers. USC ranks 85th in the nation in turnovers lost but the Irish haven't been great at forcing turnovers for much of this season. It picked off three passes last week and if the pass rush controls this game it will get the ball multiple times in this matchup as well.
3. COVER WELL: The Irish secondary has been tested many times this season and has faced five offenses that currently rank in the Top 50 in passing yards, and Michigan currently ranks in the Top 20 in both yards per attempt and pass efficiency. Notre Dame has handled every test thus far, but it has not faced a group of receivers with the kind of talent across the board that USC will throw at it this weekend.
Getting pressure is the first step to limiting the success of the USC pass game, but the Irish defensive backs will have to cover well in this game. That means a good game plan with coverages that don't let Daniels get a feel for what he is seeing, it means the secondary players must cover well down the field, it means they must tackle well in space and it means the coaches doing what they can to avoid bad matchups.
One matchup that is particular troublesome in this game is the Irish nickel players matched up in the slot against freshman Amon-Ra St. Brown and redshirt sophomore Velus Jones in the slot. If you watch film of USC it doesn't take long to see that Clay Helton loves getting St. Brown into favorable matchups in the slot, and Daniels is going to look for St. Brown early and often. When Notre Dame is in its base defense or in its big nickel it means St. Brown will be matched up against a linebacker (Asmar Bilal) or one of two safeties (Houston Griffith, Nick Coleman) that have struggled in coverage much of the season.
Notre Dame could choose to go to its fast nickel when USC goes with three receivers, which would put star cornerback Julian Love into matchups against St. Brown, but then that would put freshman corner TaRiq Bracy in matchups against Tyler Vaughns and Michael Pittman, two extremely talented juniors.
Love and junior Troy Pride Jr. will have to handle themselves well on the outside against Pittman and Vaughns.
4. MAKE EARLY STOPS: Shutting down the run game and keeping Daniels from getting into rhythm early will result in Notre Dame making a lot of early game stops, which is an incredibly important key to success in this game. If the Irish defense keeps USC's points down early and gives its offense time to put some serious distance between itself and USC.
5. FORCE FIELD GOALS: If USC does move the ball well early it is imperative that the defense hold them to field goals. I'm confident that if USC does move it well early the defense will eventually catch up and start making stops. If it can at least be stout in the red zone the damage will be minimal. If USC puts touchdowns on the board early this game could get really tight.
Fortunately this is something Notre Dame has done well this season. The Irish rank 19th in the country in red zone defense and 32nd in red zone touchdown defense.
SPECIAL TEAMS KEYS TO THE GAME
1. LIMIT USC'S RETURN GAME: Vaughns and Jones are both dynamic return men, and Vaughns has an 82-yard punt return for a score this season. Notre Dame cannot allow either player to make game-changing plays in this game, at least not while the game is in doubt.
2. WIN THE FIELD POSITION BATTLE: To build on point one, overall Notre Dame's special teams must win the field position battle. That means no mistakes in the kick game, it means covering well on kicks and punts, and it means tackling well in space. If USC is forced to go 70-plus yards every time it gets the ball the Irish will likely come out on top in this game.