Justin Walters To Skip Senior Season, Enroll At Notre Dame
Bollingbrook (Ill.) High safety Justin Walters won't get to play a senior season.
The state of Illinois cancelled football in 2020, and the plan is for a modified season to take place in the spring. However, Walters, a class of 2021 prospect is committed to Notre Dame and plans to enroll as a student in early February.
Thousands of high school football players wish they were in Walters' shoes as a future Notre Dame football player, but it's still tough on the 6-2, 185-pounder not having a senior season with his teammates.
"It's pretty sad to be honest," he added. "When my team was practicing this fall, I was out there with him but not actually participating because I'm not going to be there [in the spring].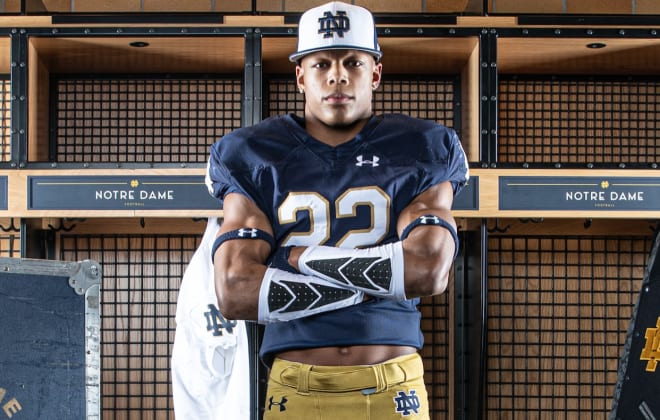 "I haven't played a football game in over a year and I just want to be playing, but what can you do? I train every day but it's not super football focused – it's weight and speed training."
Football is right around the corner for Walters, hopefully. By enrolling early, he will be able to participate in spring football for the Fighting Irish, but who knows what that will look like at this moment in time.
Walters plans to sign his national letter of intent with the Fighting Irish next Wednesday, and he can't wait to get started with his future team.
"It's a dream come true," he said. "I haven't played football in so long. It's going to be so different, especially since I'm going to the next level. I can't wait. I was talking to Coach [Matt] Balis, and he said that after signing day, they can send me a workout routine and things I can do to prepare myself. I can't wait to get rolling and transform myself into a college athlete."
Walters' most recent visit to Notre Dame was Nov. 7 when the Fighting Irish knocked off Clemson 47-40. He wasn't able to attend the game or see the coaching staff due to the NCAA's dead period, but he spent some time with offensive tackle Blake Fisher and tight end Mitchell Evans, a pair of his future teammates.
"I was beyond excited," Walters said about Notre Dame's victory. "I didn't only want them to win because I'm going there. I wanted them to win because everyone is doubting them. They're really about their business.
"It was fun to be around the other commits. I got to see the surrounding area a little bit more than previously. That was something new I was able to experience out of the trip. We walked around campus for a little bit after the game. The energy was crazy; it was cool to see."
Michigan has stayed in some contact with Walters throughout the fall, but he is locked in with the Irish.