Notre Dame's John Mooney Named Third-Team All-ACC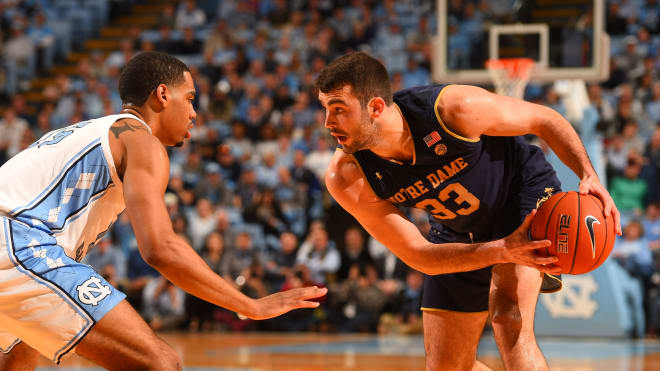 Anytime a basketball player's achievement includes a sentence that reads "best since Tim Duncan," much honor should be forthcoming.

For Notre Dame junior forward John Mooney, that was the case on Monday when he was named third-team All-ACC in 2018-19 on the eve of the ACC Tournament that will see the Fighting Irish play Georgia Tech Tuesday afternoon with a scheduled 2 p.m. ET tip-off (more likely around 2:30 p.m.).
With 13 of this year's 18 conference games resulting in double-double totals in points and rebounds for Mooney, he recorded the most in that category in the ACC since the 15-time NBA All-Star and two-time NBA MVP Duncan had 15 at Wake Forest in 1996-97.
Mooney and North Carolina's Luke Maye were the lone players in the ACC to average a double-double this season, and Mooney was one of only a half-dozen to do so among Power 5 Conference teams, of which there are 65.
Especially notable was his 12.6 rebounding average in the 18 league games. Not only was Maye was a distant second at 10.6, but since 1988 Mooney's total was the second-best ever in league games only, behind Duncan's 14.9 in 1997.
No. 3 was North Carolina's Sean May with 12.3 (2005), followed by Duncan again with 12.2 (1995) and Duke's Marvin Bagley III at 11.2 (2018). In other words, Mooney was the third different player in the league the past 31 years to record at least 12 caroms per game. The other three, plus Bagley, were first-round picks in the NBA Draft.
Including the non-conference games, the Orlando, Fla., native Mooney still finished the regular season as the ACC's top rebounder with an 11.2 average to complement his 14.1 points per game.
Unfortunately, with seven straight defeats to end the regular season, a 3-15 league record that gave Notre Dame the No. 15-seed in the 15-team conference for the tournament, and a 13-18 final ledger overall, Mooney's individual exploits became somewhat overshadowed amid the team's travails.
Mooney also was the runner-up to Louisville's Jordan Nwora as the ACC's Most Improved Player, with Nwora receiving 30 points in the voting to Mooney's 27.
Mooney averaged 5.6 points and 3.9 rebounds per game the previous season and improved to 14.1 and 11.2, respectively.
Nwora went from 5.7 points and 2.2 rebounds as a freshman last year to 17.3 points and 7.7 rebounds this season. It didn't hurt that the Cardinals also were 10-8 in the league and 19-12 overall.
Mooney became the eighth Irish player to earn a spot on the league's all-conference team since the 2013-14 season.
All-ACCFirst Team
Zion Williamson, Fr., Duke, 350*
RJ Barrett, Fr., Duke, 346
De'Andre Hunter, So., Virginia, 302
Cameron Johnson, Sr., North Carolina, 277
Kyle Guy, Jr., Virginia, 231
*Player of the Year
Second Team
Luke Maye, Sr., North Carolina, 221
Ky Bowman, Jr., Boston College, 188
Ty Jerome, Jr., Virginia, 177
Coby White, Fr., North Carolina, 171
Kerry Blackshear Jr., Jr., Virginia Tech, 170
Third Team
Jordan Nwora, So., Louisville, 135
Marcquise Reed, Sr., Clemson, 129
Tyus Battle, Jr., Syracuse, 128
Nickeil Alexander-Walker, So., Virginia Tech, 72
John Mooney, Jr., Notre Dame, 71
Honorable Mention
Mfiondu Kabengele, So., Florida State, 69
Cam Reddish, Fr., Duke, 37
Tre Jones, Fr., Duke, 18
Terance Mann, Sr., Florida State, 16
Elijah Thomas, Sr., Clemson, 10