John McNulty Off To Hot Start As Notre Dame's TE Coach
John McNulty has been on the job as Notre Dame's tight ends coach for only about five months, but he has been highly productive on the recruiting front.
Within 30 minutes of being announced as Chip Long's replacement in early March, McNulty made a call to Hartwell (Ga.) Hart County tight end Cane Berrong, who committed to the Irish last summer but was being bombarded by other schools.
Berrong and McNulty quickly formed a strong connection.
"It was great," Berrong said of his first conversation with McNulty. "It's great to finally talk to him. He's a nice guy. I had already heard good things about him. He was excited to talk to me and is excited about my film.
"He loved how I finished plays, and he said it was hard to finds kids willing to be a force in the run and passing game."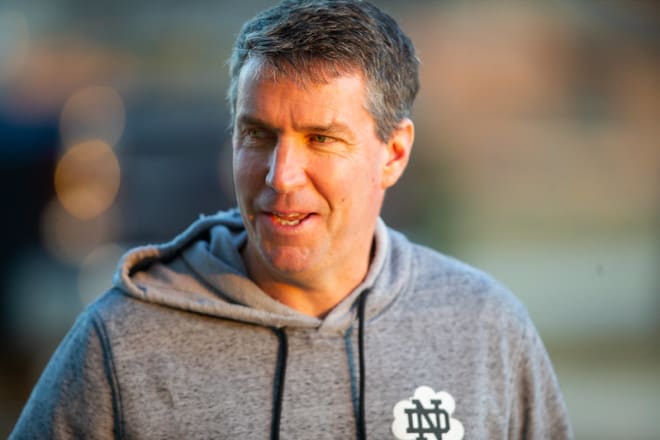 After a couple months on the job, McNulty offered his first two tight end prospects in the 2022 class. Milton (Ga.) High's Jack Nickel and Pilot Mountain (N.C.) East Surry's Benji Gosnell were the recipients of the offers.
After two months of recruiting Nickel, Notre Dame landed a commitment from the 6-4, 230-pounder, who also considered Iowa, LSU, Penn State among his near 30 scholarship offers. Nickel announced his commitment to Notre Dame July 27.
And on Friday afternoon, Notre Dame landed Wadsworth (Ohio) Senior's Mitchell Evans, a 6-7, 240-pounder who will join Berrong in Notre Dame's 2021 class.
Evans picked the Irish over Florida State, Georgia Tech, Louisville, Michigan State, Virginia and others. Rivals ranks Evans as the No. 25 player in Ohio and the No. 28 tight end in the country.
With two tight end commits in the 2021 class and one already in the following recruiting cycle, McNulty will become more of a babysitter than recruiter.
Even though Berrong has dropped some in the rankings, a handful of schools are still reaching out to him in hopes to get him to flip on his Irish pledge, but Berrong is locked in with the Irish. Other schools could try and do the same with the newly committed Evans, and with Nickel's early pledge, other schools may still come after him.
It's not out of the equation that Notre Dame takes another tight end in the 2022 class, but at this point, we assume it will just be Nickel.
It will be McNulty's duty to keep his committed prospects in the fold, while also going ahead and getting a head start on tight end prospects in the 2023 class.
A few notable tight end prospects in the 2023 class include Cambridge (Mass.) Buckingham Browne & Nichols' Preston Zinter (younger brother of Zak Zinter who committed to Michigan over Notre Dame last year), Pickerington (Ohio) Central's Kobi Gorman (teammate of 2021 Irish commit Lorenzo Styles Jr.), St. Louis De Smet's Mac Markway (former teammate of 2020 Notre Dame signee Jordan Johnson) and Robbinsdale (Minn.) Cooper Senior's Jaxon Howard.
Notre Dame has not offered any 2023 tight end prospects just yet.