Jalen Elliott Morphs Into Iron Man & Team Leader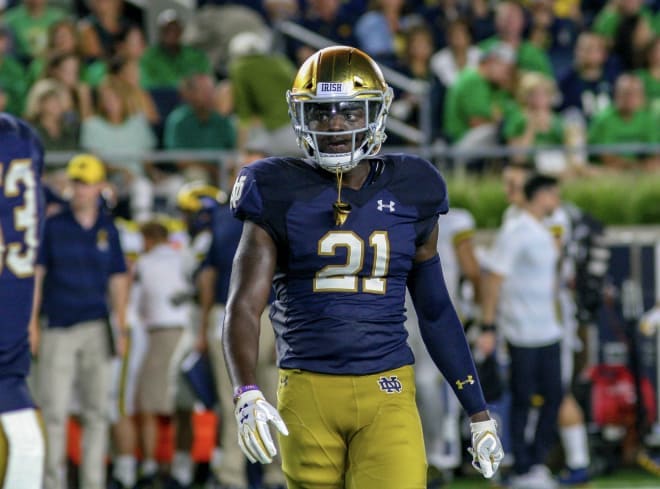 During Notre Dame's 4-8 debacle in 2016, Jalen Elliott became the "forgotten freshman" in the Fighting Irish kiddie corps defensive backfield.

While classmates such as safety Devin Studstill (nine starts) and cornerbacks Julian Love (eight starts), Donte Vaughn (four starts) and Troy Pride Jr. (three starts) all made inroads into future extensive action, Elliott — who starred at quarterback while helping lead Lloyd C. Bird High School to Virginia State Championships in 2013 and 2014 — couldn't carve out a niche in the secondary with his young cohorts.
In fact, he was tagged more for two special teams blunders. In the 36-28 loss to Michigan State, the opening kickoff return for a touchdown by Notre Dame's CJ Sanders was called back because of a holding penalty on Elliott. Later in the year during a 30-27 victory over Miami, the Hurricanes nearly rallied to victory when they recovered an on-side kick that Elliott misplayed.
From the fires of that football hell has come the iron — and Iron Man — forged in Elliott.
The lone Notre Dame player on defense or offense to start all 26 games (no one else has more than 20) for the Fighting Irish the past two seasons, Elliott's 934 snaps (72 per game) led the defense last year, plus his work on three of the four special teams units put him well over the 1,000 total. He returns this season with more career tackles (124), interceptions (four) than anyone else at Notre Dame on the current roster, while his nine passes broken up are second to Pride's 13.
His efforts have helped produce a 22-4 turnaround the past two seasons that included earning a College Football Playoff bid.
Little wonder that Elliott joined fellow senior safety Alohi Gilman, who transferred from Navy in 2017, as two of the team's eight SWAT team captains this winter, and top candidates to be team captains. Leadership has been an intrinsic aspect of Elliott's personality from his days as a standout quarterback.
"I always say the safety is like the quarterback of the defense," Elliott said following the opening practice this spring last weekend. "So being able to kind of elaborate what I wanted to say and being able to put guys in the right places was something I did at quarterback, and I think it translated to safety."
Back in 2017 when Notre Dame was rebuilding from the rubble, new defensive coordinator Mike Elko in an interview with Blue & Gold Illustrated surprisingly singled out Elliott as a foundation upon whom the back end of the unit could build.
"Jalen probably has the most upside because he's played safety the least in his life," said Elko, who took the Texas A&M defensive coordinator position a year later. "As he's gotten more comfortable learning to be a college football player, he's gotten more comfortable playing the scheme."
That initial season as the starter in 2017 yielded little from an individual standpoint. Elliott's main role was more about not making too many damaging plays instead of making any game-changing ones. Both occurred, with Elliott recording no interceptions, no tackles for loss and only two pass deflections.
Consequently, safety was deemed as perhaps the weakest link entering the 2018 season, even though Gilman was added to the rotation and eventually supplanted Nick Coleman for the starting role while Coleman shifted to nickel. For a while in August, though, it appeared Elliott might be the odd man out.
"As far as techniques go, that took some time just making sure that I was in the right places at the right time, making sure I was using the right techniques through different situations," Elliott said.
Aiding his development was the hiring of Terry Joseph to coach safeties exclusively, whereas Elko had to concern himself with the bigger picture of the overall defense for the vastly improved unit in 2017.
Joseph's presence helped make the safety position a strength instead of a liability, with Elliott's four interceptions pacing the team while adding seven pass break-ups, highlighted by a fourth-down PBU deep in Irish territory with 1:07 left to preserve a hard fought 22-17 win versus Vanderbilt.
"I love the way he coaches, I love the energy he brings to the room and I appreciate him giving us the techniques to be successful," said Elliott of Joseph. "He just did a great job of making it repetitive and making it easy for us to understand through all the techniques that we use."
Today, the Elliott/Gilman safety tandem has the makings to be one of the best nationally after combining for 162 tackles, 12 pass breakups, six interceptions and four forced fumbles in 2018.
"I think it was just a little more confidence in my technique and the confidence my coaches had in me as well that allowed me to play a little faster," said Elliott of what made him one of the two or three most improved Notre Dame players in 2018. "I still had some plays I could have made a little bit faster, and that's what I'm working toward now."
The Elliott/Gilman combo achieved first through deeds, which now makes them more comfortable to be top voices in the program.
"I feel like I've always been a vocal leader," Elliott said. "As far as talking in front of the team, I feel like that's something that has to be earned. I feel like the guys have come to me and said that I've earned that — so just continue to make sure that I continue to earn it is big for me."