Jackie Young Turns Pro: What It Means To Notre Dame In 2019-20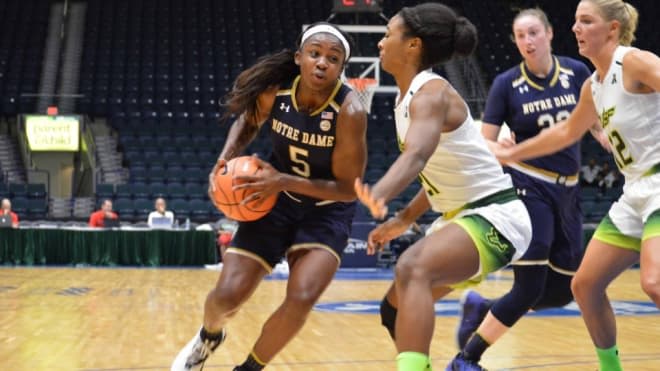 The Notre Dame women's basketball house for 2019-20 already has been gutted with the graduation of four senior starters and WNBA prospects Arike Ogunbowale, Brianna Turner, Jessica Shepard and Marina Mabrey, an unparalleled scoring quartet in NCAA history.

On Monday night it was razzed to its foundation when junior guard Jackie Young declared for the WNBA Draft that will be held Wednesday (April 10).
The Associated Press third-team All-American, who Fighting Irish head coach Muffet McGraw has declared the best athletic talent she has coached in her more than three decades at Notre Dame, recorded two triple-doubles this season and finished averaging 15.0 points and 7.4 rebounds per contest while also handing out a team high 186 assists. She has been projected as a potential top-5 selection in the mock drafts.
The WNBA Draft will air Wednesday, April 10, at 7 p.m. ET on ESPN2. The second and third round picks will then be aired on ESPNU.
"I would like to thank the University of Notre Dame for providing me with three years of the very best experiences, opportunities and people of a lifetime," Young said in an official statement. "To Coach McGraw and the coaching staff, thank you for believing in me, pushing me and shaping me into the person and player I've become.
"After much consideration, I would like to announce that I will be following my heart and living out my childhood dream of playing in the WNBA. I have waited for this day all of my life and I can't wait to continue this journey."
Young is the second Notre Dame player to declare after her junior year, with the WNBA requiring that the player turn at least 22 in that calendar year. Jewel Loyd was the first in 2015 and the No. 1 overall pick.
Here are some most asked questions:
Is the money good enough in the WNBA to leave early?
Compared to the NFL and NBA, not even in the same universe. Reportedly the minimum salary for the 34-game regular season is $75,000, with the maximum veteran salary around $113,500.
The bigger money for WNBA players is in Europe, where the ultra-elite such as Diana Taurasi can make over $1 million. That's not where Young would be with finances, but it would be appreciably more in Europe, where hundreds of thousands of dollars can be made by top players.
Does this mean Notre Dame's reign as one of the nation's top three programs this past decade from 2010-19 will end?
It will in 2019-20 at least, and it is going to need some monster recruiting hauls in 2020 and 2021 to start getting back into Final Four conversation by 2022. Yes, the drop-off is that precipitous.
Players such as Turner, Shepard, Ogunbowale and Young were all either top-5-10 rated recruits or even national players of the year (Turner and Young) — and Mabrey was the co-MVP in the McDonald's All-American game. When they arrived, they had proven veterans on the roster for guidance and to lighten their load. The marquee figure on next year's team is incoming freshman Sam Brunelle — a top-5 recruit — but that's putting way too much on a rookie.
Even if Young had returned, we viewed the ceiling next season as advancing to the Sweet 16. Nobody loses an entire starting lineup that tallied 10,230 career points — easily the most in men's or women's NCAA basketball annals — and not feel the aftershocks. Getting an invite to the NCAA Tournament in 2020 might be a notable accomplishment.
What will the starting lineup be?
Right now, Notre Dame has only eight scholarship players.
• No seniors. Young has turned pro and Erin Boley transferred to Oregon after her freshman season.
• Two juniors. Forwards Mikayla Vaughn — medically redshirted as a freshman because of a torn ACL — and Danielle Patterson. Vaughn is the top returning scorer with a 3.3 average, while Patterson is at 2.9.
• Four sophomores. Guards Abby Prohaska, Jordan Nixon and Katlyn Gilbert and forward Danielle Cosgrove.
Nixon and Gilbert were both projected to aid the backcourt this year, but Gilbert was redshirted to surgically repair an ailing shoulder while Nixon had numerous setbacks that resulted in 13 missed games, and progress that became slower than anticipated. Prohaska became the first guard off the bench (1.9 points, 1.6 rebounds per game) to provide energy and some relief to the Ogunbowale-Mabrey-Young trio.
At 6-4, Cosgrove's forte is roaming the perimeter, but she arrived not nearly as college-ready as her predecessors up front.
Two freshmen. Forward Brunelle and guard Anaya Peoples.
Five of the eight were McDonald's All-Americans: Patterson, Nixon, Gilbert, Brunelle and Peoples. Not many teams possess that many. The problem is no one has distinguished herself yet as a freshman or sophomore the way Turner, Ogunbowale, Mabrey, Young, and so many others who preceded them, did.
Early in the year, look for Vaughn and Patterson to start up front with Brunelle, while Gilbert and Nixon handle the backcourt.
Is Notre Dame looking to bolster the roster with transfers?
Definitely a graduate transfer or maybe even two, especially up front. McGraw stated that last November when the Irish came up short along the front line in their recruiting. Plus, graduate transfers are eligible right away, and Notre Dame needs "big" help immediately.
Such additions likely won't be game-changers, otherwise they'd be in the WNBA Draft too, but reinforcements are needed, especially if one or two players next year have to go under the knife again with injuries.