It Took A Village To Get Litchfield Ajavon To Notre Dame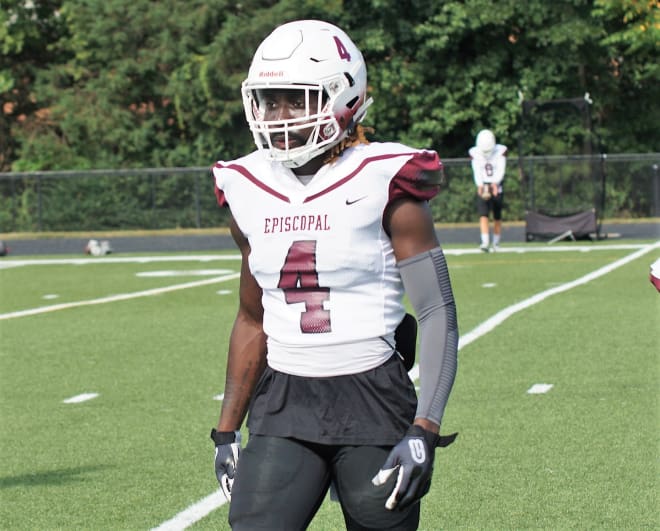 "It takes a village to raise a child" is an African proverb that highlights the significance of a child's environment in his upbringing.
Notre Dame safety signee Litchfield Ajavon has lived in some unique environments in his short life, but his "village" has never changed.
Every village has a leader, and the head man in Ajavon's is his grandfather Biomah Binda, who Ajavon looks at as his father. For 17 years, Binda and his family lived in exile at the Buduburam refugee camp in Ghana, Africa, after escaping the unrest brought on by civil war in Liberia.
In 2007, after almost two decades in exile, when Ajavon was 6 years old, his grandfather decided it was time for a change and brought Ajavon, his mother and other family members to America.
But immigrating to the United States from a refugee camp isn't exactly easy.
"The process of coming to the United States is a very long and tiring process," Ajavon explained. "I had to go to a lot of orientations and lot of meetings."
Ajavon and his family did eventually make it to America and settled in Baltimore, but their troubles didn't end there.
"I remember when we got here, I had a pair of pants, a shirt and a pair of sneakers I bought just for the occasion," he said. "I traveled with that and that alone, and I wore the same pants and shirt for quite a while."
Just as he had back in Africa, Binda got to work on getting the people counting on him to a better place.
"He found us a place to live, he tried to better his life and my life," Ajavon said. "He went to school as an elderly man, graduated at the top of his class and is still working now, six days a week, at well over 60 years old."
Ajavon and his family were settling into an American life, but the adversity wasn't over. The threats facing Ajavon in Maryland were far different from the ones back in Ghana, but they were threats all the same.
"Even when I came to the United States, there were a lot of difficult decisions I had to make as a young child navigating the streets of Baltimore," he said. "I could have fallen to the side of the road like most of my friends."
But he didn't, because his village was as strong in Baltimore as it was in Ghana. If it hadn't been, Ajavon's life may have headed off in a drastically different direction.
"I was so blessed to have a strong network of people around me, and a set of values and morals to guide me through everything," Ajavon said. "Luckily, I had that, unlike most of my friends, some that are near to my heart that are either dead, selling drugs on the streets or in jail."
After a childhood and adolescence that saw him journey through an African refugee camp and the streets of a city where more than 300 people a year are murdered, Ajavon found a home at Alexandria (Va.) Episcopal and in the fall will enroll at one of the foremost academic institutions in the country at no cost to him — or his village.
"I still sometimes have to pinch myself to make sure this is my reality," he said with a laugh. "For a long time, my reality was something totally different."
The reality for Ajavon now is that he's one giant step closer to being able to pay back his grandpa for getting him here. However he does it, it will be the greatest thing he's ever done.
"Every day, everything I do is to get to a place where he doesn't have to work anymore," Ajavon said. "If it's the NFL, so be it, but if it's not, I know there's something in store for me up above.
"Once I get to that destination, it will be so gratifying to look my grandad in the eyes and say, 'I got you now. You don't have to worry about anything anymore.'
"For a long time, I've been promising that everything would be okay. So to get to a point where I can say everything is okay, that's going to be the highlight of my life."
To get there, though, there will be more hard work ahead, and just as he did in war-torn Africa and inner-city Baltimore, Ajavon will need his village.
"Without each and every one of them, Lord knows where I would be right now," he said. "Everybody that has blessed me with their presence in my life has played a certain role, a special role, in my upbringing."
Luckily, he will be reminded of that every day when he looks at his forearm, where that old African proverb is tattooed.
"That old African adage, it's been so true in my life," Ajavon said. "This core of people that have been behind me, that's my village, and they've brought me to this place where I am now."