Irish opt for an inside job, expect to name Parker offensive coordinator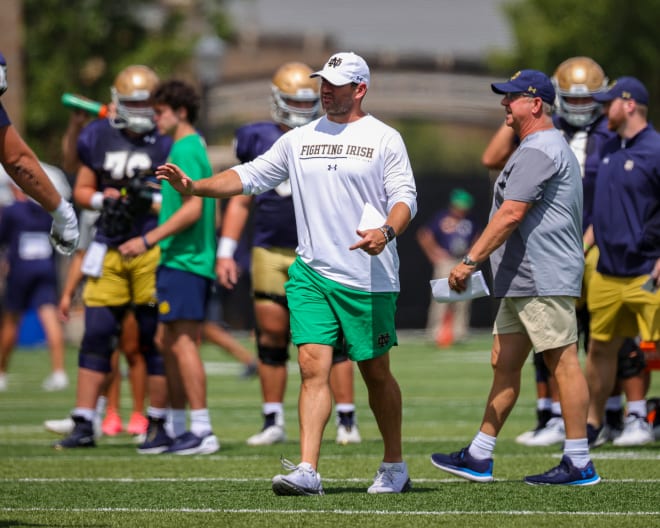 From the outside looking in, Gerad Parker's résumé bullet point from his first season on the Notre Dame football coaching staff consisted of NOT screwing up All-America tight end Michael Mayer.
Head coach Marcus Freeman and departed offensive coordinator Tommy Rees would maintain there's a lot more to the 42-year-old Huntington, W.Va., native.
And, apparently, he's going to get a chance to showcase that in 2023 on a bigger stage and with vastly more scrutiny.
On Wednesday afternoon, the Irish second-year tight ends coach emerged as the new front-runner in the twisty, 12-day-old search for Notre Dame's next offensive coordinator — a day after he became the third candidate to do an in-person/on-campus interview to be Rees' successor.
By early Wednesday evening Parker was expected to be formally named once ND completes its vetting process, a prerequisite even for internal candidates, and will collaborate in his role with new QBs coach Gino Guidugli. FootballScoop.com was first with the news.
The 39-year-old Guidugli also has yet to be formally named, either. He most recently was the tight ends coach and passing game coordinator at Wisconsin for the past 43 days after serving as Cincincinati's offensive coordinator/QBs coach in 2022.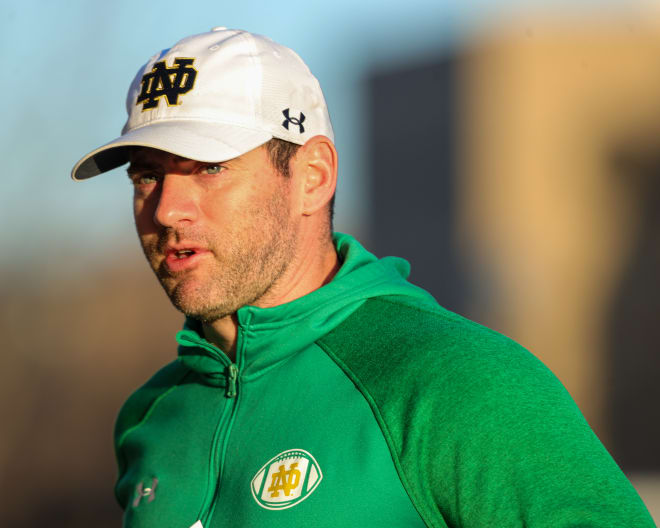 Parker will replace Rees, who on Feb. 3 accepted the offensive coordinator/QBs coach role at Alabama. Kansas State offensive coordinator Collin Klein and Utah offensive coordinator Andy Ludwig also interviewed on campus, with Klein declining and a possible union with Ludwig being derailed by contract buyouts for him and offensive line coach Jim Harding.
Parker has coached running backs, wide receivers and tight ends in a college coaching career that dates back to a graduate assistant position at his alma mater, Kentucky, in 2007. But the former Wildcat wide receiver's only two seasons as an offensive coordinator — 2020-21 at West Virginia — ended with him being stripped of his play-calling duties following the 2021 season.
Shortly thereafter, Freeman hired Parker to come coach tight ends at Notre Dame.
"You're coming to a place that expects to compete and play at the highest of levels and win national championships," Parker said last February. "Then of course, you get a chance to coach a position that's expected to be a top position group in the country. What better challenge than that?
"Absolutely that had something to do with it. You want to put yourself in position to be pushed and held to a standard that's been put in place far before me. So, really excited to uphold that standard and hopefully keep building on that legacy of the tight end room."
Ironically, he'll begin his run as offensive coordinator without an established tight end but plenty of numbers and potential in that position group.
He'll also have arguably the best quarterback on an Irish roster since Jimmy Clausen in 2009, in Wake Forest transfer Sam Hartman.
Parker will become the seventh Notre Dame offensive coordinator since Charlie Weis went without one being named in his final season (2009). Only Charley Molnar (2010-11) under Brian Kelly, arguably the last successful of the previous six, had more than a year of Division I offensive coordinator experience when he was named
Parker does have some head coaching experience, albeit with an interim tag.
For the last six games of Purdue's 2016 season, Parker led the Boilermakers with Freeman on staff as co-defensive coordinator and linebackers coach. Purdue lost all six games after head coach Darrell Hazell was fired midseason.
"Our time we spent together at Purdue, those were four rough years," Freeman recalled last August. "We won nine games in four years. But the things we learned from those four years are really important for the growth of us as individual coaches.
"I told Gerad today, 'You think back six years when he was the head coach at Purdue for the last six games.' I said it and was laughing. You don't have to change as a head coach. You have to be who you are. Your responsibilities can change. Sometimes the way people view you changes.
"But who you are at the core of your heart, you don't have to change. You have to lead. You have to be the same person that you were six years ago, seven years ago, eight years ago that you are today. Do the responsibilities change? Yeah. I'm not the linebackers coach. I'm the head coach, so I have to lead.
"But who you are (is) at the core of your heart and for me, that's discipline, it's toughness, it's a teammate. I say all the time, I'm a teammate. The ability to use those people that are around you, those minds, those extremely strong people we have on our staff, I think it's important. … You're taking this journey with guys that you know who they are and you trust them and wouldn't trade them for anyone else."
GERAD PARKER BIO
PERSONAL INFORMATION
Born: Jan. 4, 1981
Hometown: Huntington, W. Va.
High School: Louisa (Ky.) Lawrence County High School
College: Kentucky (Business Management 2003, Master's in Education 2005)
Family: Wife, Kandi; Daughters: Kolbi, Gwyneth and Rosalyn; Son, Oliver.
PLAYING EXPERIENCE
2000–2004: Kentucky (Wide receiver)
COACHING EXPERIENCE
Year: Team - Position
2005-06: Raceland (Ky.) High School - Wide Receivers/Defensive Backs
2007: Kentucky - Graduate Assistant
2008: UT Martin - Running Backs
2009-10: UT Martin - Wide Receivers/Passing Game Coordinator/Recruiting Coordinator
2011-12: Marshall - Wide Receivers
2013-14: Purdue - Tight Ends/Recruiting Coordinator
2015-16: Purdue - Wide Receivers/Recruiting Coordinator
2016: Purdue - Interim Head Coach
2017: Cincinnati - Running Backs
2017: Duke - Football Operations Assistant (Offense)
2018: Duke - Wide Receivers
2019: Penn State - Wide Receivers/Passing Game Coordinator
2020-21: West Virginia - Offensive Coordinator/Wide Receivers
2022: Notre Dame - Tight Ends
2023: Notre Dame - Offensive Coordinator/Tight Ends