Irish LB Commit Matthew Bauer Begins Senior Season With 40-7 Victory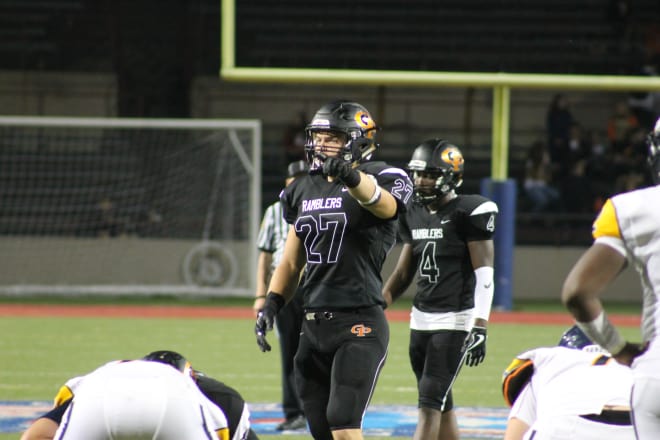 Erie (Pa.) Cathedral Prep linebacker Matthew Bauer had a banner year in 2016 helping lead his team to a Class 4A state championship and winning the Class 4A Defensive Player of the Year in the process.
Cathedral Prep began their season on Friday night against Pittsburgh Central Catholic, the Class 6A state runner-up. The Ramblers continued their success from last season opening up their 2017 campaign with a 40-7 victory.
"They were a fantastic team," Bauer said following the win. "I can't be blessed enough to be given the opportunity to play. I'm just so happy to get that win. It wasn't just me. These guys put in the same work and I'm glad to see them succeed also.
Bauer recorded eight tackles, two sacks and multiple quarterback hurries, according to goerie.com, in the lopsided victory. The 6-foot-3, 216-pounder also helped force an interception with a hit on the Central Catholic quarterback as he was throwing.
With his senior season officially underway, Bauer is looking to continue riding the momentum from his junior year and Friday night was a good start in the right direction.
"We have to carry the momentum from last year and from this game," Bauer said. "We just have to keep staying positive and get back to the state game and win."
The Rivals250 prospect was the second linebacker commit in Notre Dame's class following Farmington Hills (Mich.) Harrison linebacker Ovie Oghoufo a few weeks later in early August 2016. Now the Irish class holds commitments from two other players for its second level with the summer additions of Temecula (Calif.) Great Oak Rivals100 product Jack Lamb and Jersey City (N.J.) St. Peter's Prep rover Shayne Simon.
Bauer is growing closer with the group as a whole and remains firm in his decision to be a member of the Notre Dame program.
"I've been given an amazing opportunity to go there," Bauer explained. "I relive it every day in my head and I'm just so blessed … All the guys are good. I like Ovie, I like Jack Lamb. They're all nice guys, but I haven't gotten to meet most of them in-person."
The senior linebacker is looking to record his third consecutive season with 100-plus tackles after posting 111 as a sophomore and 113 last season. In the latest edition of the Rivals250, Bauer ranked as the nation's No. 5 inside linebacker and No. 132 player overall.
Ryan Donnelly of Panther-Lair.com contributed to this report.