Irish Invasion Primer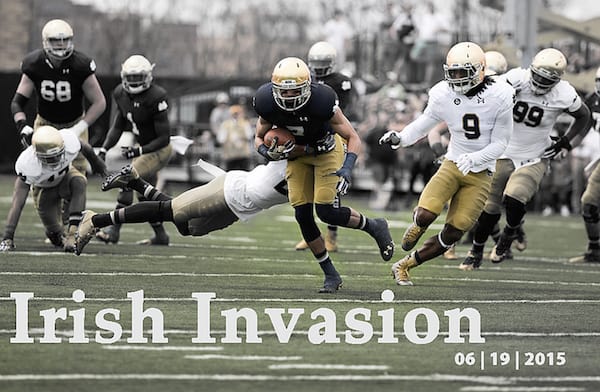 Notre Dame will host its biggest one-day recruiting event of the summer on Friday, when over 85 recruits from around the country converge on South Bend for the Irish Invasion.
While there will be plenty of recruiting news and tidbits that stem from the invite-only camp, which will take place under the lights, Blue & Gold Illustrated breaks down everything you need to know about the Irish Invasion before things even get started.
The Headliners
Notre Dame sent out invitations to dozens of prospects at every position on the board, and the staff was able to lure some elite talent to campus. The Irish are expected to host at least nine Rivals100 prospects, and upwards of 75 recruits that claim FBS offers. Here are the can't-miss names that will be in town.
LB
Caleb Kelly
, Fresno (Calif.) Clovis West — Kelly wasn't sure if he was going to make the trip across the country two weeks ago, but a flight was booked, and the five-star linebacker will be on campus to see Notre Dame for the first time. He's not expected to workout — but — that's not the focus of the trip. Notre Dame is trying to move up Kelly's list of schools just a few weeks after Michigan held a satellite camp in Fresno just for Kelly. Oklahoma is also in the mix. Rivals Ranking: No. 5 outside linebacker, No. 19 prospect in the country and No. 2 player in California.
WR
Javon McKinley
, Corona (Calif.) Centennial — McKinley will be in South Bend for the second time in the past three months. He previously said that he "loved" everything about Notre Dame and that the Irish were one of his top schools. By all indications, that's still the case, but wide receiver is a need this cycle and the four-star prospect is one of the top names on the board. He's also considering USC and Oregon. Rivals Ranking: No. 18 wide receiver, No. 99 prospect in the country and the No. 17 player in California.
QB
Hunter Johnson
, Brownsburg (Ind.) High — Johnson is one of the top quarterbacks in the class of 2017, and this will mark his third trip to campus since February. The Irish and offensive coordinator Mike Sanford have told the four-star quarterback that he's the top arm on the board for the next recruiting cycle, and the attention reflects that. Sanford saw Johnson twice during the spring evaluation period and has remained in constant contact. Rivals Rankings: Named to the initial Rivals100 for the class of 2017.
S
Spencer Perry
, Bradenton (Fla.) IMG Academy — Perry, who is committed to Florida, grew up down the road from Auburn, but despite the deep ties to the SEC, he wants to give the Irish a look. Notre Dame coaches saw the three-star safety twice during the spring evaluation period and have told him, that he can make an impact right away on defense. Rivals Rankings: No. 39 safety in the country.
ATH
Chase Claypool
, Abbotsford (B.C.) High — Claypool is listed as a wide receiver, but he can play multiple positions on the field, and the Irish like him on defense at safety. The Canadian three-star prospect named a top three last week of Michigan, Washington and Oregon, but admitted that the Irish weren't on his list, simply because he had yet to visit campus. He'll get the red carpet experience on Friday. Rivals Rankings: No. 96 wide receiver in the world.
DE
Tomon Fox
, Suwanee (Ga.) Collins Hill — Fox might not have the most stars next to his name, but he's a priority simply because of the need at defensive end this cycle. The three-star prospect has seen a number of different schools the past few weeks including North Carolina and N.C. State but this will mark the first trip to South Bend. Rivals Rankings: No. 22 defensive end and No. 42 prospect in Georgia.
Offer Candidates
Summer camps are often reserved as events where the coaching staff can get hands-on with a recruit and see how they react to different situations. While the Irish Invasion isn't exactly a summer camp, there will be on-field activities, which means evaluations will be happening. Here's three players who could catch the eye of the staff and earn a Notre Dame scholarship offer.
TE
Noah Turner
, Mudelein (Ill.) Carmel Catholic — Turner's stock is on the rise after a number of impressive performances on the offseason camp circuit, and he's camping to prove to the coaches that he's worthy of an offer. The 6-3, 237-pound three-star prospect might not be the biggest tight end with his frame, but he does a lot of small things well, and that's why Maryland, North Carolina and Louisville have offered. Rivals Rankings: No. 23 tight end and the No. 14 prospect in Illinois.
LB
Alexander Gagnon
, Charlotte (N.C.) Catholic — The Irish saw Gagnon twice during the spring evaluation period, and this is beloved to be a case of the staff wanting him to workout before taking the next step in the recruiting process. The three-star outside linebacker holds offers from Duke, Vanderbilt, Northwestern and Boston College. He was a standout performer at Florida State's camp last week. Rivals Rankings: No. 39 prospect in North Carolina.
LB
Chase Pine
, Williamsburg (Va.) Lafayette — Like with Turner, Pine is another prospect that has seen the interest from schools explode. Since the end of May, he has picked up offers from North Carolina, Virginia Tech and West Virginia. Notre Dame could be next for the three-star outside linebacker, although there's still some work left on the table both on and off the field. Rivals Rankings: No. 24 prospect in Virginia.
The Storylines
We could write a book about the Irish Invasion. Of course we're kidding, but we probably could. There will be tons of different news tidbits that develop this weekend, but here are three themes to keep in mind.
DB Galore — Arguably the top position group of the event in terms of talent and sheer numbers is secondary prospects. Coincidentally that's also expected to be the largest group of takes for Notre Dame this cycle.
Notable prospects in-attendance just at safety include: Bradenton (Fla.) IMG Academy three-star safety
Spencer Perry
, Smyrna (Tenn.) High three-star safety
Ikenna Okeke
, Palm Beach Gardens (Fla.) High three-star safety
Devin Studstill
and Corona (Calif.) Centennial three-star safety
Chacho Ulloa
. There's a chance that one or more could decide on a commitment soon, either this weekend or in the following days after. Undoubtedly, how the defensive back class starts shaping up is an interesting narrative to follow during the weekend and in the coming days.
Commitment Watch? — Supplementing the large group of secondary targets is a few players at other positions that are highly favorable with Notre Dame. Last year's Irish Invasion did not produce a single commitment during or at the conclusion of the weekend — which is an important note — but a few emerged down the road that pointed to the event as a swaying factor in their recruitment.
The Irish could become the favorite for a few prospects pending an offer, including 2017 Cincinnati St. Xavier offensive lineman
Matt Bockhorst
and Williamsburg (Va.) Lafayette linebacker
Chase Pine
. Ulloa and his close teammate, Corona (Ca.) Centennial wide receiver
Javon McKinley
will now be on-campus for the second time together, and still plan to take a third trip to campus together for the USC game in October. Brownsburg (Ind.) High rising junior quarterback
Hunter Johnson
might be the top target for the program in the entire 2017 class, and he could announce a decision by the end of the summer.
Juniors ... Everywhere — Many coaches will point towards getting underclassmen on campus early in the process as a key recruiting tool, because it lays the foundation for the recruitment.
Well, that's good news for the Irish, because the staff is expected to host a number of the top-ranked national players in the 2017 class. In addition to Johnson, Cypress (Texas) Cy-Fair tight end
Brock Wright
, Norcross (Ga.) High defensive end
Robert Beal
and Lexington (Ky.) Lafayette offensive lineman
Jedrick Wills
are all nationally coveted prospects as rising juniors.
Want More Coverage?
Blue & Gold Illustrated will be providing around-the-clock recruiting coverage of the Irish Invasion throughout the weekend and you can get all of it FREE for 30 days.
What does that include?
- Analysis.
Blue & Gold Illustrated
football analyst Bryan Driskell will be on-site providing instant analysis from the Irish Invasion on the prospects working out. He previews the offensive personnel
here
- Live updates. Blue & Gold Illustrated recruiting editor Andrew Ivins has traveled around the country the past few months seeing prospects in California, Florida, Michigan, Ohio, Kansas and Missouri. He'll be joined on the sidelines by recruiting analyst Jordan Wells, who like Andrew, has built relationships with a number of high-profile prospects. The two have already launched a weekend recruiting thread, and the updates are rolling in as prospects arrive in South Bend.
- An up-to-date visitors list. We have all seen them floating around out there, but Blue & Gold Illustrated has an accurate list of confirmed visitors with information on who they are coming with, and when they will arrive in South Bend.
- Visuals, Visuals, Visuals. Blue & Gold Illustrated has made it a priority to incorporate video and photography with our day-to-day coverage and that will be part of the package this weekend, as well.
[rl]