Irish in the Pros: Golden Tate and Who Made NFL Rosters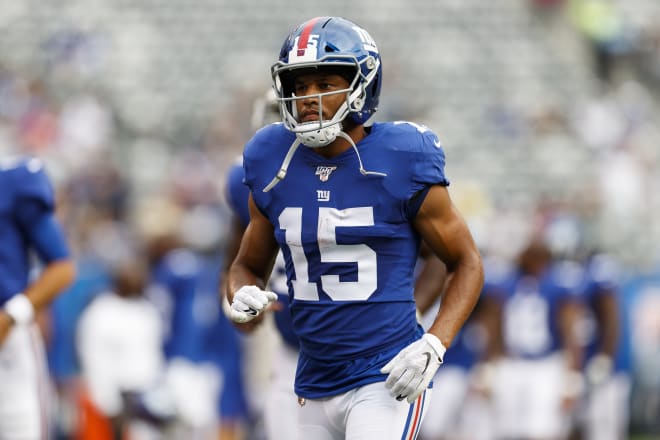 Golden Tate is the lone Notre Dame player ever to win the Biletnikoff Award (2009), and since then he has sustained a successful NFL career.
Highlighted by winning the Super Bowl with the Seattle Seahawks and making the Pro Bowl in 2014, Tate has racked up career totals of 611 receptions for 7,214 yards and 38 touchdowns with four different franchises.
From 2013-17, Tate led the league in yards after the catch and caused the most missed tackles in the NFL with 116, per Pro Football Focus.
This past offseason, Tate signed a four-year, $37.5 million contract with the New York Giants, with $22.95 million guaranteed.
Now 31 years old, he is entering the twilight of his career and dealing with accusations he never thought he would encounter: the use of performance-enhancing drugs. He has been suspended for the first four games of the 2019 campaign, ending his streak of playing at least 15 games a season.
"I have no problem with accepting the punishment," Tate stated publicly after he learned of the NFL's decision to suspend him. "I'm responsible for what's put into my body, ultimately. The tough thing I am dealing with is I'm letting down a lot of people.
"My family, the guys in the locker room, the people in the organization that brought me here."
Tate said the only reason he tested positive for clomiphene, a substance deemed illegal by the NFL, is because it's contained in a fertility drug he took to help his wife become pregnant.
"Initially, the doctor said it was not a banned substance," he noted. "In fact, he had given it to other NFL players, which is why I trusted it and kept living my life. I was out to dinner one night with a guy who worked for me and he started talking about another player who was getting suspended for something completely different.
"A light went off in my head and I said, 'Let me call the doctor to make sure, to make myself feel better.' I asked him what the active ingredient was and he looked it up right then and there and sure enough, it was a banned substance."
Tate actually reported himself to the NFL and later appealed the suspension, which was denied. He will serve his time before rejoining his teammates in week five at home versus the Minnesota Vikings.
However, per CBS Sports, Tate did indicate he is exploring taking legal action against his doctor for giving him misleading information.

Irish Players On NFL Rosters — As of Sept. 3
Name (Years At Notre Dame) NFL Season Pos. Current Team

Miles Boykin (2015-18) 1st WR Baltimore Ravens
Sheldon Day (2012-15) 4th DL San Francisco 49ers
Tyler Eifert (2009-12) 7th TE Cincinnati Bengals
Matthias Farley (2011‑15) 4th DB New York Jets
Will Fuller (2013-15) 4th WR Houston Texans
Bennett Jackson (2010-13) 1st CB New York Jets
J.J. Jansen (2004-07) 12th LS Carolina Panthers
DeShone Kizer (2014-16) 3rd QB Oakland Raiders
Julian Love (2015-18) 1st CB New York Giants
Nick Martin (2011-15) 4th OL Houston Texans
Zack Martin (2009-13) 6th OL Dallas Cowboys
Mike McGlinchey (2013-17) 2nd OL San Francisco 49ers
Quenton Nelson (2014-17) 2nd OL Indianapolis Colts
Romeo Okwara (2012-15) 4th DE Detroit Lions
C.J. Prosise (2012-15) 4th RB Seattle Seahawks
Isaac Rochell (2013-16) 3rd DT Los Angeles Chargers
Kyle Rudolph (2008-10) 9th TE Minnesota Vikings
Harrison Smith (2007-11) 8th S Minnesota Vikings
Jaylon Smith (2013-15) 4th LB Dallas Cowboys
Durham Smythe (2013-17) 2nd TE Miami Dolphins
Ronnie Stanley (2012-15) 4th OT Baltimore Ravens
Golden Tate* (2007-09) 10th WR New York Giants
Jerry Tillery (2015-18) 1st DT Los Angeles Chargers
Drue Tranquill (2014-18) 1st LB Los Angeles Chargers
Stephon Tuitt (2011-13) 6th DE Pittsburgh Steelers
Dexter Williams (2015-18) 1st RB Green Bay Packers
* Suspended for first four games
Injured Reserve:
James Onwualu (2013-16), LB Jacksonville
Theo Riddick (2009-12), RB Denver
Equanimeous St. Brown (2015-17), WR Green Bay
Practice Squad:
Josh Adams (2015-17), RB New York Jets
Alex Bars (2014‑18), OL Chicago Bears
Cole Luke (2013‑16), CB Carolina Panthers
Alizé Mack (2015-18), TE New Orleans Saints
Sam Mustipher (2014-18), OL Chicago Bears
Free Agents:
Jonathan Bonner (2014-18), DL
Te'von Coney (2015-18), LB
Michael Floyd (2008-11), WR
Jaron Jones (2012-16), OL
TJ Jones (2010‑13), WR
Ben Koyack (2011-14), TE
Kapron Lewis-Moore (2008-12), DE
Greer Martini (2014-17), LB
Tyler Newsome (2014‑18), P
KeiVarae Russell (2012-15), CB
John Sullivan (2003-07), C
Manti Te'o (2009-12), LB
Andrew Trumbetti (2014-17), DL
Sam Young (2006-09), OT