Irish In Good Standing With WR Jeremiah Holloman Heading Into Visit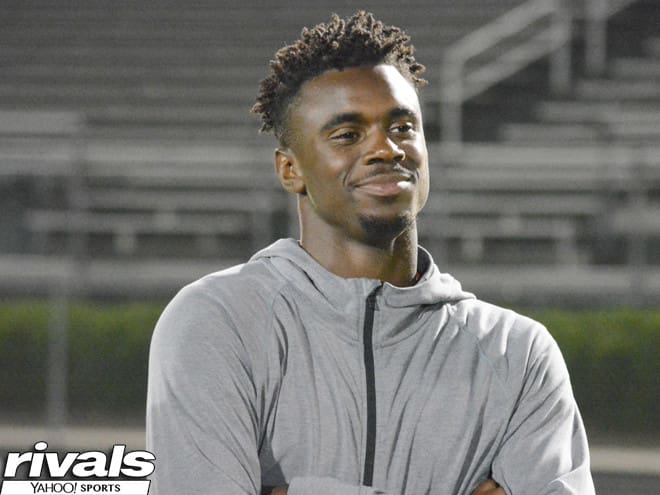 Notre Dame will host one of the more underrated prospects in the South and likely the country in Covington (Ga.) Newton pass catcher Jeremiah Holloman this weekend when it takes on Michigan State.
The Irish will have the first crack at impressing the talented 6-3, 190-pound three-star recruit on an official visit.
Notre Dame made the top 12 for the Peach State product when he narrowed his list from 40-plus offers on July 27. Notre Dame was joined by Miami, Georgia, Tennessee, LSU, USC, Oregon, Penn State, Michigan State, Auburn, North Carolina and Oklahoma State.
"Their tradition," Holloman said of why Notre Dame will receive one of his five official visits. "I have a great relationship with all the coaches."
Holloman will be playing close attention to the Irish offense because he would play wide receiver if he were to select Notre Dame. He expects to see the ball spread around.
"Just them coming out and dominating, spreading the ball around, everyone on the field getting the ball … seeing the quarterback come out and dominate," Holloman said of his expectations for the visit. "[I feel I fit in their offense] being a possession type of receiver. Whenever they need to get the yards, them being able to get the ball to me and letting me make plays."
Notre Dame's recent success of developing receivers like Will Fuller, Michael Floyd, TJ Jones and Golden Tate is enticing to Holloman. The coaching staff is pitching Holloman as a big impact wide receiver for the Irish offense. But that is not the only factor drawing him toward the Irish.
"Basically all the opportunities I would have there, the tradition they have and the legacy that's been there," Holloman said.
Holloman doesn't have any leaders or a specific ranking order from his top 12, but the Irish are in good standing heading into his visit. Tight ends and special teams coach Scott Booker is his lead recruiter.
"I feel they sit in a real positive position when it comes to me," Holloman said. "I really like [Booker]. He's a real cool with me. He helps me develop. He watches my film every chance he gets and tells me things I can improve on."
Following his visit to Notre Dame, Holloman will head down to South Florida and visit the Miami Hurricanes Oct. 8 for their matchup with Florida State. Holloman is unsure of his other three official visits for now.
According to MaxPreps, Holloman had 11 catches for 214 yards and three touchdowns in his first two games this fall. Official stats for his third game could not be found, but on his film it appears he had six catches for roughly 120 yards and a touchdown. Those numbers who bring his season totals to 17 catches for 334 yards and four touchdowns.
BlueandGold.com will have more on Holloman following his visit.