Irish find some feel-good moments finally in win over Louisville
SOUTH BEND, Ind. — Notre Dame found a remedy — temporary or not — for its sickly season Saturday afternoon in Purcell Pavilion.
Louisville.
The once-feared Cardinals program is in a messy state, and the struggling Irish — led by a 22-point performance from freshman JJ Starling — added to their debris with a 76-62 victory. It ended a four-game skid and improved the Irish to 10-12, 2-9 in the Atlantic Coast Conference.
Louisville, 2-19 overall, 0-10 in the ACC and on a 10-game losing streak for first-year coach Kenny Payne, needed more than a half to wake up defensively, and Notre Dame was never in much trouble after forging a double-digit lead seven minutes into the game.
It hit 30 (59-29) after Cormac Ryan finished off a three-point play with 17:12 still to play.
"I was doing a double-take a couple times, quite frankly," Irish head coach Mike Brey said of looking up and seeing the 30-point edge. "We haven't had that kind of margin in awhile."
Would probably have been nice for Brey to sit back in his chair on the sideline and relax in the suitcoat-tennis shoes combination he was wearing for the Coaches vs. Cancer game. But, with a team that has struggled to close all season, there had to be at least a little anxiety left in store for him.
After the lead reached 30, Louisville went on a 21-5 run to reduce the difference to 14 (64-50) with 8:18 still remaining.
That rough stretch included six missed 3-pointers for the Irish, who may have settled a little quickly on perimeter shots, albeit open shots. They were 7-for-16 from the 3-point line in the first half (43.8%) and 10-for-28 for the game (35.7%). Guards Dane Goodwin and Trey Wertz went a combined 1-for-11.
A couple of free throws from Starling, a 3-pointer by Nate Laszewski (17 points, 3-for-4 on 3-point shots) and a rebound bucket by Goodwin (10 points) calmed things down.
The Irish played without 6-foot-8 freshman Ven-Allen Lubin, usually the second man off the bench and averaging almost 17 minutes a game. He reinjured the ankle in practice that caused him to miss a couple games earlier this season.
Brey is hoping Lubin will be available for the next game, Saturday, Feb. 4, in Purcell Pavilion against Wake Forest (1 p.m., EST).
It will certainly help moving forward if his club can continue to take care of the ball.
Brey's teams generally always have done that well, and they entered Saturday's game fourth in the country in (fewest) turnovers per game at 9.4.
The Irish were a lot better than that against the Cardinals' relatively low-pressure defense — the first turnover didn't come until 13:18 remained in the game on an offensive charge call on Wertz.
The Irish finished with only three.
"You could go five on zero for 10 minutes in practice and somebody would throw it away, so that was really efficient," Brey said about ball protection.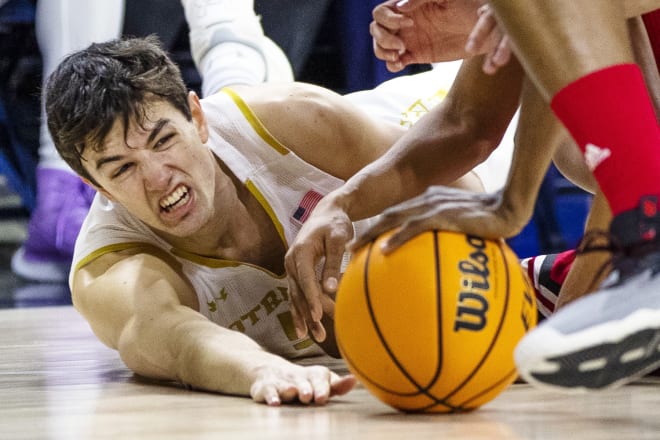 Notre Dame had 16 assists on 29 of its field goals, including a career high eight from Ryan, who also had 11 points, four rebounds and three steals.
"You know, I've got some tricks up my sleeve," said Ryan, with a smile, while talking about the assist. "... We've got talented guys, and we were knocking down shots tonight and I'm happy to do my part.
"It felt really good to go out there and not only get a win, but get a win, you know, playing good basketball. I mean 16 assists, three turnovers, that's Notre Dame right there."
Starling will likely continue to play a major offensive role. He didn't face a lot of resistance in the first half, but he recognized the gaps and owned the lane on drives to the basket. He hit 7-of-8 attempts, adding 2-for-2 on 3, for 16 first-half points.
"Honestly, I was just having fun," said Starling, who has been dealing with a balky shoulder for much of the season and eschewed his usual shoulder tape for just a cream rub. "We needed it, and shots were falling.
"I don't think I did anything for the first couple of minutes, but I'm seeing the ball going in, my teammates were making shots, and that just got my energy up. And I just started hitting as well."
His highlight came with the clock winding down in the first half. He intercepted a Louisville pass in the backcourt and went the distance for a dunk to put an exclamation point on a 46-24 first-half lead. A crowd of 6,531 showed its appreciation with a standing ovation — a feel-good moment for the Irish in a season with so few.
It came on a special day for Brey, who has helped raise more than $4 million for Coaches vs. Cancer in his Notre Dame tenure. And he hopes to pass the lead baton to the next Irish coach.
"I can tell you one thing," Brey said, "that suit – I'm dry-cleaning this sucker and it's coming out Saturday (vs. Wake). You can guarantee I'm gonna ride the suit."
It would help if his defense plays as well as it did in spurts against Louisville.
It was especially good in the first half, with the Cardinals going 10-for-30 from the field and just 2-for-11 on 3-point shots. Cardinal guard El Ellis, the only player averaging double figures (17.8 points), was held to eight points for the game on 4-for-12 shooting (0-for-4 on 3s).
"I thought we were pretty good defensively," Brey said. "Very good defensively in the first half. We've played a little bit of this matchup zone, and that's kind of helped us. … It helps us a little bit protect the paint and also makes a quiet team talk more. You know, they're not the most verbal vocal guys. Cormac certainly is, but it makes them talk more, and we need that."