Inside The Numbers: Notre Dame's 2018 Signees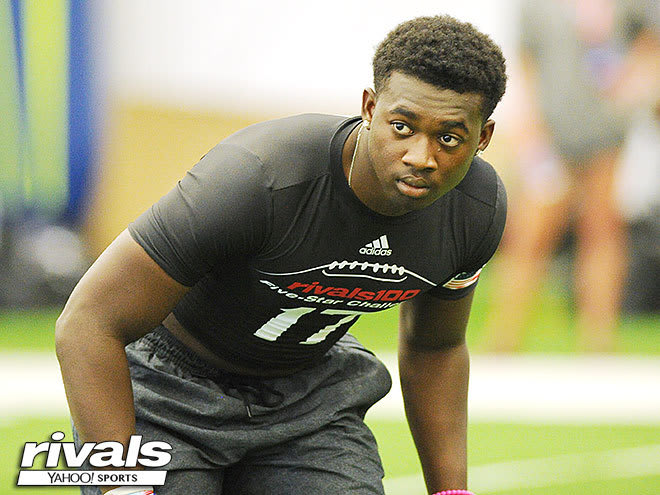 With all 20 of Notre Dame's pledges inking with the Irish today on the first day of the early signing period, Blue & Gold Illustrated takes a look at some numbers and notes from the class.
Below are notes pertaining to geography, rankings and other notes.
GEOGRAPHY NOTES
* Twelve states are currently represented with Florida (4) as the most followed by New Jersey (3).
* Gibsonia (Pa.) Pine-Richland product Phil Jurkovec is the first Pennsylvania quarterback to sign with the Irish since Mechanisburg (Pa.) High Zach Frazer in 2006.
* Marietta (Ga.) Lassiter safety Derrik Allen and Norcross (Ga.) Wesleyan tight end Tommy Tremble are first Georgia duo to sign with Notre Dame since 2006 (Toryan Smith and Morrice Richardson).

* The Jersey City (N.J.) St. Peter's Prep trio of Jayson Ademilola, Justin Ademilola and Shayne Simon are believed to be the first trio of teammates to join the Irish since 1986 when Lou Holtz landed five players from Burbank (Ill.) St. Laurence and three from Chicago St. Rita.
* First Irish class with a local signee (Mishawaka (Ind.) Penn safety Paul Moala) since South Bend Clay wide receiver Daniel Smith in 2010.
* Sanford (N.C.) Lee County running back Jahmir Smith is the first North Carolina running back under Kelly.
RANKINGS NOTES
* This is the first class Notre Dame has signed with two Rivals100 safeties (Allen & Bradenton (Fla.) IMG Academy safety Houston Griffith) in the Rivals era.
* Three Rivals100 defenders signed with Notre Dame (Allen, Griffith and Temecula (Calif.) Great Oak linebacker Jack Lamb) for the first time since 2013 (Jaylon Smith, Max Redfield and Eddie Vanderdoes). When excluding Vanderdoes given he never suited up for the Irish, the year goes back to 2011 (Stephon Tuitt, Aaron Lynch, Ben Councell and Ishaq Williams).
* Jurkovec is the highest rated quarterback to date Notre Dame has signed since Gunner Kiel in 2012.
* Notre Dame's five current Rivals100 signees (Griffith, Jurkovec, Allen, Lamb and Coconut Creek (Fla.) North Broward Prep wide receiver Kevin Austin) are the most since 2013.
* This is the fourth time in five years Notre Dame has signed two Rivals250 wide receivers in the same class (Austin and Gurnee (Ill.) Warren Township product Micah Jones).
* This is the first time in the Kelly era that Notre Dame has signed a Rivals250 defensive tackle in back-to-back classes (Darnell Ewell in 2017 and Jayson Ademilola this cycle).
* Naples (Fla.) Gulf Coast product George Takacs is the ninth four-star tight end to sign with Notre Dame under Kelly.
OTHER NOTES
* Notre Dame will enroll seven players early, which is the most in school history (Griffith, Jones, Takacs, Smith, Erie (Pa.) Cathedral Prep linebacker Bo Bauer, Farmington Hills (Mich.) Harrison linebacker Ovie Oghoufo).
* Four Notre Dame commits won a state championship this season: Jurkovec, Bauer, Milpitas (Calif.) High cornerback Tariq Bracy and Maria Stein (Ohio) Marion Local offensive lineman John Dirksen.
* Four other commits played for a title: Oghoufo and the St. Peter's Prep trio.
* Dirksen finished his high school career with a 58-3 record and three state titles. Bauer captured two state titles while helping his team to a 53-3 record his four seasons. Griffith and IMG went 20-0 in his two seasons at the program.
* In his three seasons as a starter, Jurkovec finished 30-4 with one state title while missing the final six games of his junior season with a thumb injury. Finished his career third all-time in Pennsylvania history with 11,144 total yards.