Ian Book Aspiring To Take Notre Dame Offense To Higher Level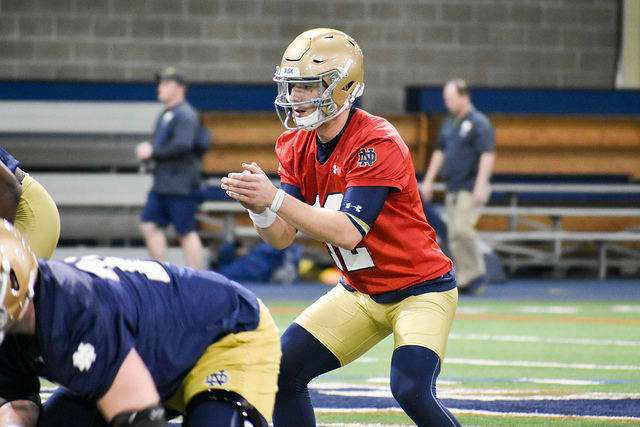 The 2018 college football season was "The Year Of The Backup Quarterback," or at least it was for all four College Football Playoff teams.

• At national champ Clemson, freshman phenom Trevor Lawrence supplanted starter Kelly Bryant, even though Bryant helped the Tigers to the playoffs the year prior.
• At runner-up Alabama, Tu'a Tagovailoa beat out Jalen Hurts, who had been 27-2 as a starter, and at Oklahoma 2017 Heisman winner Baker Mayfield was succeeded by another Heisman recipient in Kyler Murray, an unprecedented feat by one school at one position by different players.
• Meanwhile at Notre Dame, despite a productive 2017 campaign and a 3-0 start last season, Brandon Wimbush lost his starting job to junior Ian Book by game 4 because of Book's ability to operate the offense in the manner the Fighting Irish staff wanted.
Book responded with a 154.0 pass efficiency rating, the highest in head coach Brian Kelly's nine seasons with the Fighting Irish, surpassing DeShone Kizer's 150.1 as a sophomore in 2015 during a 10-3 campaign. Book finished 17th nationally with this figure, highlighted by a school record 68.15 completion percentage, which broke the previous standard of 68.0 set by Jimmy Clausen in 2009, prior to turning pro after his junior season.
Right now, Book's 147.3 career rating overall in passing efficiency is third on the all-time Fighting Irish chart, behind Kevin McDougal's 156.7 from 1990-93 and Kizer's 147.7 in 2015-16. In fourth place is Jarious Jackson (1996-99) at 145.7. Book also displayed his nimbleness with 280 yards rushing.
This spring Book's lone competition is heralded freshman Phil Jurkovec, who threw only two passes in mop-up duty as the third option last year. Yet Book knows better than anyone in the cut-throat world of a quarterback that reaching a certain plateau isn't always enough.
"Last year was last year," Book said on entering this season as the clear-cut No. 1. "I still treat it the same. I've still got to go out there every day and prove myself… Like I told all of you last year — prepare every day like I'm the starter. That's what I've still got to keep doing. There are a lot of goals and a lot of areas I want to improve."
It didn't take long for the 6-0 1/8, 208-pound Book's stellar 2018 regular season campaign that ended 12-0 to suddenly become a little overshadowed during the 30-3 collapse in the CFP to Clemson while completing only 17 of 34 passes for a pedestrian 160 yards, and he also lost a fumble on a scramble. In defeat, questions about Book perhaps leaving the pocket too soon, missing some open looks or problems connecting on the deep ball came more to the forefront.
Suddenly, it also gets pointed out that the impressive regular season stats were accumulated because no opposing Irish pass efficiency defense ranked higher than 47th (Syracuse), and most of them between No. 55 (Stanford) and No. 117 (Navy).
In the same way Book was the "popular backup" to Wimbush last season, the bigger, stronger and more touted 6-4 1/12, 225-pound Jurkovec inevitably will be a figure of intrigue should Book falter. That's the nature of the position more than any other one in football.
Regardless, Book has earned the right to be one of the eight current SWAT team leaders on the team and, as a result, has been inspired to become more vocal with teammates.
"Ian's not a particularly loud and vocal guy, but he's going to stand up when he needs to say something," Kelly said. "He's done that a couple of times, he was asked to do that, and it resonates quite well. He is a different leader than he was last year. He was just a quarterback at Notre Dame last year. He's a leader in our program (this year). That's a big difference."
Book was effective with the short passing game in 2018, hence his record-setting single-season completion percentage. However, to reach a higher level in the college football food chain, he recognizes that his pocket presence and hitting on more home-run balls — or even doubles — will have to be upgraded. Last year Oklahoma was No. 1 with a 48.4 scoring average, Alabama was second at 45.6 and Clemson fourth at 44.3, while the Irish were a much more modest 41st at 31.4.
"I want to test myself and I want to make those even harder throws in those smaller windows," said Book of his goals this spring. "That's what it takes to be an elite offense and an elite quarterback. It's something I'm really focusing on every day. I'm not going to go too crazy where I start to create bad habits … but I want to push the offense, push the guys, especially the receivers, be able to show them I can make some of those throws."
That might mean some more mistakes or interceptions as well, but it's part of taking on a more risk/reward mentality.
"It's part of the game," Book said. "You're going to throw interceptions, that will happen … When I push myself and be able to understand it, kind of where I'm at and the throws that I can make."
Lawrence and Tagovailoa are projected as future likely No. 1 overall choices. Murray might be too this year, while Georgia's Jake Fromm and Ohio State's Josh Fields (via Georgia) were five-star prospects. The three-star Book did not arrive with similar fanfare or as esteemed physical qualities, which is what will make his leadership and growth to maximize his own skill set more vital in 2019.
"Leadership," he responded on what his goals this spring center on. "Just taking that next step and really testing myself with the reads, totally understanding what's going on with the defense — pre-snap, post-snap — just want to take the next step and be able to challenge myself that way."
Even more than he successfully accomplished in 2018.