Hunter Jr. a dual-threat athlete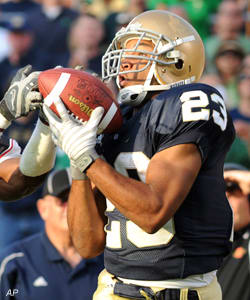 Notre Dame sophomore wide receiver Torii Hunter Jr. will attempt to become the next in a line of football-baseball dual-threats at the school.
Hunter is on Irish head coach Mik Aoki's 37-man roster that opened the season Friday in Norman, Okla., first with a 7-6 victory against SIU-Edwardsville and then a 6-1 loss to Oklahoma. The 6-0, 190-pound Hunter did not make an appearance in either game and has not played baseball since his junior season of high school in Prosper, Texas, when he batted .393 with six home runs, 27 RBI and 13 stolen bases.
He was unable to play baseball as a senior because of a broken femur suffered in practice while preparing for the 2013 U.S. Army All-American Bowl. That led to a medical red-shirt season in football and baseball. The son of 18-year Major League Baseball star Torii Hunter, who has won nine Gold Gloves, two Silver Slugger Awards and is a five-team All-Star (most recently in 2013), the younger Hunter planned to play both sports at Notre Dame.
Last season he caught seven passes for 65 yards and a touchdown. Five other receivers played more than Hunter, and he has a similar uphill climb in baseball this spring with two starters returning in the outfield and three others who have started 16 to 31 times. Plus freshman Jake Johnson arrived highly heralded and is getting the first opportunity in left field.
Football head coach Brian Kelly has three stipulations for his players who want to compete in a second sport: Good academic standing, not interfering with football commitments, and a legitimate chance to help the other sport.
"Coach Aoki and I have the utmost confidence in Torii to be able to handle his duties in the classroom in addition to his responsibilities to both teams," Kelly told und.com.
Spring practice opens March 2 and Hunter told und.com that "I'll be at every football workout possible."
Notre Dame's most recent two-sport star is senior Pat Connaughton. The right-handed pitcher was drafted in the fourth round of the 2014 MLB Draft by Baltimore. Currently, he is the second-leading scorer (13.3 points per game) and top rebounder (8.0) for the No. 10-ranked basketball team, and also the top three-point shooter by converting 70 at a .452 clip.
The Fighting Irish have a long history with football/baseball stalwarts, starting with quarterback/infielder Angus McDonald from Texas in the 19th century (he would later become president of Southern Pacific Railroad).
The 1920s included Johnny Mohardt, Andy Pilney in the 1930s, and quarterbacks Angelo Bertelli, John Lujack and George Ratterman in the 1940s, with Bertelli and Lujack both winning Heismans. Bertelli earned monograms in three sports while Lujack and Ratterman did so in four.
Joe Theismann played baseball briefly in the spring of 1970 as a junior, and did well enough to be picked in the 39th round in the MLB draft a year later. Word had it that while Theismann was playing baseball, quarterback Bill Etter was performing so well in spring drills that he was threatening to unseat Theismann for the starting role, which immediately brought Theismann back to football practice and off the baseball diamond. He would lead the Irish to a No. 2 final ranking that year as a senior.
From 1963-66, Rich Sauget, Sr., was a quarterback and catcher at Notre Dame, and then son Rich, Jr., was a tight end and pitcher in the early 1990s.
Since the 1960s, the football/baseball standouts at Notre Dame include:
George Sefcik (1959-61)
Rushed for 789 yards and 4.8 yards per carry in his three seasons as a two-way player under Joe Kuharich, leading the team in interceptions in 1959 (three) and kickoff returns in 1960. In his senior year of baseball in 1962, he led the team in batting average (.367), home runs (four) and RBI (23).
Dan McGinn (1963-65)
The starting punter in 1963 and 1965 and a reserve quarterback, the southpaw McGinn still holds the Notre Dame record for career strikeout average (12.66 per 9 innings). He played five seasons in the Majors (15-30 career record), and in 1969 he hit the first home run for the expansion team Montreal Expos (off Hall of Fame pitcher Tom Seaver). Current sophomore Malik Zaire in 2014 became the first left-handed QB at Notre Dame to play in a game since McGinn.
Kevin Hardy (1964-67)
He is the last athlete at Notre Dame to earn monograms in three different sports. The two-time All-American defensive tackle and first-round pick was a reserve on the 1965 basketball team that made the NCAA Tournament and also played right field in baseball. After helping the 1966 football team to the national title (a year when he also filled in at punter), he batted a team high .398 for the baseball team.
Pat Eilers (1986-89)
A starting wideout on the football teams that won a school record 23 straight games in 1988-89, he also lettered in baseball while batting .307 in 53 games in 1989, starting 16 times in left field. He holds the unique distinction of scoring the go-ahead touchdown in the 31-30 win over No. 1 Miami on Oct. 15, 1988, and then on March 8, 1989, he scored the go-ahead run in a win over fifth-ranked Miami in baseball.
Frank Jacobs (1987-91)
The top-rated tight end recruit in 1987 split time with freshman star Derek Brown during the 1988 national title season, and Jacobs scored the final TD in the Fiesta Bowl win over West Virginia to clinch No. 1. He devoted full time to baseball after a 1989 football injury, and in 1991 he set the single season Notre Dame record for home runs with 20.
Irv Smith (1989-92)
Another tight end who would be a first-round pick and play eight years in the NFL, Smith started 15 games in baseball as a freshman and 27 as a sophomore before concentrating solely on football.
Paul Failla (1991-94)
The short-yardage/red-zone quarterback behind Kevin McDougal during Notre Dame's 11-1 season in 1993, Failla started in the 31-13 victory over USC. He starred at shortstop throughout his Irish career and was selected in the third round of the MLB draft.
Scott Sollmann (1993-97)
A special teams mainstay and reserve receiver, he scored a TD in a tight 35-28 victory at Purdue in 1995. In baseball he was a Freshman All-American and three-time First-Team All-Big East pick before getting drafted in the seventh round of the MLB draft in 1996.
Jeff Samardzija (2003-06)
The two-time All-America wide receiver also starred on the pitching mound, compiling a 21-6 career mark with a 3.82 earned run average that made him a fifth-round pick in the MLB draft and a reliable hurler with a 3.85 earned run average the past seven years.
Evan Sharpley (2005-09)
His best season was the 2007-2008 school year when he passed for 736 yards at quarterback and made two starts. That spring in baseball he hit .324 with 13 homers and 40 RBI, starting 33 games and playing in 51. He is the lone athlete at Notre Dame to throw multiple TDs in a football game and hit multiple home runs in a baseball game.
Golden Tate (2007-09)
His sophomore year in 2008-09 was dynamic. In football he caught 58 passes for 1,080 yards and 10 TDs. On the diamond that spring he batted .329 and started 54 of the 55 games he played. Tate was drafted in the 50th round by the San Francisco Giants but has a Super Bowl ring instead as a second-round pick.
Eric Maust (2007-09)
He punted 94 times in football during these three seasons, with 29 placed inside the 20. In baseball he had a 15-12 career record on the mound.