How Marcus Freeman showed he's 'all in on Notre Dame' at Irish hockey game
SOUTH BEND — Moments after receiving a standing ovation that lasted over one minute at Compton Family Ice Arena, Marcus Freeman made his way to the TV booth for a short interview during the first intermission.
Freeman was asked who he was rooting for in the hockey game — Notre Dame or the visitors. Seems like a silly question for someone who was officially named Notre Dame's head football coach roughly 12 hours earlier.
That is, until you remember Freeman played at and graduated from Ohio State. The Buckeyes were in the building in South Bend for Friday night's Big 10 tilt on the ice.
Freeman's answer to the NBCSN broadcaster David Korzeniowski's question was exactly what you'd expect from someone wearing a blue and gold Fighting Irish hockey sweater with a pair of navy blue chino pants and bright white Vans.
"I'm all in on Notre Dame," Freeman said. "I've been all in on Notre Dame from the minute I stepped on this campus. You can't help but embrace this special place. Notre Dame will change you if you let it. That's why I'm thrilled to be the head coach here."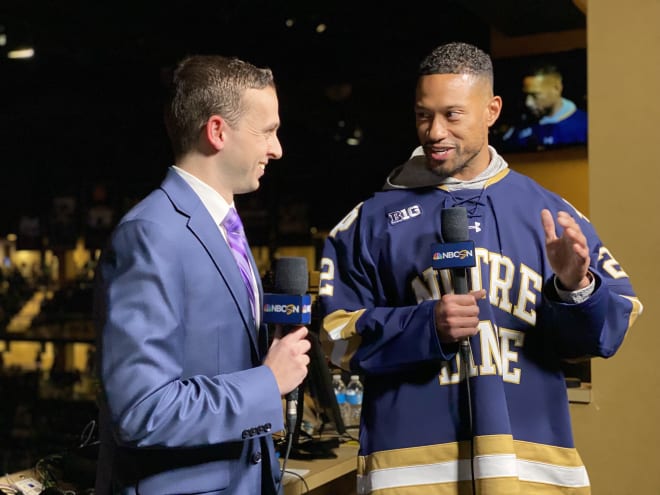 Freeman sat with his family in section 118. The only time he left his seats through the first two periods was to do his interview. Otherwise, he seemed totally locked into the game even though Ohio State jumped out to a 4-1 lead through 40 minutes.
Locked into the game. What else have the Irish come to expect from Freeman?
"We are going to be the most competitive football team Notre Dame has ever put on the field," Freeman said. "I look forward. to seeing that kind of growth. We're a really, really good football team. In this culture, we're going to continue to enhance that."

Freeman laid out three key characteristics he's looking for from the Irish with himself at the helm; a "challenge everything mentality", "unit strength" and "competitive spirit." But even though he's been in South Bend for 11 months as the Irish's defensive coordinator, those things will take some time to truly manifest to the fullest extent.
Freeman hadn't even completed one full day as Notre Dame's head football coach at the time of his first intermission interview, after all. He said he'll remember the "humbling" moment he walked through the door and jumped into the arms of his players for the first time as the man in charge for the rest of his life.
Freeman left his seats in section 118 for the first time during game action during the second intermission. He milled around the O'Brien's Club for a bit to greet excited Irish fans eager to congratulate him and wish him well.
There has been a lot of that for Freeman over the last few days.
"It's been a whirlwind," Freeman said. "Not a lot of sleep. I've talked to a lot of people. But you have to do that in order to become the head coach at the University of Norte Dame. You realize when you go through this process how many people are impacted by this football program."
Freeman will continue to impact many more. He's all in.
"I know for the rest of my coaching career, I get the chance to be changed by Notre Dame every single day," Freeman said. "I've embraced this place. We love this place. My family loves this place. I can't wait to see what the future holds."