{{ timeAgo('2023-03-10 05:52:18 -0600') }}
football
Edit
How Joe Rudolph plans to build upon Notre Dame's rich O-line culture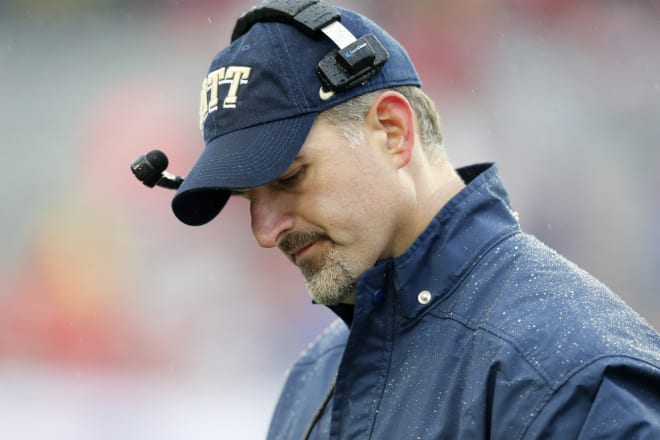 SOUTH BEND, Ind. — Every so often, when Joe Rudolph was developing into an NFL-caliber offensive lineman back in the early '90s at Wisconsin, his position coach — Bill Callahan — would invite one of his friends up to watch practice and swap notes.
The friend would take it a step further, at least when it pertained to the now 50-year-old who was officially named Notre Dame's offensive line coach earlier this week. Call it constructive heckling.
And call the heckler Joe Moore.
"He would always yell at me, 'Rudolph, come here.'" the Belle Vernon, Pa., product related Wednesday night in meeting the Notre Dame media for the first time. "He was pretty awesome — really good guy. He would always be dead honest about stuff he loved that you did or something you could do better."
Callahan is still coaching offensive line, currently with the Cleveland Browns. The 66-year-old former small-college All-America quarterback is considered by many as the best O-line coach still in the business.
Moore, who passed away 20 years ago and seven years after his nine-year run at ND came to an end, may be the best ever.
His name graces the award given annually to college football's best offensive line unit, an honor last claimed by Notre Dame in 2017 by a group coached by Moore protégé Harry Hiestand.
And yes, Rudolph and Hiestand have a prior connection.
"Harry actually recruited me," Rudolph said of the then-University of Cincinnati O-line coach. "He sat in my living room. My mom made a lot of good food for him. I've known Harry for a long time and have a ton of respect for him — how he goes about coaching, how he works and what he instills in his players."
And now Rudolph, touched by coaching greatness, follows Hiestand, the latter retiring on Super Bowl Sunday after a second tour of duty with the Irish that lasted roughly 13 months.
Rudolph embraces the high standard, the scrutiny, the way that the position group is so intricately woven into the program's identity as well as the challenge of bridging the strong culture Hiestand built and revived, with Rudolph's own.
"The first thing in talking to the guys and sharing my story was that I believe the best thing to do is put those guys in the best position to succeed," Rudolph said of the Irish players. "I told them I want this to be as smooth a transition as this can be. They would share the calls they made, some of the communication, some of the drills they liked.
"You try to mold it in a way where there are things they're really confident in, and you want to continue to grow that. Then there are ways where you're coming in and seeing some opportunity for them to continue to grow.
"I'm not someone who's like, 'This has to be.' This is their experience. This is their school. They have done some great things here. How do we continue to build on that and take it to the highest level we can?"
He won't wait for the onset of spring practice on March 22 to begin answering that question. Already, he's encouraging the O-line holdovers and the one early enrollee, Sam Pendleton, in their early morning lifts and runs. He's watching film with them, answering their questions and giving them ideas on what to work on until he's allowed to do on-field teaching in a little less than two weeks.
Pendleton already had some familiarity with Rudolph from his most recent coaching stop, Virginia Tech. The Pfafftown, N.C., product strongly considered the Hokies before verbally committing to and then signing with Notre Dame.
"Coach Hiestand is a great coach," Pendleton said. "I really love what he did with recruiting me the way he did last year. It's not like he's gone forever. We still talk every once a while, but even as a mentor, he's been great.
"Coach Rudolph is going to do a great job here. He's just been fantastic. Even with coaching, going through drills. He's just very intentional about what he does. He's always open. It's been a transition, but I've enjoyed it.
"He's going to bring his twist to things, but he told us that he's not going to come in and mess us all up. He's going to go with the flow, and just continue to build on the great tradition and the great standard we have here. That's what we have to live up to."
Rudolph established a high standard for himself most prominently back at his alma mater from 2015-21, during which time he sent six players to the NFL and developed nine O-line All-Americans, five of whom were first-teamers.
"The one thing you take the most pride in is helping guys to reach their fullest potential," Rudolph said. "Whatever ability God gave them, you want them to walk out that door here knowing they maximized this opportunity and that ability. And, hopefully, if you're doing it right, it will not only reflect how they play on the field, but who they are off the field and in the classroom.
"I take a lot of pride in that, because every person is different. You don't coach every guy the same. There are fundamentals you all adhere to, but you create an environment where you want these guys as a group to be great together.
"If they're committed to that, they're helping each other, they're raising the bar to be better in any and every area. As a group they'll all be better, because each individual is the best they can be."
The group Rudolph inherits includes three returning starters — grad senior center Zeke Correll and bookend junior tackles Blake Fisher and Joe Alt, the latter an All-American in 2022.
Rudolph, like Hiestand, prefers to put his best five offensive linemen on the field and then figure out positions rather than simply moving up the next in line at offensive guard to replace departed starters Josh Lugg and Jarrett Patterson.
That brings backup tackles into play this spring.
"That's where you have to be smart. You have to be sure what you're asking the guys to do," Rudolph said of filling the two vacancies. "You want to see the athleticism. You want to see the explosiveness. You want to see how they play the game and not just if they know what to do. That's part of it, but you have to be good at not making it too complicated.
"Jarrett and Josh were both in my office the other day. I'm looking at these two big giants. They're awesome guys. They're excited for the guys who will step up. Who exactly that will be, I don't know. But having good competition there will really help not only that first group, but the depth behind it."
Recruiting is also front and center this spring for Rudolph, with Notre Dame lining up on-campus visits for 2024 and 2025 prospects peaking between the last weekend in March and the April 22 Blue-Gold Game.
"Recruiting is one of the things that makes you most excited about coaching," said Rudolph, who inherits one 2024 commit in four-star prospect and fellow Pennsylvanian Peter Jones. "You have the opportunity to bring in guys for you to coach. That fires me up. I like that journey.
"I like to learn about personalities and skill sets, guys who are going to maximize every bit of the opportunity they have when they walk through the doors. This isn't a destination for them. This is an opportunity for them. There are guys who attack opportunities.
"The first thing you do is see film that excites you. That's the very bottom line. Then it's 'OK, what's the character behind this? What's the work ethic? What's the want-to in the classroom and on the field?'
"You really dive in and get to know these guys, because they're the guys you're bringing in to fill your room. They're going to have a chance to make everyone better or not. We need them to make everybody better, including themselves."
Rudolph feels his early background as a tight ends coach makes him a better O-line coach as well as his nine years as an offensive coordinator, sometimes overlapping positional duties as Pitt and Wisconsin. Even his earliest days of college coaching at Ohio State (2004-06) were significant.
It was there he met Marcus Freeman, the linebacker, when Rudolph was a grad assistant and then a strength coach for the Buckeyes.
And he felt that strong connection with Freeman, the second-year Notre Dame head coach, almost two decades later during the interview process to be Hiestand's successor.
"That was a big piece of (Rudolph wanting to come to ND) when (Freeman) expressed what the O-Line means to Notre Dame," he said. "That's not always in fashion to say, 'This is an O-line-driven place and the O-line sets the tone.'
"He took a lot of pride in saying it and said it in a few of the meetings we had. That hits deep to me. It's how I grew up when I played. I felt that responsibility as a player. It really hit home for me."
Just as Joe Moore would have wanted.
Prior to Rudolph's launch into college coaching, he tried it out at the high school level at his alma mater Belle Vernon. And he recalled during a scrimmage an older gentleman seemingly randomly barking at him from behind a fence near the field.
"Rudolph, are you coaching over here?" the man yelled.
It was Joe Moore.
"I'll never forget that," Rudolph said. "Growing up there, I knew the offensive lines he had at Pitt, followed those guys in a big way. Then I knew the offensive lines he had here at Notre Dame. Him being around at times was pretty remarkable."