HOOPS Preview: Notre Dame vs. Oklahoma
Click HERE to sign up for an annual subscription to BlueAndGold.com and get your FREE gift code for $99 in Irish apparel and gear!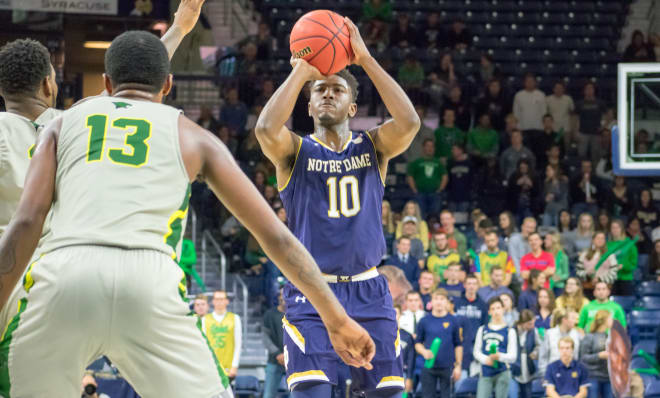 NOTRE DAME (6-1, 0-0 ACC) VS. OKLAHOMA (6-1, 0-0 BIG 12)
Where: Madison Square Garden (New York City)
Rankings: Both teams are unranked.
TV/Time: ESPN, 7 p.m. ET
Series Facts: This will be the first meeting between the two programs.
Notre Dame will be on the road for the first time this season when they take on Oklahoma tonight in New York City as part of the Jimmy V Classic.
It will be the first of three-straight road games for the Irish after playing each of their seven games so far in the friendly confines of Purcell Pavilion.
The two teams have never met on the hardwood and will aim to continue early momentum with the heart of their non-conference slate.
Before the official tip, Blue & Gold Illustrated takes a look at both teams before the matchup.
NOTRE DAME PREVIEW
The Irish passed their first test of the season with a 76-74 win over Illinois in the ACC/Big Ten Challenge.
Notre Dame led by 13 points with just over seven minutes to play before holding off the charging Illini for a Power Five victory at home.
Guard TJ Gibbs and wing DJ Harvey led the way with 19 points each, but it was forward Juwan Durham who provided a much-needed spark for the Irish with 10 points and five blocks. Freshman guard Prentiss Hubb added 10 points to round out the top scorers for the Irish.
Foul trouble kept forward John Mooney from being about to provide much of an impact, though he did go for four points and six rebounds in 11 minutes. Fellow forward Nate Laszewski added four points while guards Rex Pflueger and Dane Goodwin each added five points.
Despite shooting 56.5 percent (13-of-23) during the second half, Notre Dame hit just 50 percent (13-of-26) from the charity stripe. The team's struggles at the line allowed Illinois to keep it close and almost pull out the road victory.
It was a game the Irish need with the new faces on the roster getting a glimpse of how to — or not to — close out what was a double-digit lead in the second half. Mike Brey knew this season would be one full of learning and more of those types of experiences will pay off in the long run.
Another first for the Irish will occur tonight when they take the court in New York City against Oklahoma. It will mark the first game away from Purcell Pavilion for the team, so it will be interesting to see how the group reacts especially the younger players.
There is no frame of reference to this point to predict what could happen in that department. Not to mention, playing in Madison Square Garden will add another element to the mix that could be a distraction for the young Irish.
OKALHOMA PREVIEW
The Sooners snuck into NCAA Tournament last year despite winning just six of their final 17 games to finish the regular season 18-13 behind the scoring of eventual top-10 NBA pick Trae Young (27.4 PPG). Oklahoma eventually was bounced in the first round by Rhode Island.
Lon Kruger and company entered the 2018-2019 season needing to replace the production of Young while bringing back four of the team's overall top scorers.
Oklahoma enters tonight's matchup with the Irish with a 6-1 record with a win over Florida (65-60) and a solid victory over Dayton (65-54). The program's lone defeat came in a blowout to Wisconsin (78-58) on a neutral court.
Like last year, the Sooners have featured a clear go-to scorer through seven games. Senior guard Christian James is the lone player in double-figures at 19.1 points. He is joined in the backcourt by senior guard Aaron Calixte (9.0 PPG, 2.7 APG), who is the fourth leading scorer.
Senior center Jamuni McNeace is the top option for Kruger in the post at 9.9 points and 7.0 rebounds at 6-foot-10, but he will be out for the contest. Sophomore forward Brady Manek (8.9 PPG, 9.1 RPG) and junior Kristan Doolittle (6.0 PPG, 5.7 RPG) will be the top options around James and Calixte.
Off the bench, senior guard Miles Reynolds has been productive as the third top scorer on the team with 9.1 points. Fellow senior guard Rashard Odomes (4.3 PPG) and freshman guard Jamal Bieniemy (3.1 PPG) provide additional depth for Kruger in the backcourt while junior forward Matt Freeman (3.1 PPG) does the same in the post at 6-foot-10.
Through seven games, Oklahoma is averaging 73.4 points per game while allowing just 65.1 (58th). The Sooners have hit 45.7 percent of their field goal attempts and 36.5 percent behind the arc.
Defensively, Oklahoma has been one of the better teams nationally giving up just a 37.7 percent clip on two-point attempts (3rd) and allowing a 44.3 percent effective field goal percentage (26th).
In four of his seven previous seasons at the helm, Kruger's teams have ranked inside the top 50 in average time of possession with that trend continuing so far this year (28th) at 15.3 seconds.
GAME OUTLOOK
Notre Dame will have to be ready for some tempo from the Sooners in this matchup to create open looks and easy points. But, Kruger's group has countered as well with a good defensive effort to date.
Unlike the Irish, Oklahoma has experience this season playing away from their home floor, so that will be an interesting factor in this matchup playing under the bright lights of Madison Square Garden.
Prediction
Oklahoma 72, Notre Dame 70
I definitely see this game as a toss-up and don't believe that either team has a distinct advantage.
The one area the Sooners do have an advantage is playing on the road and having success with a 4-1 mark away from Norman. This is Notre Dame's first game away from South Bend this year. With such a young team, I think that will lead to an inconsistent performance in this matchup, which will allow Oklahoma to take advantage.
Oklahoma forces enough stops to pull off a close win.