HOOPS Preview: Notre Dame vs. Illinois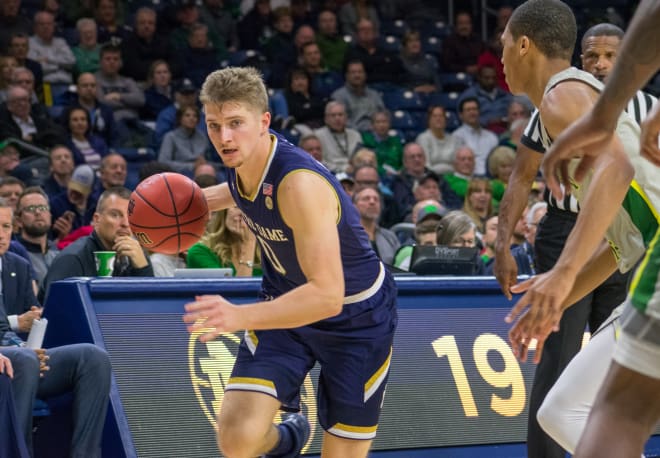 NOTRE DAME (5-1, 0-0 ACC) VS. ILLINOIS (2-4, 0-0 BIG TEN)
Where: Purcell Pavilion (Notre Dame, Ind.)
Rankings: Both teams are unranked.
TV/Time: ESPNU, 7 p.m. ET
Last Meeting: Notre Dame 84-79 in 2015 (away).
Series Facts: Illinois leads the all-time series 27-14.
Notre Dame is set to take on Illinois tonight in South Bend as part of the ACC/Big Ten Challenge.
The Irish are coming off their third-straight win while the Illini have lost four of their last five games.
Blue & Gold Illustrated previews both teams heading into the matchup.
NOTRE DAME OVERVIEW
There had been signs over the previous two games against William & Mary and Duquesne that the Irish were inching closer to eventually putting it all together on offense.
Notre Dame finally did just that against old Big East rival on Saturday.
Mike Brey's group shot 55 percent overall in a 95-70 blowout win over the Blue Demons, including a 62.1 percent outburst during the second half, and 48.1 percent behind the arc (13-of-27).
Senior guard Rex Pflueger led the way with a career-high 20 points while junior guard TJ Gibbs added 18. Freshmen Prentiss Hubb and Nate Laszewski each went for a career-high 15 points to round out the double-digit scorers for the Irish.
Though he didn't continue his double-double streak, junior forward John Mooney was a force on the boards grabbing a game-high 11. Sophomore wing DJ Harvey scored just five points to round out the starters. Freshmen guards Robby Carmody (7) and Dane Goodwin (5) and junior forward Juwan Durham (7) provided solid minutes off the bench as well along with Laszewski.
It took six games to reach that point offensively, but confidence should be the highest of the season for the young Irish team.
Brey and company appear to have found the proper starting lineup with Hubb at point guard controlling the offense with Gibbs, Pflueger, Harvey and Mooney. Continuing to find the right pieces each night with the rotation will remain a challenge for Brey, but the staff will likely ride the hot hand if necessary.
Now, it is very, very unlikely that the Irish will be able to keep up those numbers on a consistent basis. And it remains to be seen if it will be an outlier for a team that was up-and-down through five games or the start of an offense that resembles most Notre Dame teams under Brey.
Facing the Illini at home should give the Irish a chance to continue the success they put together against fellow Illinois program DePaul.
ILLINOIS OVERVIEW
Year one did not go as planned for Brad Underwood taking over an Illinois program that has not been to the NCAA Tournament since 2013.
The Illini finished 14-18 overall, including an 0-8 start in Big Ten play, after beginning the season 6-0.
Heading into year two, Underwood's roster went through somewhat of an overhaul with eight players exiting the program an nine new faces (six freshmen and three transfers).
It has not been an ideal start for the Illini with a 2-4 record falling to Georgetown and all three games during the Maui Invitational — Gonzaga, Iowa State and Xavier with wins over Evansville and Mississippi Valley State.
A pair of underclassmen lead Illinois in points through the early parts of the new season — sophomore Trent Frazier (17.6 PPG, 3.4 APG) and freshman Ayo Dosunmu (14.5 PPG, 4.3 RPG, 3.7 APG). The latter was the prize of Underwood's 2018 recruiting class as an in-state five-star electing to stay home.
Along with the duo, senior guard Aaron Jordan (10.2 PPG, 5.2 RPG) and freshman forward Giorgi Bezhanishvili (7.3 PPG, 4.5 RPG) have started each game they've participated this season.
While 80 percent of the starting lineup has been consistent, Underwood has mixed in different players for the final spot. Senior forward Kipper Nichols (8.2 PPG) has started four games this season while junior guard Andres Feliz (7.5 PPG), freshman guard Alan Griffin (6.4 PPG) and center grad transfer Adonis De La Rosa (3.4 PPG, 3.4 RPG) have each earned one start this year.
Underwood has utilized some depth this season going 10-deep or more at times. Freshman center Samba Kane (6.0 PPG) entered the mix against Mississippi Valley State coming off a suspension to further increase the depth Underwood could potentially turn to.
Sophomore guard Da'Monte Williams (5.3 PPG, 3.5 RPG) and freshman guard Tevian Jones (3.2 PPG) have also been part of the rotation so far.
Illinois is averaging 80.9 points per game entering tonight, but the Illini have allowed 77.7 PPG, which ranks in the 280s nationally. Undewood's group has shot 46.3 percent from the floor and 40.9 percent behind the arc, but opponents are knocking down almost 50 percent (49.8) of field goal attempts even while shooting just 34.7 percent on three-pointers.
Rebounding and turnovers have been issues as well with the Illini getting out-rebounded 36.2-32.2 through six games while committing 17.5 turnovers to 13 from opponents.
GAME OUTLOOK
This is a contest for both programs to grab some momentum with their first win over a Power Five unit and put a win in the column for their respective conference in the ACC/Big Ten Challenge.
Notre Dame enters tonight with more momentum and home court advantage. This will come down to which team performs better defensively.
Prediction
Notre Dame 77, Illinois 71
I expect this to be a hard-fought game that the Irish pull out in the end. With Illinois struggling to take care of the ball and rebounding, Notre Dame should be able to take advantage of those areas.
Being in South Bend also plays into the favor of Brey and company. I don't see Notre Dame shooting over 60 percent in a half again, but the Irish play well enough offensively to do their part in the ACC/Big Ten Challenge.