HOOPS PREVIEW: Notre Dame Vs. Georgia Tech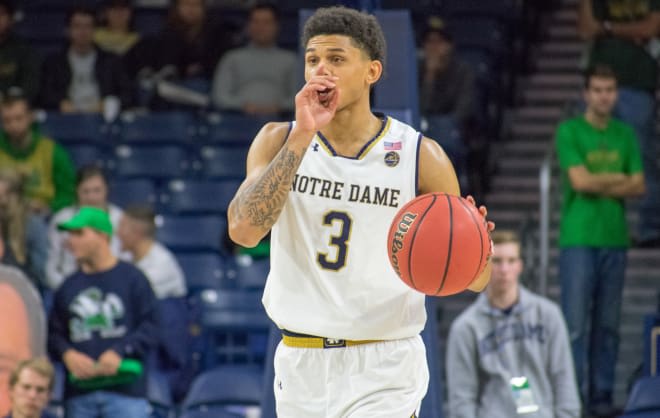 NOTRE DAME (13-18, 3-15 ACC) VS. GEORGIA TECH (14-17, 6-12 ACC)
Where: The Spectrum (Charlotte, N.C.)
Rankings: Both are unranked.
TV/Time: Raycom Sports/Approximately 2:30 p.m. ET.
Series Facts: Georgia Tech leads the all-time series 11-9, but Notre Dame is ahead 7-5 since joining the ACC in 2013.
Last Meeting: Notre Dame won at home 69-59 this past Feb. 10 — which happens to be its most recent trip to the winner's circle after losing its next seven contests. The victory occurred despite shooting only 32.8 percent from the field. Junior T.J. Gibbs scored 20 points, D.J. Harvey — sidelined the past couple of games with a hamstring injury and questionable — had 18, and third-team All-ACC selection John Mooney recorded one of his 13 league double-doubles.
The two teams also met Jan. 22, which saw Georgia Tech escape with a 63-61 victory at home. This is the first time the two home-and-home conference rivals have met in the ACC Tournament.
Blue & Gold Illustrated takes a look at both teams before they meet this afternoon.
NOTRE DAME OVERVIEW
If the Fighting Irish lose, it would be the first eight-game losing streak in the same season since the 5-21 campaign in 1965-66 when they lost a school record 13 in a row. The last time they lost eight consecutive overall was when it was defeated the final six games during head coach Digger Phelps' debut year in 1971-72, and also fell in the first two to begin the 1972-73 campaign.
It's not a case of quitting or not being competitive. Only one of those seven losses has been by more than eight points (75-61 at Louisville), and the Irish missed on golden opportunities most recently last Wednesday versus Clemson (64-62) and then on Saturday at Pitt (56-53). Earlier this season they also took two potential No. 1 seeds in North Carolina and Virginia to the wall on the road before falling by scores of 75-69 and 60-54.
What happens after a while, though, is finishing and winning becomes a mental block.
"We're just not a very confident group," head coach Mike Brey summarized. "You can't manufacture confidence. You've got to win a little bit. We have not. So we wonder."
Mooney earned third-team All-ACC honors while leading the team in scoring (14.1) and rebounding (11.2, tops in the conference). His 13 double-doubles in league games (19 overall) were the best since Wake Forest's Tim Duncan 15 in 1996-97. Mooney had his worst shooting game of the season (1 of 11) last Saturday at Pitt.
Meanwhile, freshman big man Nate Laszewski, mired in a shooting slump the past month, scored 23 points against the Panthers, converting six three-pointers. That epitomized the frustration this season of never quite having multiple players consistently playing well together at the same .

Gibbs has averaged 13.7 points per game, but that has come while shooting only .355 from the field and .320 from three-point range. Gibbs and freshman point guard Prentiss Hubb (8.2 points per game) have played 97 percent of the possible 560 minutes during the seven-game losing streak.
GEORGIA TECH OVERVIEW
Whereas Notre Dame has been reeling against the proverbial ropes, Georgia Tech enters the ACC Tournament sporting a two-game winning streak after hard-fought wins at home in overtime versus Boston College (81-78) followed by a 63-61 upset at North Carolina State. The latter saw guard Jose Alvarado drive coast-to-coast before feeding James Banks III for the game-winning dunk with one second remaining.
The sophomore Alvarado is the team's top scorer with a 12.8 average, and he also paces the team in assists per game at 3.3. The 6-9 junior Banks III is the only other double-figure scorer at 10.5, pulls in a team high 7.7 rebounds per contest — and he made the ACC All-Defensive Team. Freshman guard Michael Devoe is averaging 9.7 points, 3.4 rebounds and 2.6 assists.
Third-year head coach Josh Pastner is looking for his first conference tournament win after starting 0-2 in his career.
GAME OUTLOOK
The question comes down to how much is left in the Notre Dame emotional fuel tank when the needle has been hovering around "E" ever since the Feb. 19 loss at home to Wake Forest — and whether the Irish even want to fill it up anymore.
Conversely, the Yellow Jackets enter with at least some momentum after their aforementioned victories the past two game. Neither team this season is proficient at scoring. In the 18 conference games played during the regular season, Georgia Tech was dead last (15th) at 60.7 points per game, a bucket ahead of 14th-place Notre Dame (62.7). However, whereas the Irish also were second-to-last in field-goal percentage (.372), the Yellow Jackets were 8th (.426).
Especially worth noting is Georgia Tech is a solid sixth in the ACC in field-goal percentage defense (.409), which plays into Notre Dame's Achilles heel.
The winner advances to Wednesday's second round, which will tip-off at 7 p.m. versus No. 7 seed Louisville.
Prediction
Georgia Tech 65, Notre Dame 62
Since the program's first basketball season in 1898, Notre Dame has never ended a year with eight straight losses. It did come close in head coach John MacLeod's second campaign (1992-93) when it lost its final seven to finish 9-18.
Brey is a law-of-averages guy, so it's not inconceivable the Fighting Irish might have a final bullet left in their holster, especially against a team it has already defeated. A Notre Dame victory should not come as a surprise, but the way the past month has gone, it might be best for all involved to end this season from hell sooner rather than later.