HOOPS Preview: Notre Dame vs. DePaul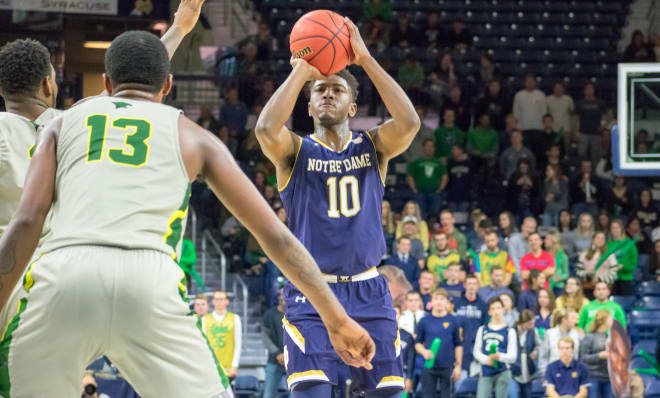 NOTRE DAME (4-1, 0-0 ACC) VS. DEPAUL (3-0, 0-0 BIG EAST)
Where: Purcell Pavilion (Notre Dame, Ind.)
Rankings: Both teams are unranked.
TV/Time: ACC Network Extra, 12 p.m. ET
Last Meeting: Notre Dame 72-58 in 2017 at DePaul.
Series Facts: Notre Dame leads the series 61-44.
Notre Dame will host an old Big East rival this afternoon with the DePaul Blue Demons returning to South Bend with an undefeated record.
The Irish defeated DePaul 72-58 in the first game of the program's new arena in Chicago and will aim for their four-straight win while the Blue Demons could knock off their second-straight Power Five program.
Here is an overview of both programs heading into tonight's matchup.
NOTRE DAME OVERVIEW
Mike Brey and company may have found the right starting lineup moving forward.
Freshman point guard Prentiss Hubb (8.2 PPG) has started the last two contests along with junior guard TJ Gibbs (11.8 PPG, 3.6 APG), senior guard Rex Pflueger (6.6 PPG, 4.4 RPG, 3.2 APG), sophomore wing DJ Harvey (9.2 PPG, 4.8 RPG) and junior forward John Mooney (14.0 PPG, 9.0 RPG).
In their second game together, Notre Dame started 11-of-22 from the field in the first half of a 67-56 win over Duquesne. The team cooled off hitting just 11 of their next 37 attempts, but the opening 10 minutes or so showed the potential of what the group could do at times.
Hubb finished the game with a career-high 14 points while Mooney notched his third-straight double-double going for 16 points and 10 rebounds. Mooney scored 14 of his 16 points in the second half. Gibbs continued to struggle shooting but added 11 points to the effort. Harvey and Pflueger combined for nine points on 3-of-12 shooting.
With the departure of senior captain Elijah Burns, Brey was able to use a nine-man rotation without worrying about the odd player out. Freshman forward Nate Laszewski (6.4 PPG, 5.0 RPG) saw the most minutes of the frontcourt options (19) off the bench scoring four points. Junior forward Juwan Durham (4.0 PPG, 3.0 RPG) hit two field goals in his 10 minutes.
Freshman guard Dane Goodwin (5.4 PPG) scored eight points in his 19 minutes of action while fellow freshman guard Robby Carmody (5.2 PPG) played just seven minutes.
To counter the loss of Burns, Mooney played a little bit more in the post to serve as the team's top option there while still allowing Laszewski to roam the perimeter and Durham to focus on being a force on the glass and defensively.
Heading into this afternoon, Notre Dame is still searching for some consistency offensively. Brey's group is shooting just 38.9 percent from the floor and 28.1 percent behind the arc.
Stellar defense, including forcing Duquesne to miss six-straight shots late, helped propel the Irish to a 13-0 run to close out the Dukes after trailing at multiple times in the second half.
That has to be encouraging for Brey while they figure out a way to fit all the pieces together offensively. It seems they have found the right starting rotation. Now, it is determining how to fit in the rotational pieces throughout without disrupting the flow.
DEPAUL OVERVIEW
The Blue Demons competed with the Irish in last year's contest until Notre Dame pulled away during the final several minutes of the second half.
Dave Leitao's group bounced back to begin the season 6-4 with their three other losses going to Illinois, Michigan State and Oregon. DePaul however went 5-16 the rest of the way to finish a disappointing 11-20.
Leitao's group produced consecutive nine win seasons during his first two years back at the helm of the DePaul program after a three-year stint from 2002-2005 (58-34).
DePaul enters this afternoon's matchup at 3-0 with wins over Bethune-Cookman (80-58), Morgan State (91-63) and Penn State (72-70).
The veteran head coach will lean on a pair of 6-foot-6 seniors to help the Blue Demons return to the NCAA Tournament.
Last year's leading scorer — guard Max Strus (16.6 PPG) — is back and has taken his offense to another level so far this season at 23.7 points to go with 8.0 rebounds per game. Strus connected on 48 percent of his field goals and 41.9 percent behind the arc in the three wins.
Fellow senior guard Eli Cain, who averaged 11.7 points last year, returns and is second on the team so far this season in scoring (11.4 PPG) while putting up 6.0 rebounds and 6.6 assists.
To round out the starting backcourt, Leitao looks to sophomore guard Devin Gage (10.4 PPG, 4.0 APG) and junior guard Jalen Coleman-Lands (4.7 PPG). Sophomore forward Jaylen Butz provides a solid complement to the team's perimeter at 9.0 points and 10.4 rebounds.
Leitao has implemented a very short rotation this season so far with just eight players averaging over five minutes played and just seven of those players have participated in all three games.
Freshman guard Flynn Cameron, who did not play against Penn State, averaged 4.0 points in the first two games in the season. Forwards Femi Olujobi (9.4 PPG, 3.4 RPG) and Paul Reed (8.4 PPG, 6.7 RPG) are the top two options off the bench.
Through three games, DePaul is shooting 46.6 percent from the field, but just 31.1 percent behind the arc while holding opponents to 37.6 percent overall and 26.1 percent on three-point attempts.
The Blue Demons are averaging 81.0 points and allowing just 63.7 points while out-rebounding opponents 47.7-32.0.
GAME OUTLOOK
For DePaul, their success against the Irish will come down to how well Strus and Cain play. If the duo can come near their season totals, then the chances of the Blue Demons pulling off the upset increase.
It will be a tough task for the Notre Dame perimeter to contain both players, but their success will also play a pivotal role in this matchup as the unit continues to try and find ways to consistently score on offense.
Prediction
Notre Dame 74, DePaul 69
I see this being a tough matchup for Notre Dame. DePaul has played well defensively this season and has a go-to scorer in Strus that can cause issues for an Irish team that does not have that player right now.
Playing at home will be an advantage for Notre Dame, and I see the Irish backcourt doing enough to counter the Blue Demons. The play of Mooney will be an x-factor in this one and another double-double could be on the way.