HOOPS Preview: Notre Dame At Florida State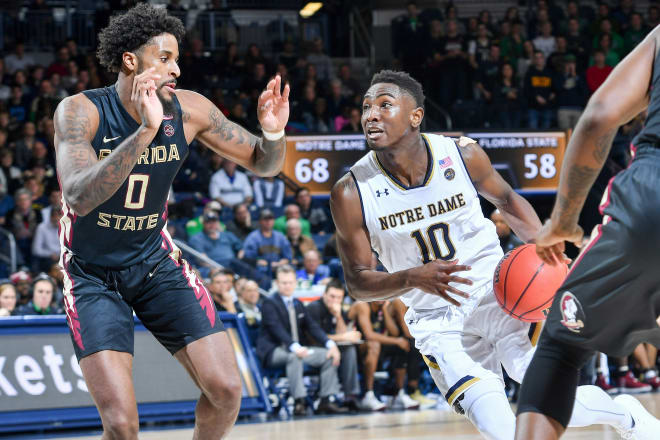 NOTRE DAME (13-14, 3-11 ACC) AT FLORIDA STATE (21-6, 9-5 ACC)
Where: Donald L. Tucker Center (Tallahassee, Fla.)
Rankings: Florida State is No. 18 in AP Poll.
TV/Time: ESPN, 7 p.m. ET.
Series Facts: The all-time series is tied 4-4.
Last Meeting: The Irish defeated Florida State 84-69 on Feb. 10, 2018 in South Bend.
Notre Dame fell for the third-straight time on Saturday losing to Virginia Tech at home, and the Irish face a quick turnaround heading down to Tallahassee to take on Florida State for ESPN Big Monday.
The Seminoles will aim to bounce back after an 18-point loss to North Carolina their last time out, which ended an eight-game winning streak.
Blue & Gold Illustrated takes a look at both teams before the meet this evening.
NOTRE DAME OVERVIEW
Same old song and dance.
Against Virginia Tech on Saturday, the Irish started the game 1-of-10 from the field and never led in a 32.8 percent shooting effort.
It's the same issue that has deflated the Irish in much of their losses this season. And this is who this Notre Dame team is at this point. One that can product stretches of strong offense, but for the most part will have a tough time putting up a ton of points.
Guard TJ Gibbs again led Notre Dame in scoring with 18 points against the Hokies, but did so on 5-of-17 shooting overall. Forward John Mooney was the lone player at 50 percent from the field (5-of-10) finishing with 12 points and 10 rebounds for yet another double-double.
Wing DJ Harvey (7), guard Prentiss Hubb (2) and Nik Djogo (0) finished 4-of-19 combined for nine total points.
Forward Nate Laszewski put together a solid performance adding 12 points off the bench going 4-of-9 overall. Big man Juwan Durham made his lone attempt and all four free throws for six points, while guard Dane Goodwin put two free throws through the hoop.
Even though Saturday was just another example in a long line of Notre Dame's struggles offensively this season, there were some positives.
Hubb added seven assists to his totals, despite struggling to find his shot. Notre Dame needs him to be a playmaker for others and let the shots come to him. He did the former.
Again, Laszewski had a solid game after Mike Brey stated earlier in the week that the staff would be taking a longer look at him, Goodwin and Durham to end the season as they are considered to be major parts of the program's future. Can the sharpshooter finally turn the corner in year one? Mooney also remains the lone consistent player for the Irish getting his 17th double-double.
At this stage of the season, keeping focus on the positives is probably the best way for the Irish to round out a season that hasn't been filled with many.
FLORIDA STATE OVERVIEW
With a run to the Elite Eight and seven of the team's top nine scorers returning, expectations were relatively high for Florida State entering the 2018-2019 season.
The Seminoles have met those expectations so far with a 21-6 record overall and 9-5 in ACC play.
Leonard Hamilton's group began the year 12-1 with wins over Purdue, Florida, LSU and Connecticut and a lone loss to the defending national champion Villanova Wildcats. But that strong start didn't continue early into ACC play.
Florida State fell to 1-4 to open league play with two losses coming to Boston College and Pittsburgh.
Hamilton's group turned the corner at the end of January and reeled off eight-straight ACC wins, including two over Clemson and one against Louisville to rise in the standings, before falling in their most recent contest against North Carolina in Chapel Hill.
Florida State remains one of the longest and most athletic teams in the country led by 6-foot-10 sophomore forward Mfiondu Kabengele (13.2 PPG, 5.6 RPG), who leads the team in scoring despite not starting.
Senior guard Terance Mann, who stands 6-foot-7, is the only other double-digit scorer for Florida State at 11.7 points to go with his 6.4 rebounds and 2.4 assists per game. The Seminoles other two starting guards — Trent Forrest (9.0 PPG, 4.8 RPG, 3.8 APG) and MJ Walker (7.7 PPG) — are 6-foot-4 and 6-foot-5 respectively.
The height doesn't end their though with 6-foot-8 senior forward Phil Cofer (7.4 PPG, 3.5 RPG) and 7-foot-4 senior big man Christ Koumadje (6.7 PPG, 5.7 RPG) rounding out the typical starting group for Hamilton.
Senior guards David Nichols (6.7 PPG) and PJ Savoy (6.7 PPG) are the top scoring options off the bench. Freshman guard Devin Vassell (4.4 PPG), forward RaiQuan Gray (3.9 PPG) and guard Anthony Polite (2.9 PPG) make up the rest of the depth.
Entering tonight's matchup, Florida State is averaging 76.5 points per game on 44.8 percent shooting overall and 33.8 percent behind the arc.
GAME OUTLOOK
Florida State's length and athleticism helps the Seminoles rank among the best nationally defensively sitting 14th in adjusted defensive efficiency per KenPom.com forcing over 15 turnovers per game and a steal percentage of 7.3 percent, which is good enough for 27th overall.
For a Notre Dame team that struggles offensively, the Irish will have quite the challenge in front of them, especially dealing with that length on the perimeter and inside.
Prediction
Florida State 79, Notre Dame 62
This a tough matchup for the Irish. Florida State will make Notre Dame earn it on every possession, and that does not bode well for Brey's group.
Add that the Irish have won just one true road game this season, it all equates to an eventual Florida State win.