Highland Springs Coach Calls Jamareeh Jones A 'Perfect Fit' For ND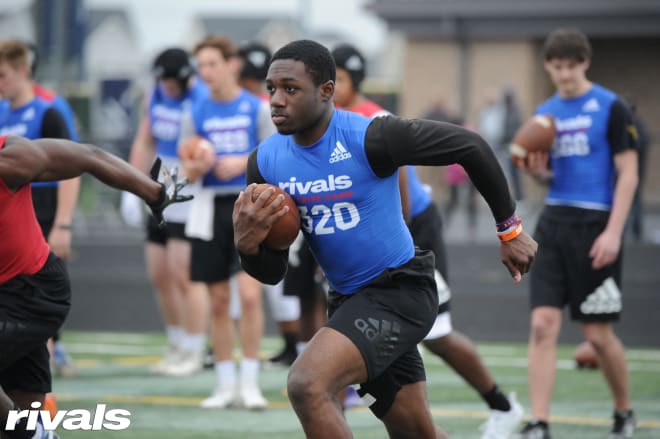 It's not too often that Notre Dame is the first school to offer a prospect, but that was the case for Jamareeh "Bugg" Jones, who announced his offer from the Irish on May 1.
"I thought [the Notre Dame offer] was great," Highland Springs head coach Loren Johnson said. "I was excited for the kid. He understands the process."
The Highland Springs (Va.) football program is as dominant as you can get. They've won four straight state titles and have the weapons to win a fifth straight title.
Jones, who is a class of 2021 athlete, will be needed all over the field for the Springers this fall. He may play quarterback, or defensive back, or somewhere on offense as a skill position player.
"He could play receiver, he can play quarterback, he can run the ball, he can kick the ball, he can play safety, he can play cornerback," Johnson explained. "We have to put the ball in his hands multiple times a game, whether that's [at running back] in the I-formation or jet sweep from the slot receiver or getting him the ball in the flats or deep balls or just snapping it to him. He's a guy who we can use in multiple ways and utilize him the best we can."
His athleticism and ability to play multiple position has netted him early offers as well from Pittsburgh, North Carolina, and Tennessee, but it's the mental aspect of Jones that may be the most impressive.
"I'll tell you one thing about Jamareeh Jones," said Johnson, beginning a story. "We were driving over to a 7-on-7 tournament, and he was a rising sophomore. I said, 'Hey man, why do you stay at Highland Springs? You can go anywhere in the state and be a starting quarterback right now.' And he said, 'Coach, I understand the process and what it's about. I have to get my grades, hone and develop my skills, and when the opportunity comes, I'll be able to play varsity football here.'"
Jones clearly has maturity beyond his years.
"In thinking about that, not that many kids have that maturity and are able to speak like that and articulate that," Johnson said. "He was able to do that and do it easily.
"His mom has done a great job with him as a person. He understands life, knows when he makes a mistake, he just understands what's going on. He already had that before he got to us, and that's a testament to his mom and dad and family and how they've raised him. He's just a great kid."
Jones camped at Notre Dame for Irish Invasion this past weekend. Johnson believes that Jones could excel in South Bend, if the 6-foot-1, 190-pounder ends up choosing the Irish.
"Bugg is a perfect fit for Notre Dame," Johnson stated. "Now, Coach Lyght is the one who offered him, so I'm assuming they want him on the defensive side of the ball. But the great thing about Jamareeh is he'll do anything to just be on the football field."
Jones discussed his Irish Invasion visit with BGI -- Click Here.