Heart Of Two Eternal Champions: Baylor 82, Notre Dame 81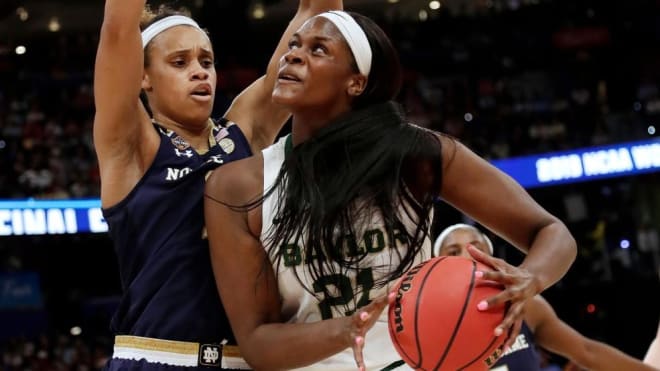 The thrill of victory. The agony of defeat.

Seldom in a 12-month period has any team experienced such a roller-coaster of both as Notre Dame women's basketball did following its 82-81 defeat to Baylor Sunday night in the NCAA Championship game.
One year after Fighting Irish guard Arike Ogunbowale ensconced herself as a basketball legend with two buzzer-beating field goals in Final Four victories versus UConn and Mississippi State, the All-American senior had the ball in her hands again at the foul line with two free throws, Notre Dame trailing 82-80 and 1.9 seconds left.
Ogunbowale, who had converted 33 of her 36 free throws in this year's NCAA Tournament, missed the first and inadvertently converted the second, preventing any chance of a put-back basket. Baylor then ran the clock out on two in-bounds passes to prevent head coach Muffet McGraw's Fighting Irish from repeating as national champions.
Meanwhile, Baylor's Chloe Jackson became the Ogunbowale of the 2019 final with 26 points, highlighted by an aggressive speed drive and banking in a lay-in just past the out-stretched arm of all-time Notre Dame shot blocker Brianna Turner for an 82-80 advantage with 3.9 seconds left.
True to past and recent NCAA Tournament form, Notre Dame fell behind by 17 in the first half but made another scintillating rally in the second half, scoring 50 points after the intermission, highlighted by three fourth-quarter threes by senior guard Marina Mabrey. All-time Notre Dame leading scorer Ogunbowale finished with 31 points while Mabrey added 21, notably 4 of 8 beyond the arc.
Baylor was in control throughout the majority of the contest, but a crucial turning point occurred with 1:22 remaining in the third quarter and the Bears cruising with a 62-50 advantage. Baylor 6-4 junior Lauren Cox, who joined 6-7 Kalani Brown on the nation's most formidable front line, suffered a severe left leg injury during a battle for a rebound.
Minus Cox for the rest of the game, the Bears still took a 66-55 lead into the fourth quarter, but an Ogunbowale running three-pointer at the horn — a familiar sight — became a signal that Notre Dame was lurking with yet another rally. Plus, two nights earlier, UConn had an almost identical lead (64-55) on the Irish with 7:55 left before falling 81-76. Notre Dame finished with 81 again — but this time on the short end.
The Bears continued to keep Notre Dame at bay with a 70-63 lead, but three Mabrey threes in a span of 2:05 knotted the score at 74 with 5:18 remaining. An Ogunbowale free throw gave the Irish their first lead (77-76) since 3-2. It also would be their final advantage.
Brown converted inside at 2:34 for a 78-77 Baylor lead, and a Jackson jumper at the 35-second mark put the Bears back up 80-78. Two free throws by Irish senior forward Jessica Shepard with 17 second remaining tied it again prior to Jackson's superb individual play.
The Fighting Irish opened with their typical slow start, converting only one of their first 16 field goal attempts while Baylor was 8 of 11 to build a quick 17-7. The closest Notre Dame came the rest of the first half was 21-14, and Baylor extended its lead in the opening 20 minutes to as much as 33-16. Especially demoralizing was in the first quarter the tandem of Brown and Cox had merely four points while the rest of the team was 10 of 14 from the field, led by Jackson's 5 of 5 effort.
With the score 43-31at halftime, the Bears dominated in the paint with a 30-8 advantage, but the bigger surprise was it was defeating Notre Dame at its own game by holding a 14-2 lead in fast break points.
Notre Dame began to display flickers of another comeback when it cut the deficit to 53-46 at the 4:15 mark of the third quarter with an Ogunbowale basket, but Baylor responded with a 7-0 run to keep the Irish at bay — until Cox's injury.
Three-Point Play
1. Heart Of Two Champions
Taking nothing away from Notre Dame's marvelous effort, Baylor deserved to win. It dominated the action for three quarters, and then when its best player on both ends of the court was sidelined the final 11:22 and the Bears fell behind and incurred foul problems, they found amazing mental fortitude to finish with the victory. It reminded us of that same toughness the Fighting Irish showcased last year while overcoming so many setbacks to win it all. Epitomizing their resolve was Baylor freshman NaLyssa Smith, who as Cox's replacement tallied 14 points, six rebounds and a blocked shot.
Like Ali-Frazier in their prime, as the decades pass, both of these teams will be forever champions while their exploits grow (deservedly) with the passage of time.
2. No Finishing Touch This Time
While Cox's injury was the first major turning point in the contest, the final 3:18 was equally crucial after the Irish went ahead 77-76. The Irish were not "playing not to lose" and attacked aggressively but could not quite build the coveted two-score lead that it did in the closing minutes versus UConn.
Maybe best reflecting how hard Notre Dame battled was its 44-38 rebounding advantage — including 21-14 on offense — against the nation's No. 1 team in rebounding margin at about 17 per game. While there is much conversation about Baylor's size, equally impressive is its perimeter quickness and recovery speed. It's like NFL QBs having such a small window to complete passes. No one ever seems open, and virtually every point has to be earned.
3. Prepare For Rebuild
UConn, Baylor and Notre Dame were the three preeminent first-tier programs in the women's game this decade, but the 2020s will begin with reconstruction. Time will put into context just what a spectacular four-person starting senior class Notre Dame is losing — much like how today we speak so wistfully about the 1988-89 Fighting Irish football teams that won one national title and just missed out on a second.
Depending on junior Jackie Young, who has a decision forthcoming on whether to turn pro or return, the Irish could still perhaps be Sweet 16-caliber next year. Without her ... just start with getting back to the NCAA Tournament and build from there.