Hartman, Buchner bring a united front to Notre Dame QB competition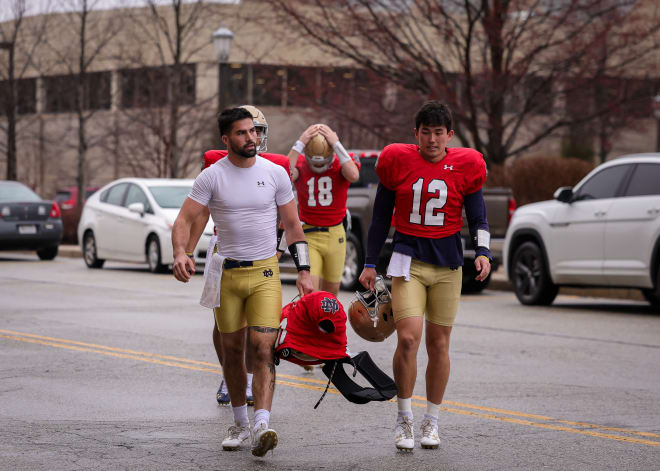 SOUTH BEND, Ind. — If it all were for show, Sam Hartman and Tyler Buchner would have gone their separate ways for spring break earlier in March rather than going out to dinner together, talking about life together, working to make each other better quarterbacks out in California.
Together.
What followed back on the Notre Dame campus and what's been framed by the Irish football coaching staff as an authentic competition to determine the top two spots on the 2023 QB depth chart feels more like a bro-mance a third of the way through ND's 15 spring practices.
Maybe that will change once Wake Forest transfer Sam Hartman is officially named the starter at some point. Or maybe it becomes a touchstone of when Notre Dame's chronically flawed QB developmental model got in step with the other College Football Playoff aspirants.
For the long term.
The best-case scenario, for the ND program's sake, when head coach Marcus Freeman and since-departed offensive coordinator Tommy Rees in January pursued and landed arguably the best quarterback in the transfer portal was that the sixth-year grad senior Hartman live up to expectations in 2023, all the while making junior Buchner better and ready to step into the new, elevated lineage in 2024.
The unexpected benevolent twist, it seems, is that Buchner — a starter for three games and injured for 10 in 2022 — is helping to upgrade who Sam Hartman is.
"His athletic ability combined with his arm is — I envy it," Hartman, the ACC's all-time leader in TD passes (110), said Friday of Buchner. "He's a really great player. You see it every single day, just make some really cool plays. And again, it comes with the hard work that he puts in.
"He's a great dude, great relationship. It's been really cool to kind of have that gel and that continuity in the QB room. And, obviously, for me coming in, these guys have accepted me, and it's been great for my growth and development."
Accepted and helped Hartman with the lingering parts of the offense that passed from Rees to promoted offensive coordinator Gerad Parker and new QBs coach Gino Guidulgi.
"There's a trading off of knowing from Tyler and (third-stringer) Steve (Angeli) to Sam of, 'Hey, this is how we did it last year,'" Guidugli said. "And Sam goes to them with the RPO (run-pass option) and they're asking him 'Why would you throw that out there?'
"And he'll say 'Well I have six in the box, that's my seventh defender. If he's too tight, let's get the ball on the edge to one of our playmakers to see if they can tackle in space.'
"For some of the RPO stuff we're doing in particular inside the offense this year, Sam's got a lot of experience that the guys that have been here have not."
The hope is that Hartman combined with Notre Dame's traditional strengths — offensive line play, running backs and tight ends — will make the Irish offense significantly more dynamic, an ambition that looks more realistic with the way the young wide receiving corps seems to be evolving this spring.
Even modest improvement in ND's offensive bottom line would be welcome. Last season's four playoff teams ranked second (Ohio State), fifth (Georgia), sixth (Michigan) and ninth (TCU) in scoring. Hartman's former school, Wake Forest, was 15th.
Notre Dame was 41st, with the last time it had a lower national ranking in scoring offense being the 4-8 cratering of 2016. The Irish were 59th in out of 130 in total offense in 2022.
Change was going to need to happen whether or not Rees had stayed on instead of joining forces with Nick Saban at Alabama.
Hartman, meanwhile, is embracing Parker's interpretation of the evolving Irish offense, even though he still feels like he's more student than master of it.
"I feel like I learn something or gain something every practice, every rep, really," he said. "I think everything about it is up front and right there for you. And when you have the play, you know, 'OK, this is what I'm doing with the ball.' You know what the guys' routes are.
"It's complex, in the way that we're designing it, but simple in the way that we need to read and work through it. So, it kind of gives you a fighting chance against (defensive coordinator (Al) Golden and his array of defenses that you've got to go against.
"So, if you have a general idea of the coverage, you know your read and your reactions, and you just try and roll through it."
Added Buchner, "It's a lot of the same. It's still pro-style. They added some new things that I think are really good and took out some stuff that was too much or took a couple of things off our plate that should make it easier for us to just go out and play ball and not have to think so much."
Will Buchner have to think more, specifically about the big picture, once the Blue-Gold Game plays out on April 22? The transfer portal window re-opens for underclassmen on May 1 for 15 days.
And keep in mind since Zak Kustok became the first of 29 high school QBs to sign with the Irish in the post-Lou Holtz Era (1997-present) and not on the current roster, only six of those 29 didn't transfer, change positions or both — Brady Quinn, Evan Sharpley, Jimmy Clausen, Tommy Rees, DeShone Kizer and Ian Book.
Many of the ex-Irish QBs had to sit out a year back before the transfer rules were amended. Buchner would not have to. And he probably could be a starter somewhere in the FBS even without having gone through spring practice at a potential new school.
But Friday he was very clear at spelling out of what football success for him in 2023 would need to look like. It was not about beating out Hartman, not necessarily having a niche role as he did as a freshman in 2021.
"As long as I see improvement, for me," he said. "As long as I just keep my head down and keep working and keep improving practice to practice, that's what will give me satisfaction that I'm working toward something bigger than me."
And enjoying the process along the way.
"Think about it in my shoes," Buchner said. "If (Hartman) comes in, why would I not become friends with him, be a great teammate and be supportive in every way I can. That will make life better for the both of us, right?
"Or I can choose to totally block out the guy and be like, 'No, I'm the guy or whatever.' We spend probably six hours a day with each other. That would be miserable. Luckily, Sam is just an unbelievable guy. We've bonded really well, and this quarterback group has come together really well. So, it's been great."