Greg Bryant Headed To JUCO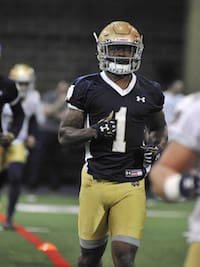 Former Notre Dame running back Greg Bryant will spend a season in junior college.
ASA College Miami assistant coach Roger Mitchell told Blue & Gold Illustrated that Bryant has enrolled at the junior college and was present for team meetings on Wednesday.
"He's going to go to school for a year, graduate with an [associate degree] and then go back to Division 1," Mitchell said. "I don't know if he's going to transfer [back to Notre Dame] that's between him and his parents, and I don't want to speculate on that."
Bryant was ruled academically ineligible by Notre Dame earlier this month.
The Delray Beach (Fla.) American Heritage product returned back home to South Florida and that's when Mitchell said ASA College Miami head coach Ernest Jones, who was the Director of Player Development at Notre Dame from 2012 to 2014, contacted the former five-star recruit.
"This happened in a blink of an eye," Mitchell said. "I think because our head coach worked at Notre Dame, he had a personal relationship and he was able to reach out to him and put this together very quickly."
Bryant has already used a redshirt season, which means the sophomore has just two years of eligibility remaining. By playing this season at the junior college level and earning an associate degree, he would in turn not have to sit out a season should he return to Notre Dame or another FBS program in 2016.
"He has been very pleasant," Mitchell said of Bryant. "He's excited. He wants to get back on the field. He struggled with the academic rigor at Notre Dame, that was the only thing, it wasn't a character issue or anything else."
Bryant ran for 289 yards on 54 carries last season. ASA College Miami will field a football team for the first time this season.

Click
Here
to view this Link.