Grace could have captain potential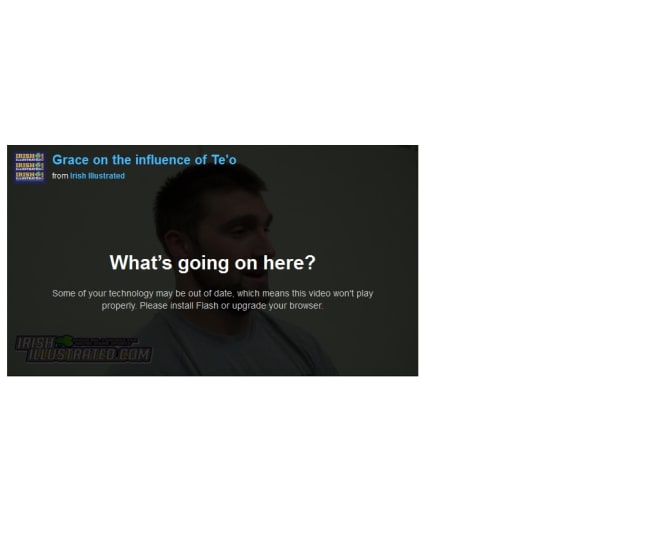 Notre Dame's coaching staff put Jarrett Grace on the leadership track before he played his first meaningful snap. Now, barely a week after making his first collegiate start, the junior linebacker's teammates see an heir to Manti Te'o, both within the defense and within the locker room.
Grace may never completely fill the cavern left by the most decorated linebacker in college football history. That he's willing to take on that challenge may matter more to Notre Dame than if Grace can actually replicate the All-American who preceded him.
"I could definitely see him potentially being a captain," said cornerback and captain Bennett Jackson. "I think he's started to become more of a vocal personality when he's in there. Even last year, if something were to happen, he was ready to go in, he knew all his assignments. He was on beat. He's just a really energetic player. He runs around and flies around and hits people.
"He gives everybody else energy around him."
Last week Notre Dame's coaching staff couldn't deny that wattage any more, inserting Grace into the starting lineup over fifth-year senior Dan Fox. Grace played the most snaps of any inside linebacker in the 17-13 win over Michigan State, although the staff still relied on Fox and Carlo Calabrese to close out the game.
Despite splitting reps, Grace still leads Notre Dame with 28 tackles.
For Brian Kelly, Grace's path to playing time has been predictable, dating back to when he recruited him out of Colerain High School in Cincinnati. The linebacker was one of Kelly's first offers after taking the Irish job.
Later that spring Grace committed, choosing to follow Te'o to South Bend after watching the prep All-American's National Signing Day announcement a year earlier. It was Grace's first introduction to a future mentor and roadblock.
"I remember sitting on my living room floor and watching him commit to Notre Dame," Grace said. "Obviously I didn't know much about him, but I remember seeing that moment.
"As I started that process for myself, I knew he was a tremendous player and that was something I looked towards. That was something that excited me."
The Irish staff thought enough of Grace's leadership potential to tab him to help direct the team's Christian Fellowship chapter. Director of Player Development and Engagement Ernest Jones encouraged Grace to get more involved. So did outgoing safety Jamoris Slaughter.
Grace complied.
"I don't know why in particular they chose me," Grace said. "I don't know if it's something I put off. But I think I've been very lucky. I'm very blessed to be chosen as someone they can count on."
Kelly said Grace led the team in community service. It appears that statistic helped create a natural attraction between the linebacker and the rest of Notre Dame's defense.
Still, Grace knows he's a long way from a finished product. One start down, he could have another 35 to go. By then he hopes to have figured out not only the entire defensive playbook, but also to have mastered what to say and when to say it.
As much as Grace may come off as a natural leader, he admits that figuring out how to guide older, more experienced players hasn't been as simple as making a run fit or tackling a tailback.
"I'm still working on confidence.," Grace said. "I don't want to necessarily be yelling at a guy just trying to get them going if I'm not necessarily doing everything right myself.
"I think at the same time you owe it to yourself and to the team if … I see something that's going to help our team have a better chance to win, I have to say it. That's something I'm trying to improve on always. You can never be perfect at that."
Perfect or not, Notre Dame's defense should be better for Grace's effort.
<!-