Gibbs, Irish Finish Strong To Close Out William & Mary 73-64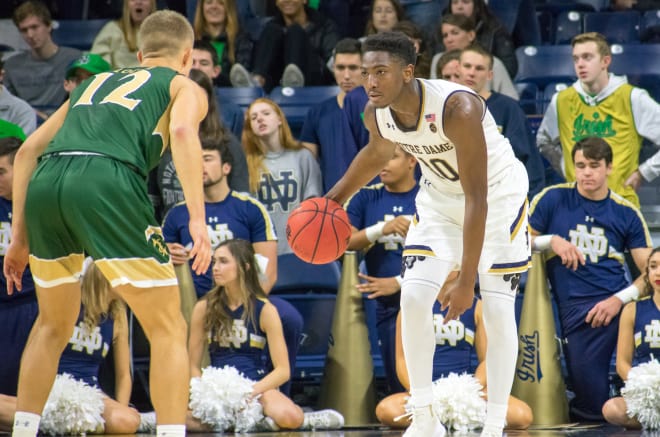 Notre Dame trailed by one point at the break, but the Irish shot 50 percent in the second half to pull off a 73-64 win over William & Mary.
Junior guar TJ Gibbs scored 17 of his 18 points to help lead the bounce back victory.
Check out Blue & Gold Illustrated's recap of the Notre Dame win.
FIRST HALF
Both teams had trouble finding the basket in the opening four-plus minutes of the contest with a combined 2-of-10 effort. Notre Dame knocked in each of the two field goals with both coming from DJ Harvey to give the Irish an early 5-1 advantage.
William & Mary missed their opening three attempts while Notre Dame hit just the two in seven shots.
After going 2-of-4 to start shooting, the Irish missed their next eight shots, which allowed William & Mary to take a 9-5 lead following back-to-back three-pointers.
A layup from freshman guard Prentiss Hubb, who earned his first career start, ended the run while Harvey connected on another three-pointer for his eighth points of the game and putting Notre Dame up 10-9 at the under-12 media timeout.
Junior forward Juwan Durham, who did not play in a loss to Radford, checked in around the 10-minute mark and quickly got a basket extending the Irish lead to 12-9. Another layup from Hubb was sandwiched between two William & Mary layups to put Notre Dame up just 14-13 with 7:13 remaining in the opening half.
Hubb's strong first half play continued with the freshman knocking down an open triple and getting an easy layup in the lane to help fuel what was an 8-2 run to extend the Irish lead to 22-15 with 5:29 remaining. Durham connected on a baseline jumper during the run as well.
But, the Tribe quickly answered hitting back-to-back three-pointers from forward Quinn Blair and guard L.J. Owens to close the gap to 22-21 in just over a minute. A bucket by freshman guard Robby Carmody made it 24-21 Notre Dame at the under-4 media timeout (3:37).
It would be the last field goal the Irish would make over the next three minutes missing six-straight to allow William & Mary to eventually take a 28-27 edge into the break.
Hubb led all Irish scorers with nine points while Harvey was right behind with eight of his own. Notre Dame would make 11-of-33 (33.3 percent) from the field and just 3-of-10 behind the arc. The Irish defense did their part in the opening half however holding the Tribe to 34.8 percent (8-of-23) shooting and 33.3 percent (5-of-15) on three-point attempts.
SECOND HALF
Notre Dame started a little better offensively in the second half connecting on four of their first eight attempts. Mooney, Harvey and Nate Laszewski each knocked in two-point baskets while TJ Gibbs made his first field goal of the game with a three-pointer.
On the other side, the Tribe also came out a bit better on offense making 3-of-6 making it 36-all with 15:38 left.
William & Mary was able to take a 40-38 lead with 13:54 remaining following a jumper from Blair, but the Irish ignited some energy into Purcell Pavilion getting a three-pointer from Harvey and a steal by Gibbs that led to a dunk for the junior. The quick run put the Irish up 43-40 with 13:21 left.
The Tribe then went on a 7-1 run to take a 47-44 lead with 10:58 left. Notre Dame then put the clamps down on both ends of the court.
Notre Dame reeled off a 20-6 run to take a 64-53 run with under four minutes to play. Half of the team's points came from the free throw line with Gibbs and guard Rex Pflueger each making four and Mooney adding two. Mooney also had three buckets on his own while Gibbs netted two.
The overall run was fueled by 10-0 stretch from the 7:41 mark to 4:40 where Gibbs notched six of his points during the stretch and Mooney's getting four.
William & Mary didn't go away though going on a 11-6 run behind nine points from guard Matt Milon to make it 70-64 Irish with just over a minute to play.
Notre Dame was able to successfully to close out the Tribe over the final few seconds to pick up the 73-64 win.
Gibbs led the Irish with 17 points in the second half to keep from falling to 2-2 on the young season. Notre Dame shot 15-of-30 (50 percent) during the final 20 minutes despite going just 2-of-10 behind the arc.
Overall, the Irish shot 41.3 percent (26-of-63) from the field and 25 percent (5-of-20) on its three-point attempts. Gibbs led all Notre Dame scorers with 18 points while Harvey added 15. Mooney recorded his second double-double of the season with 13 points and 11 rebounds while Hubb finished with a career-high 11 points in his first start.
William & Mary connected on 56 percent (14-of-25) of their shots in the second half, but it was not enough in the end.