Future ND point guard Markus Burton embraces next chapter with Shrewsberry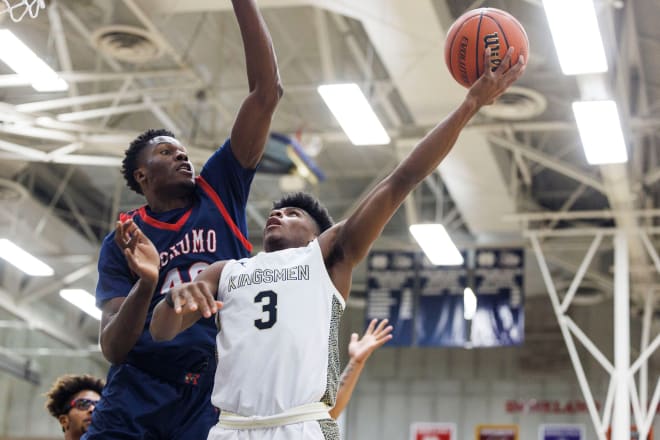 When the dream season Penn High School senior guard Markus Burton was living and largely orchestrating came to an unforgiving end on Saturday night, he made himself a promise.
That he'd take a break from basketball.
By Monday, the 6-foot, 165-pound future Notre Dame point guard already had broken it, was back in the gym, putting up shots and messing around with friends. And by Wednesday night, he was doing so with intention, an eye toward the future and a smile that seemingly wouldn't go away.
That following a phone call from new Notre Dame men's basketball coach Micah Shrewsberry, who was officially named on Friday to replace 23-year fixture Mike Brey. Shrewsberry will meet with the media next Thursday at a time TBD.
"I'm extremely excited for coach Shrewsberry to come down to Notre Dame to coach," Burton told Inside ND Sports on Thursday. "I'm looking forward to playing for him. He's a great guy, and when I spoke to him (Wednesday) night, it sounded like he has nothing but a good plan for us and for me. I can't wait for him to get here."
The 46-year-old Shrewsberry will need a good plan to pick up the pieces of 11-21 season and 14th-place finish in the 15-team Atlantic Coast Conference that Brey left behind, including a 2-11 mark after he announced on Jan. 19 his intentions to step down at season's end.
In Shrewsberry's two seasons at Penn State, though, the Indianapolis native showed a penchant for attacking an ambitious rebuild, using the highest-rated freshman class in school history, adding three players from the transfer portal and evolving fifth-year senior guard Jalen Pickett from a good Big Ten player into an All-American this past season.
The Nittany Lions went from an 11-win team before Shrewberry arrived from a two-year stint as associate head coach at Purdue, to 14-17 in 2021-22 and then a 23-win season and the school's first NCAA Tournament berth in 12 years. Penn State upended No. 7 seed Texas A&M (76-59) before falling to 2 seed Texas (71-66).
Burton, one of three players to sign with the Irish in November and the only one not to ask out of his National Letter of Intent, said he was caught off guard by Brey's decision to step away from Notre Dame.
"But he got in touch with me and explained everything, and I understand why he did it," Burton said.
The two haven't spoken since that day in mid-January.
"It was hard," Burton said of the uncertainty that followed and persisted. "It was kind of stressful, but at the same time I just waited, stayed patient and until Notre Dame figured out who it was going to be. There were a lot of coaches' names being thrown out there who wanted the job, but I wasn't really paying attention to it."
He distracted himself by leading the state of Indiana in scoring (30.3 ppg) and coaxing Penn to a No. 2 ranking in the state's largest enrollment class (4A) into the final four of the state tournament. There, Saturday night at Michigan City, Ind., the Kingsmen fell to fifth-ranked Kokomo 58-57 to finish 28-2. Their only other loss was to No. 1 and unbeaten Ben Davis (65-53) on Dec. 30, the team that will meet Kokomo for the state title this Saturday.
Burton also finished as Penn's leader in rebounding (5.4), assists (5.1) and steals (3.8). He scored in double figures in his last 57 high school games and leaves as the school's and St. Joseph County's all-time leading scorer.
"We had a great year and we had a great run," Burton said, "It was hard the way it ended, but I'm over it now and I'm looking forward to the next level."
With plenty of uncertainty ahead.
"I don't have any expectations team-wise," Burton said. "I'm pretty sure coach Shrews is going to handle everything the right way and get all the guys going. It's not really too much I'm thinking about right now."
Burton and Shrewsberry weren't strangers when the two connected on Wednesday night. Burton and Shrewsberry's son, Braeden, have been longtime friends through the travel AAU basketball circuit, though they never played on the same team.
In the course of the constant paths crossing, Burton met Braeden's dad.
"I knew coach Shrews' enough to know what he was all about and I'm getting to know more and more," Burton said. "And there's a lot to like."
Burton won't have far to go to greet him in person. Penn High in Mishawaka is located roughly eight miles east of Purcell Pavilion. He's been a longtime Irish football fan, regularly attending games with his father and is friends with head coach Marcus Freeman's son, Vinny, a freshman at Penn and state finalist in wrestling.
"Marcus Freeman did a great job and is going to continue to do a great job, I think," Burton offered.
Burtan has also played pickup basketball with all the current players on the Notre Dame team, mostly last summer, though he's uncertain who will decide to return to be part of Shrewsberry's first Irish team.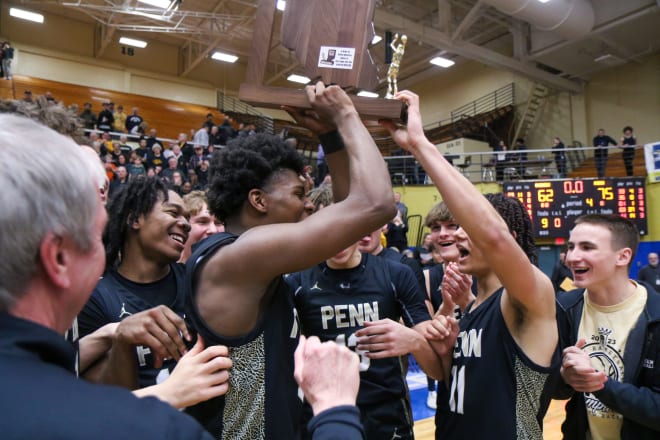 The Irish are expected to lose their top six scorers from last season, though grad senior Cormac Ryan (12.3 ppg) has a sixth season of college eligibility remaining. On Friday he announced he's both declaring for the NBA Draft and entering the transfer portal. A return to Notre Dame is still possible, though unlikely.
Freshman guard JJ Starling (11.2), a former five-star recruit, is another one of the losses, having already committed to Syracuse after entering the transfer portal on the first day he could do so (March 13).
Two others with remaining eligibility entered the transfer portal last week — grad senior guard Robby Carmody, who played in just seven games the past three seasons largely due to injury, and freshman forward Dom Campbell, who scored seven points in 10 games under Brey. Both could opt to return to Notre Dame if Shrewsberry invites them back.
Otherwise Shrewsberry will start off with four returning scholarship players — juniors Matt Zona (6-9) and Tony Sanders Jr. (6-7), sophomore J.R. Konieczny (6-7) and freshman Ven-Allen Lubin (6-8) — and Burton, a three-star prospect, per Rivals, and 5-foot-10, according to his profile.
"I really am 6-foot," he said.
A pair of former Notre Dame signees — three-star shooting guards Parker Friedrichsen (6-5) and Brady Dunlap (6-7) — were released from their letters-of-intent after Brey's January announcement. Friedrichsen has since committed to Wake Forest. Dunlap has not settled on a new destination and could revisit the Irish under Shrewsberry.
Zona, Zanders, Konieczny and/or Lubin could all test the transfer portal market as well depending on how they see themselves fitting in Shrewsberry's program.
"I haven't had a chance to talk to those guys yet about coach Shrews'," Burton said, "but I'm sure we will."
Braeden Shrewsberry, a three-star shooting guard who signed with Penn State in November, will presumably pivot to Notre Dame and join his father there. The other two players in Lions' the top 30 class might also do so.
Carey Booth, a 6-9, four-star forward and son of Denver Nuggets general manager Calvin Booth, asked out of his National Letter of Intent on Thursday. Logan Imes, a 6-4 guard from Zionsville, Ind., has not yet publicly stated he's been released, but reports have surfaced that he could make a visit to Notre Dame this weekend.
"I'm just focused on me being the best I can be right now," Burton said of the swirling speculation. "The next step is just getting my body right, getting more athletic and physically stronger, so that when I get to Notre Dame, I'll be prepared to play against older and stronger guys.
"I can't really say now how that's going to look in June or even when the season starts, but I do know I'm extremely excited to get there, get to playing, and get a feel for what it's like."