From The Locker Room ...
A collection of quotes from Texas' 50-47 double-overtime win over Notre Dame...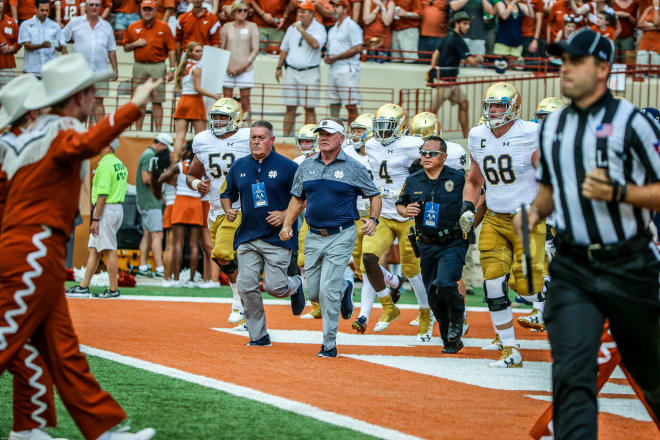 Notre Dame head coach Brian Kelly …
On coming back from a 17-point deficit: "They're resilient. They're a group that believes they can win any game they play regardless of the circumstances. They're going to keep battling, and they're going to get better as a football team, too. This is a team that will get better and better as the year goes on.
"We've got some really key ingredients to this football team that as a head coach you really want, and that is a mental toughness. When you're down 31-17, most teams kind of kick it in there and say, 'Game's over. On the road, we'll get on the flight and cash this one in and think about next week.' They didn't; they kept fighting and took the lead."
On sixth-year graduate senior safety Avery Sebastian and the team's young secondary: "His tackling obviously was not where we needed it. He's a tough kid, he's a battler and he battled. We ended up finishing the game with two freshmen safeties and a freshman corner.
"They're going to have to play a lot of football, and they're going to be really good players. You're going to see a lot of them."
On the offensive line: "I thought that they pass protected pretty good. I'll reserve judgment as to whether we fell off some blocks later.
"When you rush for over 200 yards, you're on track to probably having a pretty good day."
Notre Dame sophomore wide receiver Equanimeous St. Brown …
On his two-touchdown game: "I felt a little nervous, but I was also excited knowing what I know and my preparation in camp.
"It gives me a lot of confidence, and the receiving corps as a group. We think we're underrated and looked down upon."
Notre Dame junior quarterback DeShone Kizer …
On getting into a rhythm in the second half: "It was awesome. It's nice to get back out there after a long offseason and get the mojo flowing. There's a quite a few plays throughout this game that we're going to remember, quite a few checks that I made that didn't come out as successful as we wanted to.
"This is a game where a lot of the small things are going to come back and haunt us."
Notre Dame senior defensive end Isaac Rochell …
On the frustration of not stopping Texas senior quarterback Tyrone Swoopes in short-yardage: "It's tough. He played well, and I have nothing bad to say about him now. We've just got to do a better job of executing."
On the team's problems near the end of the game: "I don't know; I'd have to watch film. Fatigue was part of it, but both teams are fatigued. They ran 80-something plays, but they ran them and we went against it.
"It's an even playing field as far as fatigue."
Notre Dame senior running back Tarean Folston …
On playing his first game in a year: "In that moment, I'm just thinking football and playing football. I don't think about anything that happened in the past or the injury or the work that I put in to get back.
"I just think about this game and the next play."
Notre Dame senior left tackle Mike McGlinchey …
On the challenges Texas presented: "They were doing the same stuff pretty much all game. We didn't see a lot of adjustments. We missed a couple things here and there that we should've see. It wasn't anything special that they were throwing at us, they played really, really hard.
"It comes down to the way we executed our plays, and we didn't do that when we needed to."
On the offensive line play: "We were a little inconsistent today. We played really, really hard, and we didn't execute as we wanted to across the whole board. The name of the game is consistency and execution.
"We just struggled at certain points in the game for whatever reason."
Texas head coach Charlie Strong …
On winning the game in double overtime: "I just knew that second overtime we had a chance. I said we're going to go on defense first. I just told the defense to hold them to a field goal because we're going to score a touchdown."
On an emotional win: "Just loved the way that we just played. We came out, we had energy from the very beginning, and then we got up by 17, and they were able to come back and recapture the lead. I said a year ago that we would have lost the football game because we wouldn't have known how to continue to just play through.
"But what a great win tonight. It was just amazing. Just to see our crowd, I'm so happy for our fans, because they needed that. We've been down for so long, and people have been talking about us. It was a night for us to just make it right — at least for one game."