Freshman Devin Studstill Could Make First Start At Notre Dame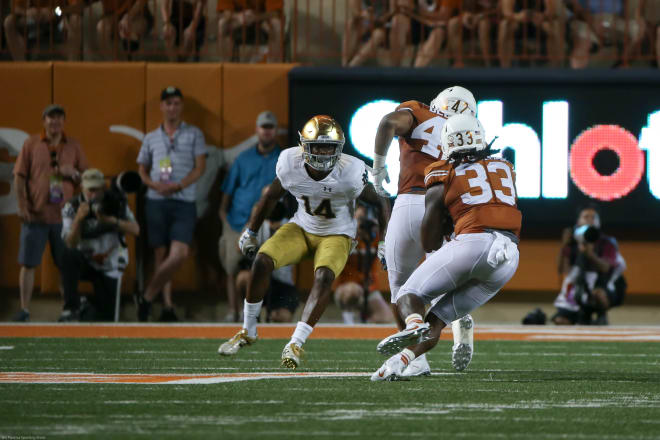 Last weekend at Texas, seven Notre Dame players made their first career starts. The offense featured sophomore receivers Equanimeous St. Brown and CJ Sanders, junior center Sam Mustipher and senior right guard Colin McGovern.

On defense, all the new starts were in the secondary with sixth-year safety Avery Sebastian, sophomore nickel Shuan Crawford and sophomore cornerback Nick Coleman.
This week, the first member of the 2016 freshman class could make his starting debut, or at least based on Notre Dame's depth chart released on Tuesday: 6-0, 198-pound free safety Devin Studstill.
When junior strong safety Drue Tranquill was pulled from the lineup in the second quarter at Texas after a missed assignment on yet another long pass completion, sixth-year senior strong safety Avery Sebastian moved from free safety to Tranquill's spot while Studstill was inserted at free safety.
Unofficially and per Blueandgold.com's Matt Jones, Studstill ended up taking 44 snaps to Tranquill's 40 (Sebastian had 83 before suffering a concussion late), and he held his own when Notre Dame played by far its best stretch of defense over a 25-minute stretch when it rallied from a 31-14 deficit to a 35-31 lead. He was credited with four tackles, three of them solo.
"He did some pretty good things," said head coach Brian Kelly of Studstill. "His fits were really good in the run game, made a couple plays at the line of scrimmage that I liked. He was on body and coverage on a double move in a third-down situation, and in a couple of our dime looks was instrumental."
On the game's lone turnover, an interception by Crawford deep in Texas territory that he returned to the six-yard line, Studstill's vertical coverage and Isaac Rochell's pass rush forced quarterback Shane Buechele to throw the ball too high to force the miscue.
Whether or not Studstill actually starts, the reality is that Cal graduate transfer Sebastian has been besieged by a litany of season ending injuries — Achilles in the 2013 opener and quadriceps in the seventh game of 2014 while at Cal, a broken foot against Texas in the 2015 opener, and the concussion in Austin last weekend — so it's likely the freshmen will have to be called upon extensively this season.
"He will see a lot of playing time this week," Kelly said. "We will have to continue to give him the opportunity to get out there and play and experience the scenarios that you can't really duplicate in practice."
Meanwhile, Tranquill is coming off back-to-back ACL surgeries, but Kelly said it's vital for the sure-tackling junior to be out there against Nevada's run-oriented attack led by 5-9, 210-pound James Butler, who rushed for 1,345 yards and 6.5 yards per carry last season.
"Some of the mistakes out there were ones that he's aware of … we've got to communicate and teach better," said Kelly of Tranquill. "We've got to make sure that he's clearly understanding what we're asking of him and making sure that we get that on game day."

Inconsistent and often confused safety play has been the most constant bugaboo under third-year defensive coordinator Brian VanGorder, whose scheme places a premium on excellent communication by the safeties and Mike linebacker.
An early entrant last spring, the Riviera, Fla., native Studstill displayed an advanced knowledge that had him rotating with senior and 23-game starter Max Redfield at the No. 1 spot. A hamstring injury this August hampered Studstill's progress, but his speed and coverage skills provide a much needed element at safety, especially after Redfield's dismissal from school.
"An outstanding athlete, very natural in the game," summarized VanGorder of Studstill.
Many of Notre Dame's most prominent safeties in the last decade did not even play as freshmen. They include Tom Zbikowski (2003), Kyle McCarthy (2005) and first-round pick Harrison Smith (2007). Chinedum Ndukwe (2003) played as a receiver his freshman year, while future pros David Bruton (2005) and Zeke Motta (2009) saw almost all their action on special teams as rookies.
Here are the five best Irish freshman seasons at safety — four of them by future first- or second-round picks — that Studstill will attempt to challenge.
1. Luther Bradley (1973) — He rivals classmate and defensive end Ross Browner as the greatest freshman game-changer in Notre Dame history. Both started from Day 1 during a national title campaign, with Bradley stepping in at strong safety, where he combined linebacker hitting ability with his 6-2 size to complement his corner cover skills. He paced the team in both interceptions (6) and passes broken up (11), freshman standards that still remain at Notre Dame.
2. Randy Harrison (1974)— After attrition took its toll at safety on Ara Parseghian's final team, the Indiana native stepped in at free safety and recorded an astounding 296:17 playing time. He led the secondary in tackles (57), was second in passes broken up (7) and scored touchdowns on both of his interceptions, totaling 84 yards. In the 13-11 Orange Bowl victory versus Alabama, he made seven tackles.
3. Bobby Taylor (1992) — When he stepped into the starting lineup for the last seven games at free safety, the Irish became as good as anyone in the country during a 7-0 finish, with the last four coming against ranked teams. He tied for the team lead in passes broken up (9), made 37 tackles and blocked an extra point that made a difference in a 17-16 victory versus Penn State.
4. Todd Lyght (1987) — Maybe Notre Dame's greatest corner ever began his career at safety. The current Irish defensive backs coach played in all 12 games his rookie year and started twice at free safety. In 145:40 he recorded 29 tackles, blocked a punt, broke up two passes, intercepted a pass and caused a fumble.
5. Tom Carter (1990) — Exclusively a high school quarterback, Carter made six straight starts at free safety, beginning with the second game of the season, a 20-19 victory at Michigan State. In 162:59 of action he was credited with 19 tackles.
----
• Talk about it inside Rockne's Roundtable
• Subscribe to our podcast on iTunes
• Learn more about our print and digital publication, Blue & Gold Illustrated.
• Follow us on Twitter: @BGINews, @BGI_LouSomogyi, @BGI_CoachD,
@BGI_MattJones, @BGI_DMcKinney and @BGI_CoreyBodden.
• Like us on Facebook