Former Notre Dame Head Coach Bob Davie Will Not Return To South Bend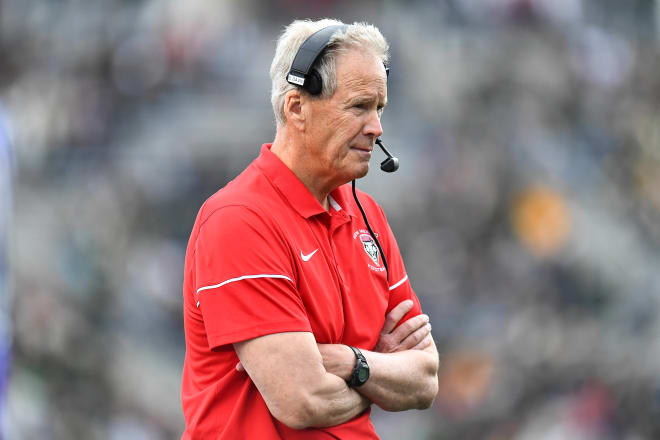 After getting rushed to the hospital Aug. 31, former Notre Dame and current New Mexico head coach Bob Davie will not be making the trip to South Bend when the Lobos take on the Irish Sept. 14.
This was expected to be Davie's first trip back to Notre Dame as a coach since he was let go by the school in 2001.
"While I will be around next week and involved, I have decided to not make the trip to South Bend for our Sept. 14 game with Notre Dame," Davie said in a statement released from the New Mexico athletics Twitter account.
Davie began to experience what are believed to be chest pains during New Mexico's season-opening 39-31 win over Sam Houston State. He was away from the team until Sept. 5, when he briefly met with his players and assistant coaches.
"After receiving advice from my doctors and wife, I wanted to make this decision now so our team and coaching staff could go into the weekend with clarity and consistency," Davie said in his statement. "My doctors have said that with no setbacks, I can expect a full recovery with no limitations.
"I have great confidence in our staff and this gives us our best chance for success and limits distractions."
Davie is in his eighth season at New Mexico, and has a 34-54 record during that time and is 1-1 in bowl games.
In his five seasons (1997-2001) as Notre Dame's head coach, he went 35-25 and was 0-3 in bowl games.
Run game coordinator Saga Tuitele will serve as the acting head coach for New Mexico while Davie is away.