Former Notre Dame forward Ven-Allen Lubin commits to Vanderbilt transfer
Ven-Allen Lubin was the last of the freshmen on last season's Notre Dame men's basketball roster to enter the transfer portal. He also became the last to find a transfer destination.
The 6-foot-8, 226-pound Lubin announced Thursday that he has committed to transfer to Vanderbilt. Former classmates JJ Starling and Dom Campbell previously committed to Syracuse and Howard, respectively.
Lubin was the only one of the three to wait until Notre Dame found its new head coach to evaluate whether he wanted to stay to play for Micah Shrewsberry. Unfortunately for the Irish, Lubin still took the exit available to him through the portal.
SUBSCRIBE TO INSIDE ND SPORTS TO STAY IN THE KNOW ON NOTRE DAME ATHLETICS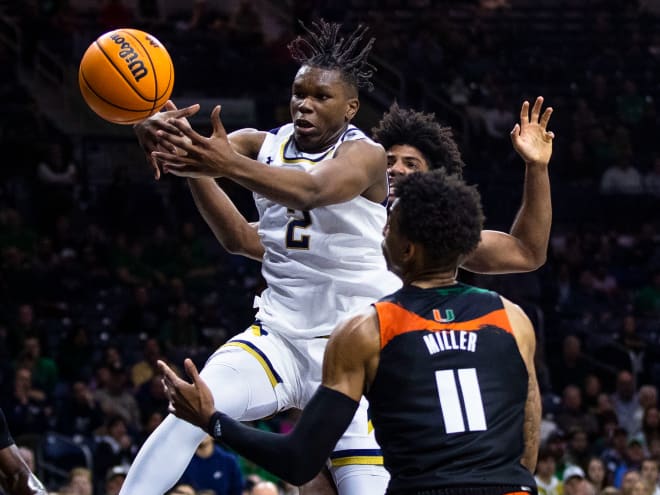 JOIN THE CONVERSATION ON THE INSIDER LOUNGE MESSAGE BOARD
Lubin played in 28 games and started seven as a freshman for the Irish last season. He averaged 6.2 points while shooting 58% from the field and 4.4 rebounds per game. His 23 blocks were a team high.
Lubin came to Notre Dame as a four-star recruit out of Orlando (Fla.) Christian Prep. Rivals ranked him as the No. 49 overall prospect and No. 4 power forward in the 2022 class.
Miami was also considered a contender in Lubin's portal recruitment, but Vanderbilt received the frontcourt help it was looking for with his commitment. He's expected to be a starter for the Commodores next season.
Lubin would have been a starter for the Irish as well. Next season's roster currently consists of nine scholarship players after Shrewsberry added three incoming freshman who had previously signed to play for him at Penn State — 6-9 forward Carey Booth, 6-4 guard Logan Imes and 6-2 guard Braeden Shrewsberry, his son — and sophomore forward Kebba Njie, who played for Shrewsberry last season at Penn State, via the transfer portal.
Notre Dame Men's Basketball projected 2023-24 roster
| Name | Position | Class | Height, Weight |
| --- | --- | --- | --- |
| Tony Sanders Jr. | Guard | Senior | 6-7, 215 |
| Matt Zona | Forward | Senior | 6-9, 242 |
| J.R. Konieczny | Guard | Junior | 6-7, 202 |
| Julian Roper II | Guard | Junior | 6-3, 180 |
| Kebba Njie | Forward | Sophomore | 6-10, 237 |
| Carey Booth | Forward | Freshman | 6-9, 215 |
| Markus Burton | Guard | Freshman | 5-10, 170 |
| Logan Imes | Guard | Freshman | 6-4, 170 |
| Braeden Shrewsberry | Guard | Freshman | 6-2, 175 |
| Alex Wade* | Guard | Junior | 6-0, 170 |