Update: Five-star DT Justin Scott set to visit Notre Dame next Sunday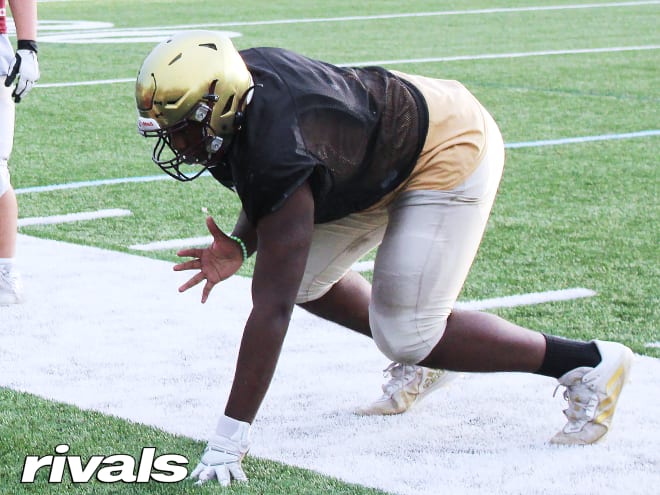 Editor's note: This story has been updated to reflect the visit being pushed back a week.
Less than two weeks before 2024 five-star defensive tackle prospect Justin Scott's date to announce his college choice, some good news wafted Notre Dame's way on Saturday as the Irish work to secure his verbal commitment.
For the first time since July, Scott plans to take a recruiting visit to the ND campus. Scott confirmed with both Inside ND Sports and Rivals that the visit will take place next Sunday, Jan. 29. Scott originally planned to visit Notre Dame this Sunday but moved the trip back a week due to bad weather, he said.
The 6-foot-5, 310-pound junior from Chicago St. Ignatius High also confirmed that his Jan. 31 announcement date, which coincides with his birthday, remains in place and that he doesn't plan on taking any other visits besides Notre Dame before revealing his decision.
Rivals ranks Scott as the No. 11 overall player nationally, No. 1 defensive tackle and No. 1 player in Illinois in the 2024 class.
A scholarship offer from two-time defending national champion Georgia on Tuesday and a possible visit to Athens, Ga., could have altered both the decision timeline and the ultimate result. But the momentum seems to have shifted back to Notre Dame as a strong, if not leading, contender.
On Jan. 8 Scott announced a final eight of Notre Dame, Alabama, Colorado, Miami (Fla.), Michigan, Ohio State, Oregon and USC. He's picked up two offers since then for a total of 35.
Scott's first visit to Notre Dame came during the 2021 season, with the Irish offering him a scholarship on May 5. The Irish appeared in a good position when his visited for a cookout for 2024 recruits on July 26.
But then Scott's attention turned to other schools. Notably he skipped Notre Dame's biggest recruiting weekend of the 2022 season — the Clemson-Notre Dame game on Nov. 5. But the Irish seemed to regain traction when four Irish coaches, including head coach Marcus Freeman, visited Scott's high school on Jan. 13, the first day of the current contact period.
Defensive line coach Al Washington then took in Scott's basketball game against Chicago Christ the King on Friday night.
The Irish have signed one five-star defensive tackle in the Rivals Era (2002-present), in Eddie Vanderdoes, the No. 21 overall prospect in the 2013 class. Vanderdoes never enrolled at ND, however, asking for and being granted his release from his National Letter of Intent to attend UCLA.