Five Notre Dame Women's Basketball Players Unavailable This Weekend
Niele Ivey's debut as No. 22-ranked Notre Dame's head coach this Friday at Ohio University (noon tip-off) will be a bit of a jigsaw puzzle — with a few too many pieces gone for now.
On Wednesday morning, Ivey confirmed that five players will be sidelined against the Bobcats, as well as on Sunday at home versus Miami (Ohio): senior center Mikayla Vaughn, junior guard Katlyn Gilbert, sophomore forward Sam Brunelle and freshmen Natalija Marshall and Amirah Abdur-Rahim in the front court.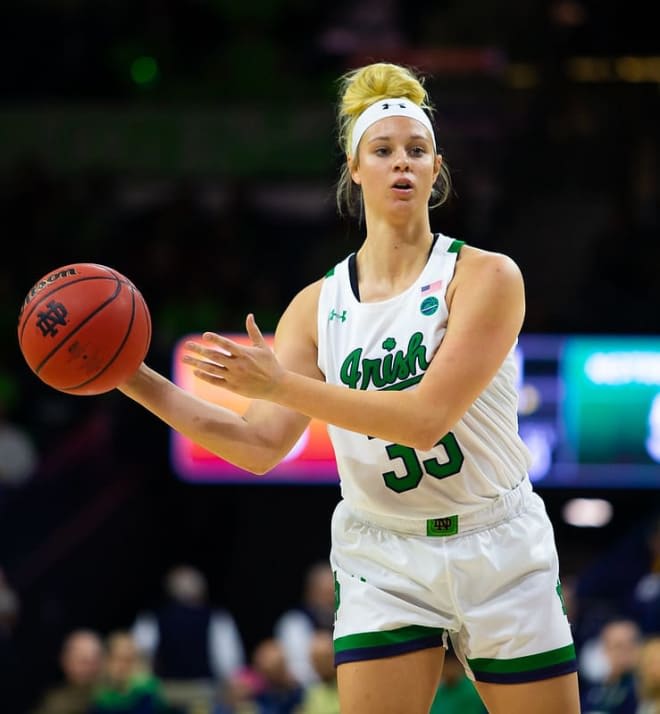 Vaughn was expected to miss the first month of this season after spring ACL injury, and Marshall had ACL surgery last winter. Her status for the remainder of this season remains unknown.
Preseason All-ACC pick Brunelle has been slowed by a "nagging injury," per Ivey, that is more day-to-day or week-to-week for now. Gilbert and Abdur-Rahim are health situations that Ivey said she "can't disclose." Brunelle and Gilbert were two of the top three scorers last season, and Vaughn the top post presence.

"With quarantine, with the time of their surgery, it just depends on their strength level and their clearance from doctors," Ivey said. "Hopefully they will be back in the next couple of weeks."
The starting lineup on Friday will feature:
• Junior Virginia Tech transfer Dara Mabrey is anticipated to be mostly at the point. She averaged double-digit scoring the past two seasons with the Hokies and was one of the nation's top three-point shooters.
• Sixth-year senior Destinee Walker, last year's leading scorer with a 14.5 average after becoming a graduate transfer from North Carolina.
• Junior guard Abby Prohaska, medically redshirted last year because of pulmonary embolism but a regular off the bench as a freshman for the national runners-up in 2019.
• Sophomore wing Anaya Peoples, who averaged 12.6 points and a team high 8.1 rebounds per game last season before having to undergo shoulder surgery in the latter part of January.
• Freshman Maddy Westbeld, a McDonald's All-American who at 6-3 will be Notre Dame's tallest player in the lineup.
Off the bench will be freshman guards Alasia Hayes and Alli Campbell, along with senior and former walk-on Nicole Benz, who was put on scholarship this season.
"Knock on wood, they've been healthy since we've returned to campus," Ivey said.
The older sisters of Westbeld and Mabrey were starters on the 2018 national champs, and Ivey believes the younger version of the duo can eventually uplift the program from last year's outlier 13-18 campaign.
"Maddy is very versatile," Ivey said. "She's a very skilled guard. She can come off the bounce, she's great getting downhill, great three-point shooter, but she also uses her size well to post up smaller defenders … pretty much does it all."
Mabrey has seamlessly taken on a leadership role.
"She's going to play a lot of point and has great experience playing in the ACC, as does Destinee Walker," Ivey said. "I'm really encouraged by the flexibility and the versatility of a lot of my guards."
With the coronavirus always hovering over this season, it will be all hands on deck, but Ivey believes such storms as the current one can be weathered.
"This is a deeper team than we've had in the past," she said. " … We have players that can play multiple positions."

Following the opener with the Bobcats this Friday, No. 22-ranked Notre Dame will host five straight games at home:
Sunday, Nov. 28: Miami (Ohio) — 4 p.m. on ACC Network
Thursday, Dec. 3: Michigan — 6 p.m. on ACC Network. The Wolverines are ranked No. 25, and were upset last year by Notre Dame, 76-72.
Sunday, Dec. 6: IUPI — 2 p.m., on ACCNX
The ACC season begins the following Sunday (Dec. 13) when the Irish host Georgia Tech and then welcome in Virginia Tech four days later (Dec. 17). Most of the ACC season will have a regular Thursday-Sunday pattern.