Feeding the fire that fuels QB CJ Carr's big talent and bigger dreams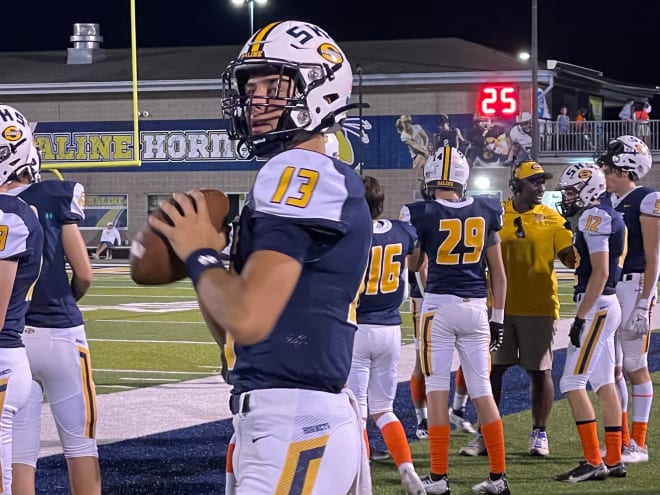 CJ Carr stumbled upon a docuseries on Netflix a few years ago that so touched his soul, it instantly sent him into binge-watch mode and eventually inspired the way he approached football and life.
Two weekends ago, the future Notre Dame quarterback on a five-star trajectory was in South Bend, Ind., for a junior day recruiting event, with a Sunday breakfast penciled in with the QB1: Beyond The Lights docuseries star Carr became enamored with.
Sam Hartman.
"Obsessed with, actually," Carr said of the Wake Forest transfer QB who would start his ND classwork and winter workouts a few days later. "He became like my college guy, really. And that's why I've watched Wake Forest every weekend.
"So, I was really familiar with what they're doing there and his style of play and what he can do. And I'm a big fan. So, it's exciting that he's at a place I'll be."
Their schedules didn't end up syncing up that weekend, so Irish offensive coordinator Tommy Rees resolved to build a meeting between two of the most significant pieces of Notre Dame's football future into Carr's next visit to the Notre Dame campus.
His eighth, incidentally, since the 6-foot-3, now 195-pound Saline, Mich., product verbally committed to the Irish on June 9.
"I can't wait to get to know him," Carr said of Hartman, a 23-year-old grad student in his sixth and final year of college eligibility.
In some ways, it feels like Carr already does.
Current Chicago Bears QB Justin Fields, formerly of Georgia and Ohio State, and Re-al Mitchell, who transferred twice after landing at Iowa State, were the other two QBs featured in the 10-episode 2018 iteration of QB1: Beyond The Lights.
But it was the least highly recruited of the three, Hartman, who most captivated Carr.
Perhaps part of the hook is what Carr saw in himself when it comes to Hartman — the fire that burns inside each of them, ignited initially by loss and grief that became a resolve to make a difference.
Hartman lost his adopted brother, Demitri Allison, to suicide in on Nov. 11, 2015 — two days before his team was to play for a North Carolina football state championship. The Hartman family took Allison in when Sam was 12.
"I told myself that there is a plan," Hartman wrote in a first-person reflection. "Sometimes we don't know what the plan looks like, but God has a light at the end of the tunnel. Even if the light is so dim that some of us — like Demitri — can't even see it, that light is still there."
Hartman has worn Allison's initials on his wristbands and his No. 10 jersey number in every game since then.
"Whenever I would go back in the weight room, and I was fighting for one last rep, Demitri served as all the extra motivation I would need," Hartman wrote. "I know he would have loved to be down here playing football too, and since I was blessed with the opportunity of playing here, Demitri would want me to make the most of it."
Carr, meanwhile, lost his youngest brother, Chad, in 2015 to an inoperable brain tumor 14 months after being diagnosed, and 12 days after Allison passed.
Chad, the youngest of three sons, was 5 years old, and CJ 10, when Chad died. Parents Tammi and Jason Carr channeled their heartache into bringing awareness and funds to other families touched by the condition, DIPG (diffuse intrinsic pontine glioma).
The ChadTough Defeat DIPG Foundation (chadtough.org) has a mission of "discovering game-changing treatments for childhood brain cancers, while offering help to families currently in the fight."
"It's an everyday part of our life, really," Carr said. "(Chad) obviously means a lot to me and I think about him every day. So yeah, he's still part of our daily lives, which is beautiful."
Carr got a tattoo last May, on his 17th birthday, just below his right wrist with Chad's name and a cross.
"That was my first tattoo, and it's my only tattoo right now," he said. "I like to say, it's the only thing I'll ever put on the right side of my body, because I feel like that's kind of like his spot. You know, it's meant for him and it's gonna stay like that.
"That meant a lot to me just to get that on me. And it's just something to remind myself that he's still with us every day."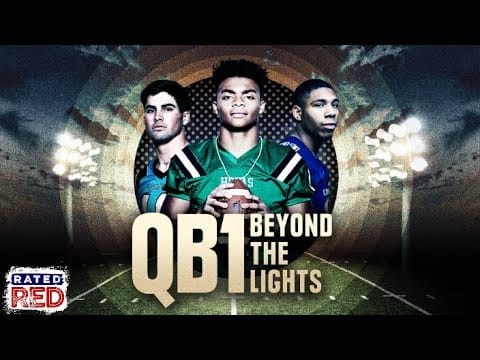 CJ's everyday existence since Notre Dame's season ended Dec. 30 with a Gator Bowl win over South Carolina is as varied as it is full. He plays rec center basketball, hangs out with friends and thinks about his life-after football interests of entrepreneurship when he's not investing in football.
"Actually, entrepreneurship is something that will start for me while I'm in college, I hope," Carr said. "NIL had no factor in my commitment, but just looking at the resources and the people that Notre Dame has, it's really exciting what they're doing with NIL.
"I think that there's a huge opportunity to make a lot of money as a teenager and throughout your college years at Notre Dame, and I'm just really excited about what they're doing and the opportunities that I'm going to have when I'm there."
Football in the offseason is still front and center. Carr joined a 7-on-7 team based in California, that played in a tournament in the Seattle area last weekend and will travel to Las Vegas for another competition next month.
"I honestly have no idea how I ended up on a team from California," Carr said. "They had called my mom, and it was a great opportunity for our family and for me, and so we jumped on it.
"We came up a little short out in Seattle. We would have liked to go all the way and win the whole thing. I had great receivers that bailed me out when I wasn't making the perfect pass or the perfect read, but having all that talent for sure helps."
Talent that includes ND wide receiver recruiting targets on the roster in Ryan Wingo and Jeremiah McClellan from St. Louis, and Terrance Moore from Tampa, Fla.
In between tourneys he works out with his dad or receivers from his high school looking to implement the techniques his private quarterback coach, Will Hewlett, has taught him.
"He's my mechanical guy," Carr said of Hewlett. "So, we'll go to him for all mechanical stuff — syncing patterns and stuff like that. He's kind of far away, in Florida, so we can't go to him as frequently as we'd like.
"We'll go to Hewlett at the beginning of summer, maybe in the middle of the summer. Hit him a few times. And then when we come home, it's really we're focusing on what he tells us to do. The biggest focus for us right now is really the syncing of my hips in relation to my throws.
"I'm trying to get the most out of my hips and get the most explosion out of my football. So when I throw it, overall that'll just create more spin rate, better velocity. That's the biggest thing we're focused on. Other than that, it's just getting in the weight room every day, trying to get bigger and stronger."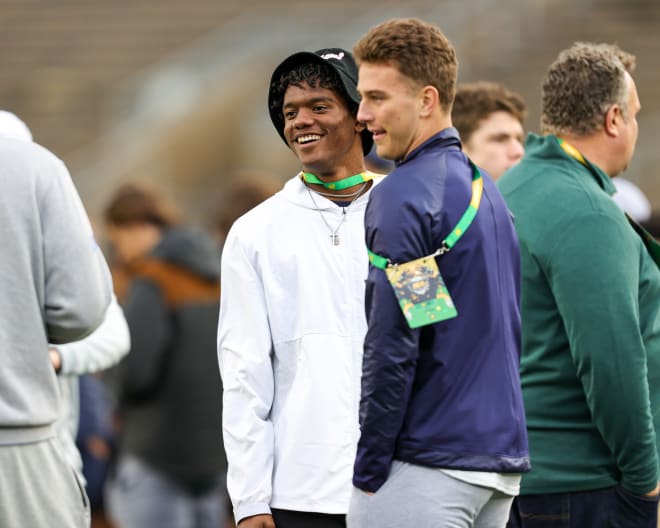 And then there's recruiting. Not so much his own, though.
Opposing schools still reach out intermittently to gauge how firm his commitment to Notre Dame might be.
"It almost stopped after I committed, but it's picking up again," Carr said. "I tell them all the same thing: 'I'm 100% locked into Notre Dame.'"
And since his high school (Saline) is only seven miles from Michigan Stadium — where one grandpa coached (Lloyd Carr), one grandpa starred at safety (Tom Curtis), and dad Jason played quarterback roughly a decade after current Wolverines head coach Jim Harbaugh did — he still gets asked about the school (Michigan) he didn't choose in recruiting.
But less often than before.
Perhaps it's because they see how invested he is in Notre Dame recruiting. Which largely explains the eight trips to campus since June, including for Notre Dame's upset of Clemson on Nov. 5, the day after Saline was eliminated from the Michigan high school state playoffs by Belleville in a 62-44 shootout.
In that game Carr threw for 338 yards and five scores and finished his junior season with 2,685 passing yards with 26 TDs and five interceptions, and another 221 yards and seven scores on the ground.
"I knew I wanted to commit early, just to start a class and start to build relationships with kids," Carr said of catching the recruiting bug. "The more I help recruit, the more I build relationships with kids, the better that we're going to be as a collective team. So, these are the kids that I'll be playing with for the next four years. Hopefully, helping a few of these kids jump on board is the least I can do to help the team and myself for when I'm there."
While he didn't get to meet Hartman during his last trek to South Bend, he did meet up with 2023 QB signee and mid-year enrollee Kenny Minchey a couple of weeks ago during the junior day event.
"He was just moving in," Carr said. "It turned out that it wasn't the first time we had met. The first time I ever visited Notre Dame was for the Irish Invasion camp (in June of 2021). And I had thrown with him back then.
"I didn't even connect those pieces. Coach Rees put us through a few drills at that camp, and his parents pointed it out to me and reminded me of it. So, technically it really wasn't the first time we were meeting, but it was the first time I really got to sit down and have a conversation with him and his family. And it was great."
A year from now they'll be teammates as Carr will early enroll next January. They're already dreaming big now.
"No matter what anyone else says, I think it was a great first year for coach (Marcus) Freeman," Carr said. "I think that obviously the middle of the season was a little shaky with a few hard losses, but by the end of the year they were rolling.
"I even stormed the field with the other recruits when they beat Clemson. Almost regretted it, because I was right in the middle of the mosh pit and almost couldn't get out. But it was a great, great day and there will be more of them ahead.
"I'm just excited to see what coach Freeman does this next year, and even more excited once I get there to just do what I can to help the team."