Expectations & Banner Seasons At Notre Dame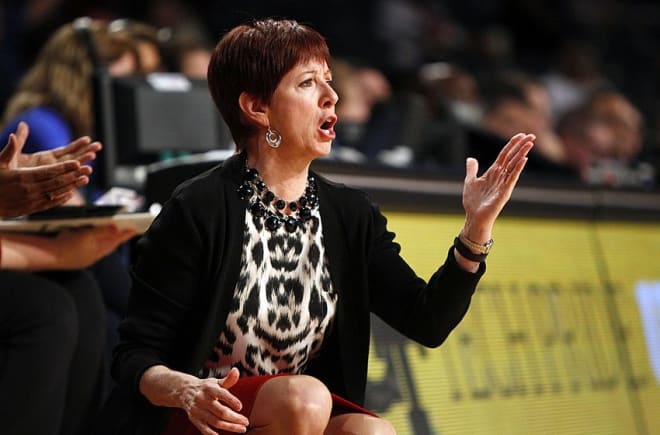 Expectations in sports often define how successful a season in team athletics is.

When a standard is developed of yearly championships, what is nirvana for one program can be a bit of a letdown for another. The Notre Dame fencing program is a prime example.
Following back-to-back national titles in 2017 and 2018, head coach Gia Kvaratskhelia's fencing juggernaut finished third this weekend in the NCAA Championships with 165 points, behind champion Columbia (178) and runner-up Penn State (166). Headlining the effort was Nick Itkin repeating as men's foil national champion while Axel Kiefer was the runner-up. Among the women, Amanda Sirico earned the silver in epee and foilist Amita Berthier won bronze.
No athletics program at Notre Dame has produced more consistent excellence over the past 50 years than fencing, which has captured 10 national titles since 1977. In every other sport since then the Fighting Irish have combined for eight. In no way does not winning a title constitute the definition of disappointment, but past standards are what create the often unrealistic expectations.
Conversely, Notre Dame baseball has been somewhat of an early pleasant surprise despite a 9-12 record this week. That stems from record above .500 (5-4) in ACC play, while winning road series against both Wake Forest — a 2017 NCAA Regional Champion — and Clemson, which has been to 31 of the last 32 NCAA Tournaments. This past weekend, Notre Dame played host for the first time this season, versus 2017 and 2018 ACC Tournament champion Florida State.
The Irish lost the series 2-1, but clobbered the Seminoles 12-3 on Saturday and took them to extra innings on Sunday before falling. Placing above .500 in the ACC after the first three weekends would have seemed inconceivable after the debut weekend in February when Notre Dame was outscored 46-13 at Arizona State during a three-game sweep.
Yet there is a palpable malaise with the operation since the glory days under Pat Murphy (1988-94) and Paul Mainieri (1995-2006), who went on to greener diamonds at warm-weather powers Arizona State and LSU, respectively. The Irish have been to one NCAA Tournament since then (2015), and in seven of the 12 seasons hence finished at or under .500, including the last three.
Like Boston College and Pitt, Notre Dame is going to be deemed, at least from a perception standpoint, as a cold-weather school that will not ever be able to seriously compete in the powerful ACC versus the powerful warm-weather programs of which the conference is replete. That's why even losses to current 10-11 West Carolina (16-9) and San Antonio-based Incarnate Word (15-7) can always have the alibi that "those are warm-weather schools." However, going 0-2 against Indiana based Ball State (6-2 and 2-0) is what creates more hand-wringing about the trajectory of the sport at Notre Dame.
There is a line to be drawn between immense expectations and learned helplessness.
WOMEN'S BASKETBALL
Speaking of expectations, Muffet McGraw's Fighting Irish began their 2019 quest to repeat as national champions on Saturday with an expected 92-50 romp over Bethune-Cookman. Tonight's second-round clash versus 21-11 Michigan State — 7 p.m. on ESPN — should be more competitive.
The Spartans resume includes triumphs against the teams that finished No. 7 (88-82 versus Oregon), No. 8 (84-70 versus Iowa) and No. 9 (77-60 versus Maryland) in the Associated Press poll prior to the start of the NCAA Tournament. The caveat is that all those games were at home, and Michigan State is 6-10 away from home, including 15- and 16-point setbacks to those same Iowa and Maryland teams.
This will be the final game appearance on the Notre Dame home court for the NCAA statistically incomparable quartet of guards Arike Ogunbowale and Marina Mabrey, as well as forwards Brianna Turner and Jessica Shepard, all of whom have tallied more than 1,800 career points in college. Add in junior guard Jackie Young and nearly 10,000 points among them have been scored, an unprecedented feat by any one starting lineup, men or women, at the same time.
Mabrey has been dealing with a hyperextended right knee but handed out a game high seven assists on Saturday and practiced on Sunday. More of a question mark is freshman guard Abby Prohaska, who twisted her ankle in a practice last week but did play 20:26 versus Bethune-Cookman. She did not practice on Sunday as a precaution and will be a "game-time decision" versus the Spartans.
McGraw received quality production off the bench this weekend from sophomore forward Mikayla Vaughn — nine points and 11 rebounds in 24 minutes — but she said as a team gets deeper into the tournament, the bench will likely shorten. Last year, the graduated Kristina Nelson was pretty much the lone player used off the bench past the Sweet 16.
"Our bench is generally pretty short anyway," McGraw said. "After last year, I wondered if maybe playing just five or six was really the way to go, because they get confident, they know [not to look at the bench] if they make a mistake. We had a lot of success last year. I've wondered to myself if maybe I was subbing too much at times.
"[Depth is] great to have, especially in the post. We have a lot of fouls that we can afford in the post … We really don't have a lot of depth at the guard spot. We can play eight people, but not for a lot of minutes."
HOCKEY
For the first time since starting the modern-day version of the program in 1968, a Notre Dame senior hockey class will graduate with an NCAA Tournament appearance all four seasons. Head coach Jeff Jackson's Fighting Irish made that possible with a 3-2 victory Saturday night versus Penn State to earn the automatic berth as the repeat champion of the Big Ten.
On Sunday night the 16-team bracket had Notre Dame traveling to Manchester, New Hampshire in the Northeast Regional as the No. 3 seed against No. 2 seed Clarkson (26-10-2), who won the ECAC Tournament Championship. The game will be played Friday, March 29 with a 6:30 p.m. face-off on ESPNU. The first contest in the region will have No. 1 seed Massachusetts playing No. 4 seed Harvard. The two winners play on Saturday for a berth to the Frozen Four.
In Jackson's 14 seasons, this is Notre Dame's 10th NCAA appearance (it has been to 11 overall), highlighted by advancing to the Frozen Four in 2008, 2011 and the past two seasons, with runner-up placements in 2008 and 2018. Interesting to note is the seeding irrelevance.
• Under Jackson, Notre Dame has been a No. 1 seed four times, and it was only 1-3 the first three years, including 5-1 first-round losses to both Bemedji State (2009) and St, Cloud State (2013). Last year it did go 3-1 to even it out at 4-4.
• It has been a 2 seed just once, resulting in another first-round loss to St. Cloud State in 2014.
• As a 3 seed, Notre Dame is 2-2, highlighted by advancing to the Frozen Four in 2011.
• It has been at its best as a 4 seed, going 5-2 in those two years while advancing to the Frozen Four both times.